PUMPKIN CHOCOLATE CHIP COOKIES
These soft Pumpkin Chocolate Chip Cookies are a favorite cookie in our house. Add this homemade pumpkin cookie to your fall baking plans ASAP! Trust me, they will not last long!
This week I baked another batch of these pumpkin cookies in our kitchen. These cookies are a must make for me every single fall.
Each year, as fall starts to get close, I start to crave these soft pumpkin cookies, and then I have to bake a few batches for our cookie jar. Thank goodness for being able to give away the leftovers to friends this time.
I love them so much that I try to keep an extra can of pumpkin in our pantry, just in case the urge for the best Pumpkin Chocolate Chip Cookies hits me in the middle of February. Please tell me I'm not alone in my love for eating pumpkin treats all year long.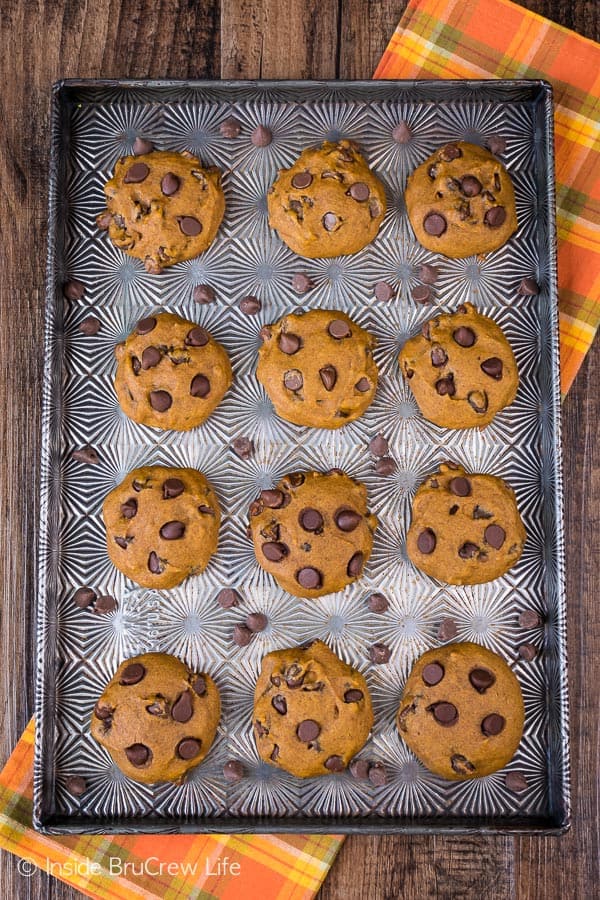 I realize not everyone likes pumpkin desserts. Of course, I just can't wrap my head around that kind of flawed logic!
Baking with pumpkin always makes me happy! Of course, eating said pumpkin makes me even happier.
Things like this Pumpkin Cheesecake Brownie Pie or Pumpkin Oreo Cheesecake happen every fall in our house.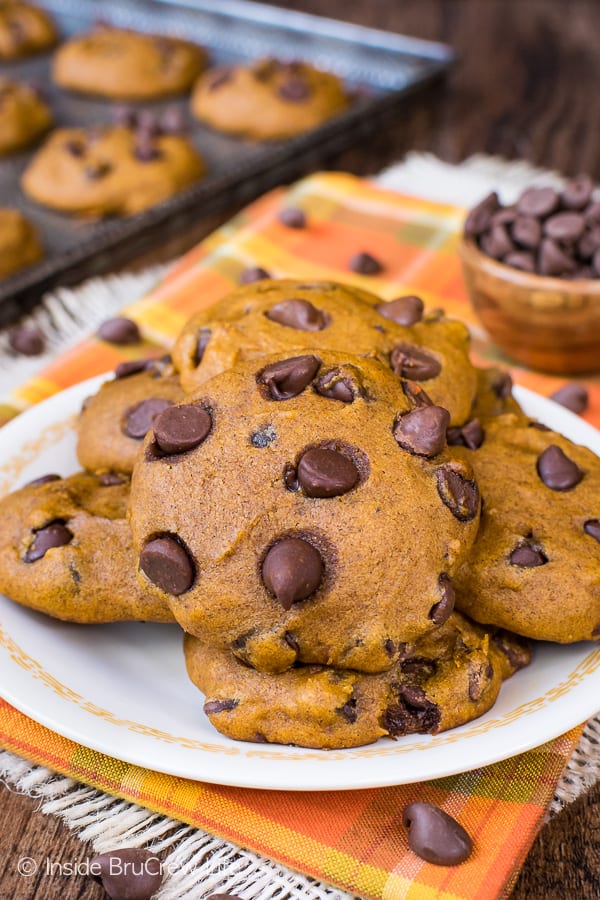 My motto is to pumpkin all the things during the fall months! I say bring on the orange goodness in all forms!!!
Nothing is safe from my pumpkin quest. We eat it in pies, cookies, muffins, bread, donuts, cake, and soup!
Speaking of soup, now I'm totally craving a big bowl of this Pumpkin Potato Corn Chowder for dinner tonight.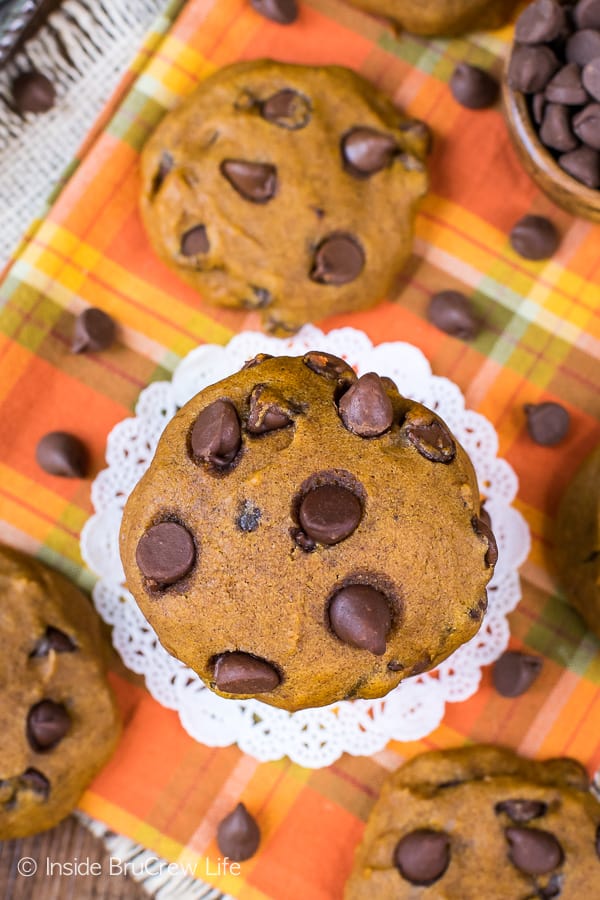 Tips for making Pumpkin Chocolate Chip Cookies:
Mix together the sugars and oil until it looks like wet sand. Add in the pumpkin puree, egg, and vanilla and mix again.
Stir together the flour, spices, baking powder, salt, and baking soda. Slowly mix the dry ingredients into the sugar mixture.
Add 3/4 cup chocolate chips to the batter gently. You can also add some chopped walnuts, if you like. Or change it up and use a mixture of different baking chips. I've done butterscotch and it's delicious!
Use a tablespoon to drop spoonfuls of cookie batter onto baking sheets. Use the back of the spoon or your finger to smooth the tops out slightly.
Press a few chocolate chips into the tops of the batter before baking. Bake for 10 minutes.
Let the cookies cool on the pan for two minutes before moving them to a wire rack or parchment paper to cool completely.
Store these easy Pumpkin Chocolate Chip Cookies in a loosely sealed container. If you have any left that is. One bite of these soft pillowy cookies and they just might disappear before you can hide a few for later.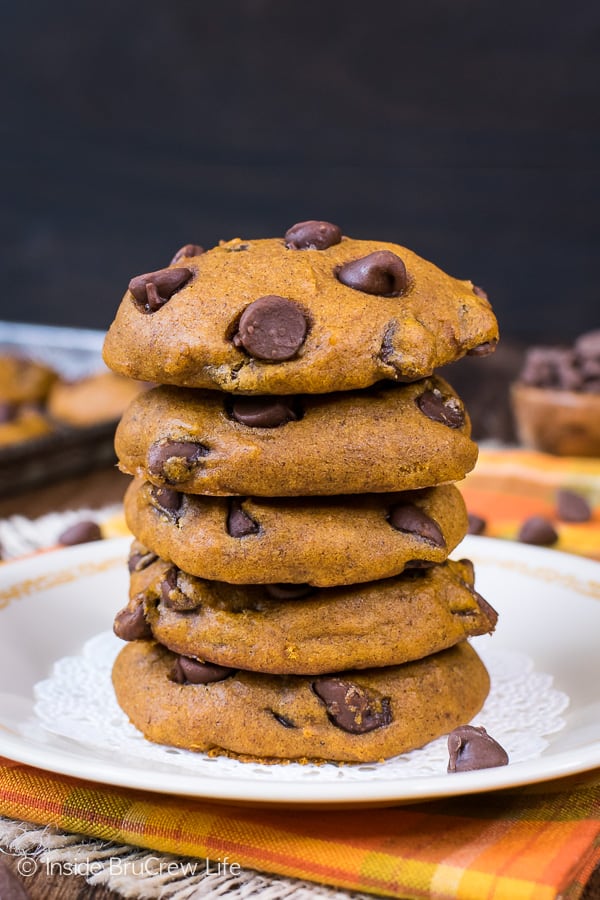 More pumpkin recipes you may like:
Pumpkin Spice Latte Cupcakes – soft pumpkin spice cupcakes with a light white chocolate coffee frosting is a must make
Cinnamon Roll Pumpkin Cake – a swirl of cinnamon sugar makes this pumpkin cake taste amazing
Pumpkin French Toast Bake – this easy fall breakfast bake can be made ahead of time for busy mornings
Pumpkin S'mores Bars – soft pumpkin bars topped with gooey melted marshmallow and chocolate for the fall dessert win
Chocolate Pumpkin Cheesecake – chocolate bars and pecans make this pumpkin cheesecake taste irresistible
YIELD: 36 COOKIES
PREP TIME20 minutes
COOK TIME10 minutes
TOTAL TIME30 minutes
Ingredients
1 cup canned pumpkin puree
1/2 cup brown sugar
1/4 cup sugar
1/2 cup oil
1 egg
1 Tablespoon vanilla extract
2 cups flour
2 teaspoons baking powder
3 teaspoons cinnamon
1 teaspoon nutmeg
1/2 teaspoon salt
1 teaspoon baking soda
2 cups chocolate chips, divided
1/2 cup chopped walnuts, optional
Instructions
Preheat the oven to 350 degrees.
Combine the pumpkin, sugar, oil, egg, and vanilla in a large mixing bowl.
Stir together flour, baking powder, cinnamon, nutmeg, salt, and baking soda. Add the flour mixture slowly to the pumpkin mixture & mix well. Stir in 1 1/2 cups chocolate chips and the walnuts.
Use a tablespoon to drop spoonfuls onto a baking sheet. Use the back of the spoon or your finger to smooth out the tops slightly.
Top the cookie dough with the reserved chocolate chips. Bake for 10 minutes.
Let the cookies cool on the pan for 2-3 minutes, then remove to a wire rack to cool completely. Store in a sealed container.