Instant Pot Tuscan Chicken Pasta
Instant Pot Tuscan Chicken Pasta is very easy to make, creamy and delicious with perfect juicy chicken, sun-dried tomatoes and spinach.
We love making easy and delicious pasta in the Instant Pot, like our popular Chicken Pot Pie Pasta, IP Pizza Pasta, and the cheesy Pressure Cooker Cheeseburger Macaroni.
Instant Pot Tuscan Chicken Pasta is one of my favorites takes on the Italian classic dish. This recipe is very easy to make. I love that you only have to dirty your pressure cooker and the end result is a very creamy and cheesy pasta with sun-dried tomatoes, chicken and spinach.
After you cook the pasta it may look a little runny, don't worry, you need all that liquid to create the amazingly creamy sauce. I like to use a mix of cream cheese and Parmesan cheese because it combines the most amazing texture and flavor. The secret ingredient that I am also sharing with you, is adding evaporated milk to the pot. As a result, the pasta turns out perfectly cheesy, rich and very creamy.
The sun-dried tomatoes add a bit of chewiness and tartness, while the spinach adds some freshness and a pop of color. Such a hearty and delicious dinner!
Instant Pot Tuscan Chicken Pasta Recipe Tips:
Preferably use organic chicken for this meal.
Also, you can use chicken breast meat or boneless/skinless chicken thighs meat.
You don't have to pre-cook the pasta for this recipe, you add the uncooked pasta to the pot and cook for 4 minutes.
In addition, you can make this dish with turkey as well, the cooking time will still be the same if you use the same amount of the other ingredients listed in the recipe.
For a spicier kick, add red pepper flakes.
If desired, use add some basil. Use about 1 tsp dried or fresh basil.
You can also add 1 cup of shredded mozzarella or provolone cheese at the end.
For a vegetarian version, skip the chicken.
Similarly, this meal can be made with other types of pasta, I like to use large shells or fusilli pasta.
Instant Pot – I have the 6 quarts one. It makes weeknight meals so much easier.
How Long Do You Cook Pasta In The Instant Pot?
Pasta is cooked in an Instant Pot or other electric pressure cookers, usually between 4-6 minutes, depending on the recipe and type of pasta. Most of the time followed by a Quick Pressure Release.
Substitutes For This Tuscan Chicken Pasta Recipe
You can use frozen-thawed and drained spinach instead of fresh.
Also, light cream cheese will work in place of regular if preferred.
Garlic powder could replace fresh, I'd go with about 3/4 tsp.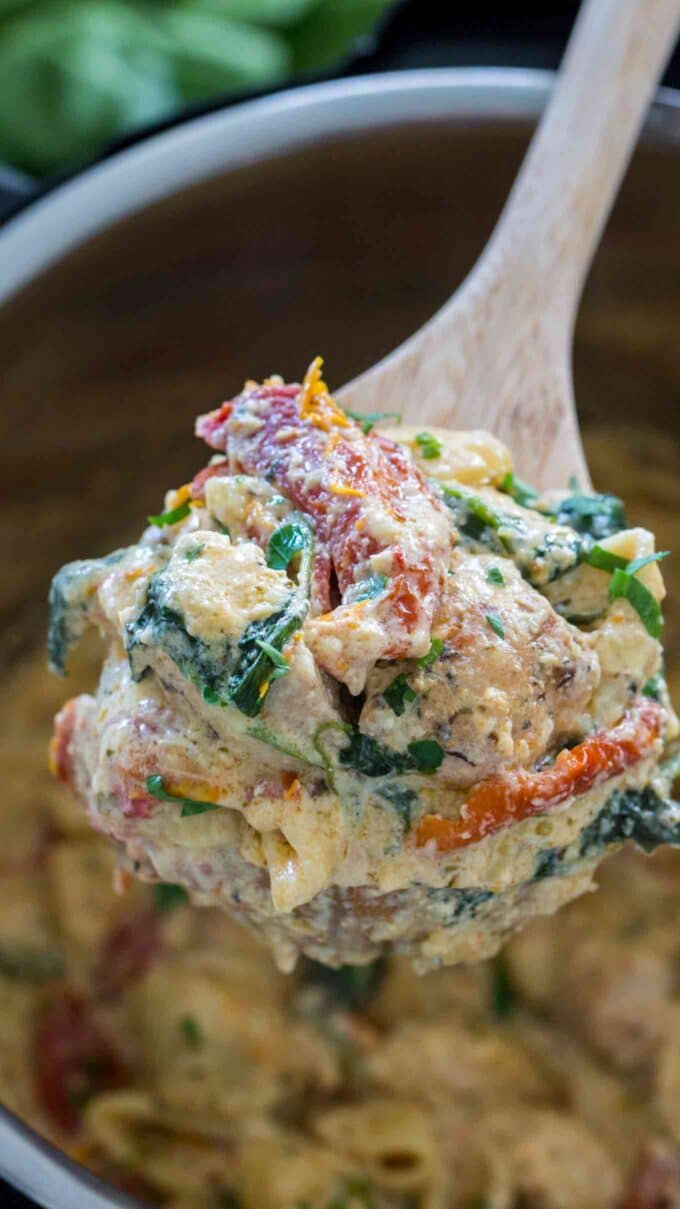 How To Make Tuscan Chicken Pasta In The Slow Cooker?
Making this delicious pasta in the slow cooker is a great alternative. We have the Crockpot version of this recipe in this link.
How Do You Reheat This Dish On The Stove?
Usually, when refrigerated the sauce will thicken because the pasta will also absorb the liquid. To reheat, add pasta to a medium-large saucepan over medium heat and add 1/2 to 1 cup of milk. Start with 1/2 cup, stir to combine and if needed add more, until you achieve the desired sauce consistency. You can also add cream instead of milk, or chicken broth.
What Seasoning Can You Use For The Chicken?
Chicken doesn't have to be bland if you take a few minutes to mix these dried herbs and sauté the chicken you will end up with a very flavorful Instant Pot Tuscan Chicken Pasta dish! Here are the herbs that I used:
Garlic Powder and Onion Powder
Oregano
Paprika
Cayenne Pepper Powder or Red Pepper Flakes – if you want to add a spicier kick.
Dried Rosemary and Dried Thyme
Author: Catalina CastravetServes: 4 servings
Prep time: 10 minutesCook time: 20 minutesTotal time: 30 mins
Ingredients
Chicken:
1/4 teaspoon salt
1/4 teaspoon ground black pepper
1 teaspoon dried rosemary
1 teaspoon dried thyme
1 teaspoon dried oregano
1 teaspoon garlic powder
1 teaspoon onion powder
1 teaspoon paprika
2 tablespoons olive oil
2 regular boneless (skinless chicken breasts (or 4 smaller ones))
Pasta:
1 tablespoon olive oil
1 small onion (chopped)
1 tablespoon minced garlic
1 tablespoon Italian seasoning
1 cup sun dried tomatoes (drained and roughly chopped)
2 cups chicken broth (water or veggie broth)
1 cup evaporated canned milk
3 cups shell pasta
8 ounces cream cheese (room temperature)
1 1/2 cups parmesan (grated)
4-5 cups fresh spinach
Instructions
Add salt, pepper, dried rosemary, dried thyme, dried oregano, paprika, garlic powder and onion powder to a large shallow bowl and stir to combine.
Set Instant Pot to Sauté. Once the IP is hot, add the oil.
Toss chicken in the seasoning mix to coat on both sides and add to the hot oil.
Cook on both sides for 2-3 minutes until golden brown. Remove from pot and set aside on a plate, cover with aluminum foil to keep it warm.
If needed add 1 tablespoon of oil to the pot still in Sauté mode.
Add the diced onion and minced garlic and cook for 1-2 minutes, stirring occasionally.
Add Italian seasoning and chopped sun dried tomatoes, stir to combine.
Add chicken broth and using a wooden spoon, scrape well the bottom of the pot, trying to remove any bits that stuck to it.
Add the pasta and evaporated milk. Stir gently and top with the chicken breasts.
Cover and seal the lid. Make sure the valve points to Sealed. Change setting to manual and adjust time to 4 minutes on High Pressure.
Once Instant Pot beeps to show that it's done, do a quick release, by changing the position of the valve to Vent. Carefully remove cover.
Remove chicken from pot, and set aside on a cutting board. Cover with foil.
Select Sauté mode and add the cubed cream cheese. Gently stir to combine for 1 minute.
Add the parmesan cheese and gently stir to combine for 1 minute.
Add the spinach and stir to combine.
Turn off the pressure cooker.
Cut the chicken into cubes and add to the pot, gently give everything a final stir.
Serve immediately garnished with parmesan cheese.