INSTANT POT ROTISSERIE CHICKEN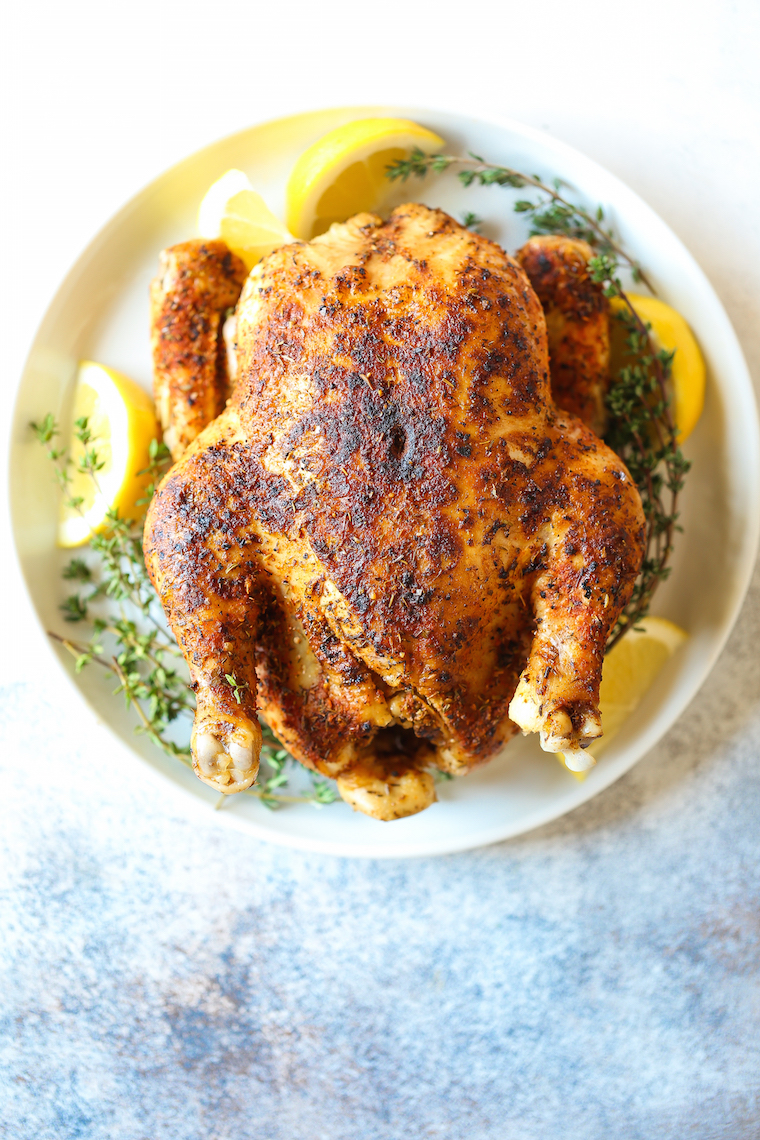 I love a good rotisserie chicken. I mean, I really love a good rotisserie chicken.
It's so versatile, and has so many uses. It's great on its own with a few roasted veggies and it's great with pastas and soups as a fill in. But more importantly, they are so perfect with nachos and quesadillas during the wee hours of the night.
Or wait. Am I the only one making leftover rotisserie chicken nachos at 10PM?
I hope not.
But nonetheless, I am now sharing an effortless Instant Pot rotisserie chicken recipe! It's made in the IP completely from start to finish – with a quick sear on both sides for that beautiful golden brown color before it sits in that IP for 28 minutes. Boom. Done.
Just let it release naturally as you prep your sides for dinner.
Oh and when I say dinner, I really mean nachos.
yield: 6 SERVINGS
prep time: 45 MINUTES
cook time: 40 MINUTES
total time: 1 HOUR 25 MINUTES
INGREDIENTS:
2 teaspoons kosher salt
1 teaspoon freshly ground black pepper
2 teaspoons dried thyme
1 1/2 teaspoons paprika
1 teaspoon dried oregano
1 teaspoon onion powder
1/2 teaspoon garlic powder
1 (4-pound) whole roasting chicken
1 lemon, halved
2 tablespoons canola oil
1 cup chicken stock
DIRECTIONS:
In a small bowl, combine salt, pepper, thyme, paprika, oregano, onion powder and garlic powder.
Remove giblets and excess fat from the chicken cavity. Dry chicken thoroughly with paper towels. Season chicken and chicken cavity with salt mixture. Stuff cavity with lemon.
Set 6-qt Instant Pot® to the high saute setting. Add canola oil and chicken, breast side down, and cook until evenly golden brown, about 4-5 minutes. Using tongs, flip, and cook for an additional 4 minutes; set aside.
Place metal trivet into the pot and add chicken stock. Gently place chicken on top of the trivet. Select manual setting; adjust pressure to high, and set time for 28 minutes. When finished cooking, naturally release pressure according to manufacturer's directions, about 20-30 minutes. Let rest 10-15 minutes.
Serve immediately.