Instant Pot Creamy Lemon Chicken Breasts
Instant Pot creamy lemon chicken breasts get dinner on the table in under 30 minutes! Juicy chicken breasts are smothered in a creamy lemon parmesan cream sauce. Low carb and gluten-free.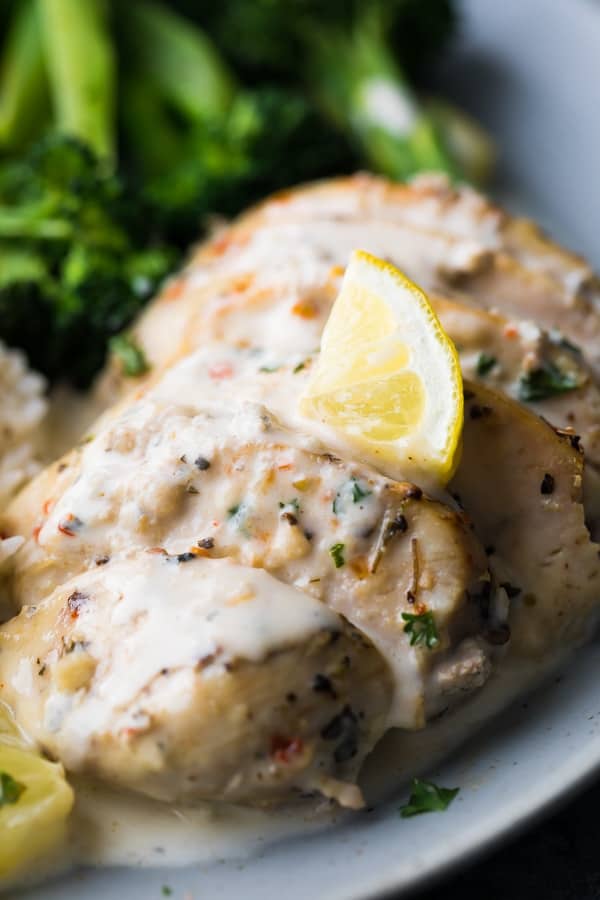 After sharing SEVEN Instant Pot Chicken Breast Recipes on the blog last month and showing you how you can assemble them ahead and freeze (hello…perfect for when chicken breasts go on sale!), I'm working my way through them to show you the finished product.
Now as a family, we have tended to stay away from cream sauce chicken recipes, mostly because they seem to take so long. Thank you Instant Pot, because this recipe is not only simple, but gets dinner on the table in under 30 minutes!
NEW: looking for Instant Pot Chicken Breast Recipes? Check this post out!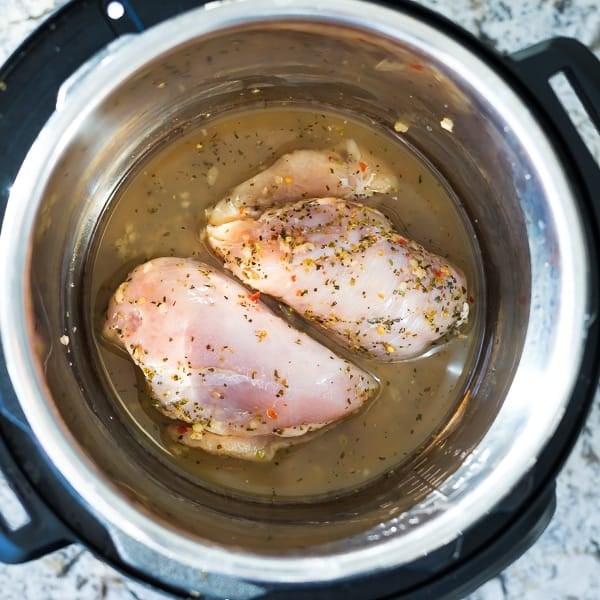 How to make this recipe ahead and freeze it
Chicken breast freezer packs are a staple in my freezer and are an absolute lifesaver during busy weeks! Here's how you can turn this creamy lemon chicken breast recipe into a freezer pack:
Assemble the boneless skinless chicken breasts, spices, garlic and chicken stock in a gallon-sized freezer bag.
Squeeze out as much air as possible.
Freeze flat for up to 3 months.
So incredibly simple! When you're ready to cook, you will need to thaw completely before placing everything in the Instant Pot and pressure cooking for 8 minutes.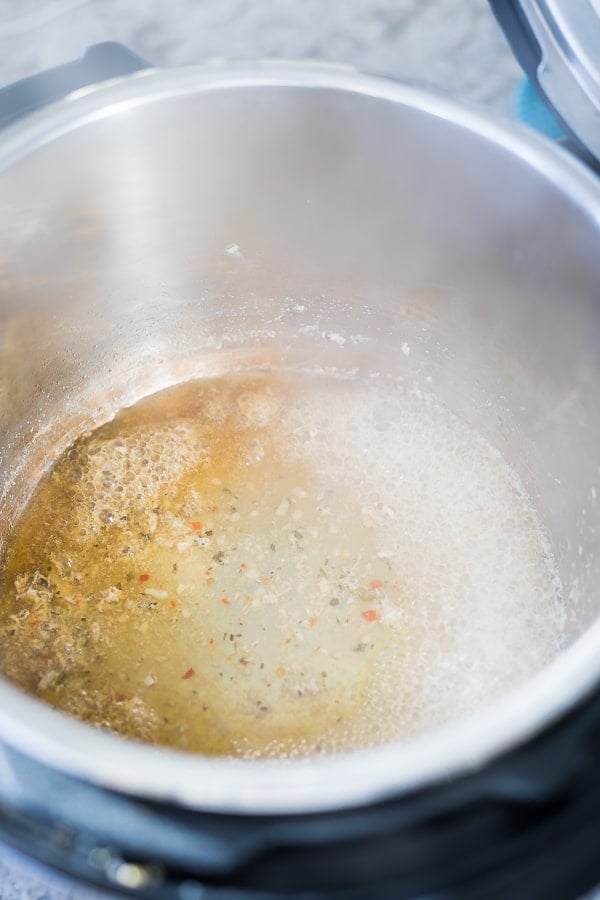 Wait, what about the lemon garlic cream sauce?
The lemon garlic cream magic happens after the chicken is cooked!
Remove the chicken breasts from the Instant Pot
Select the sautee function and simmer your cooking liquid for 7-8 minutes until reduced to roughly 1/3 of a cup
Add in some parmesan cheese, fresh lemon juice, and heavy cream. Stir until heated through and then remove from the Instant Pot
You slice the chicken and add it back to the pot to get it nice and hot or serve as is and spoon the sauce over top. So so so yummy!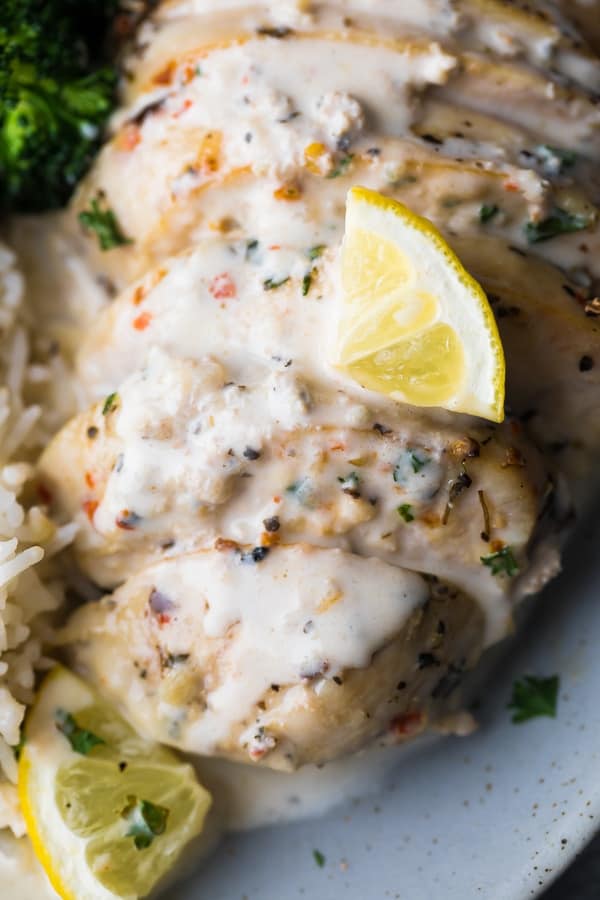 What to serve with this Instant Pot creamy lemon chicken?
I have a ton of ideas for ya!
steamed broccoli
Parmesan Roasted Snap Peas
Parmesan Mashed Cauliflower
this 10 minute Spiralized Cucumber Salad
rice or cauliflower rice
roasted potatoes or these cute Herb and Garlic Potato Stacks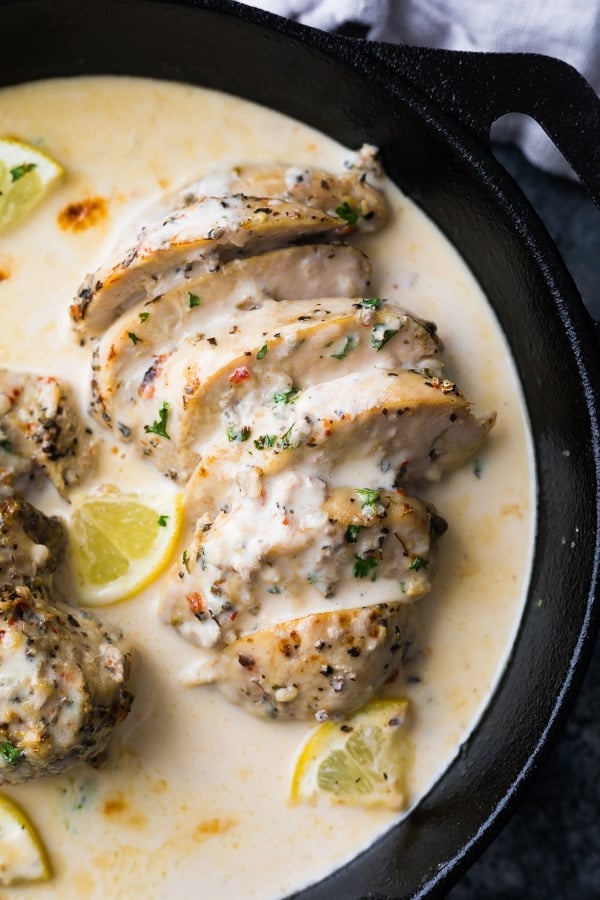 Tips and Equipment for this recipe:
I used my 6 quart Instant Pot; this recipe has not been tested in an 8 quart or mini
make sure you use heavy duty freezer bags
if you are going to make freezer packs
you can swap for boneless skinless chicken thighs but will need to adjust cook time to 10 minutes
I have not tested cooking these from frozen however it may be possible
Looking for more chicken breast recipes? Check out these 7 Chicken Marinade Recipes You Can Freeze, and this sequel with 7 (more) Freezer Friendly Chicken Breast Marinades. And of course, the
Course: Dinner
Cuisine: Instant Pot
Calories: 271kcal
Servings: 4
Prep Time10 mins
Cook Time20 mins
Total Time30 mins
Ingredients
2 boneless skinless chicken breasts roughly 1 lb
1/2 teaspoon dried oregano
1/2 teaspoon dried basil
1/4 teaspoon red pepper flakes
4 cloves garlic minced
1 cup chicken stock
AFTER REDUCING SAUCE:
2 tablespoons lemon juice
1/4 cup parmesan cheese freshly grated
3/4 cup heavy cream aka: whipping cream for Canadians
Instructions
Combine all ingredients in a 6 quart Instant Pot (unless listed as 'after reducing sauce').
Cook on high pressure for 8 minutes (for average 7 oz chicken breasts). Release the pressure when the Instant Pot beeps (quick pressure release).
Using a pair of tongs, carefully remove the chicken from the Instant Pot and allow to rest while you reduce the sauce.
Reduce the sauce: select 'sautee' on the Instant Pot, and simmer, stirring occasionally, for 7-10 minutes.
When roughly 1/3 of a cup of the sauce remains (and you start to see the bottom of the IP as you stir), stir in the parmesan cheese, cream, and lemon (for the lemon garlic chicken only). Stir until cheese is melted and sauce is heated through (but not boiling), and remove the pot from the Instant Pot base using oven mitts.
Spoon the sauce over chicken breast, rice and veggies.
To prepare freezer pack:
Combine all ingredients in a gallon freezer bag (unless listed as 'after reducing sauce').
Squeeze out as much air as possible. Freeze for up to 3 months.
Thaw completely before cooking as instructed above.