PORTOBELLO MUSHROOM PIZZA (LOW CARB RECIPE)
PORTOBELLO MUSHROOM PIZZA (LOW CARB RECIPE)
Quick and easy portobello mushroom pizza ready in 20 minutes. It's a vegan, gluten free, low carb and healthy alternative to regular pizza.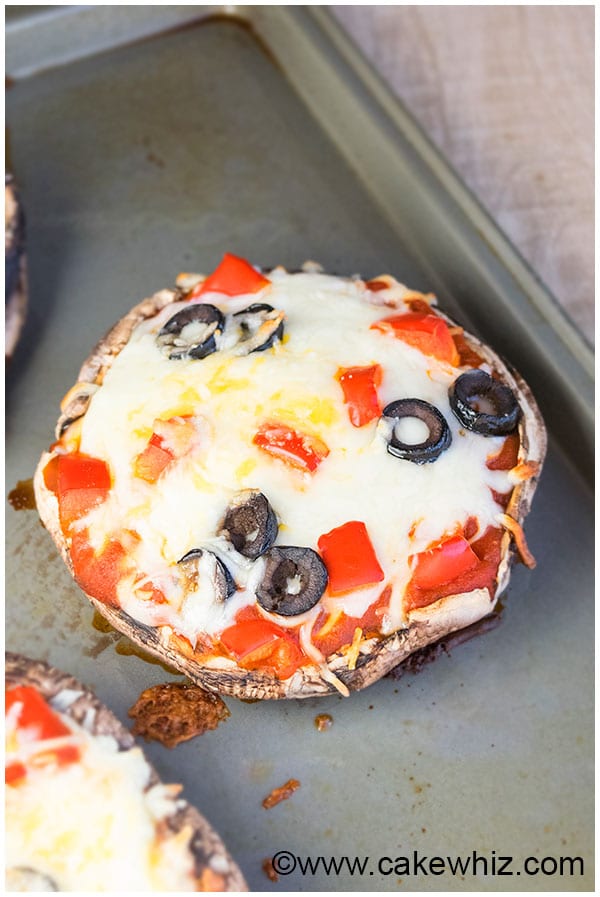 PORTOBELLO MUSHROOM PIZZA (LOW CARB)
prep time 10 MINS
cook time 10 MINS
total time 20 MINS
SERVINGS: 4 PEOPLE
course: SIDE DISH
cuisine: AMERICAN
calories: 181 KCAL
author: CAKEWHIZ
INGREDIENTS
4 Portobello mushrooms
1 cup Pizza sauce
⅓ cup Your choice of toppings I used olives and red peppers
1 cup Mozzarella cheese
2 tbsp Italian seasoning
½ cup Parmesan cheese for topping
1 tsp Crushed red peppers for topping- optional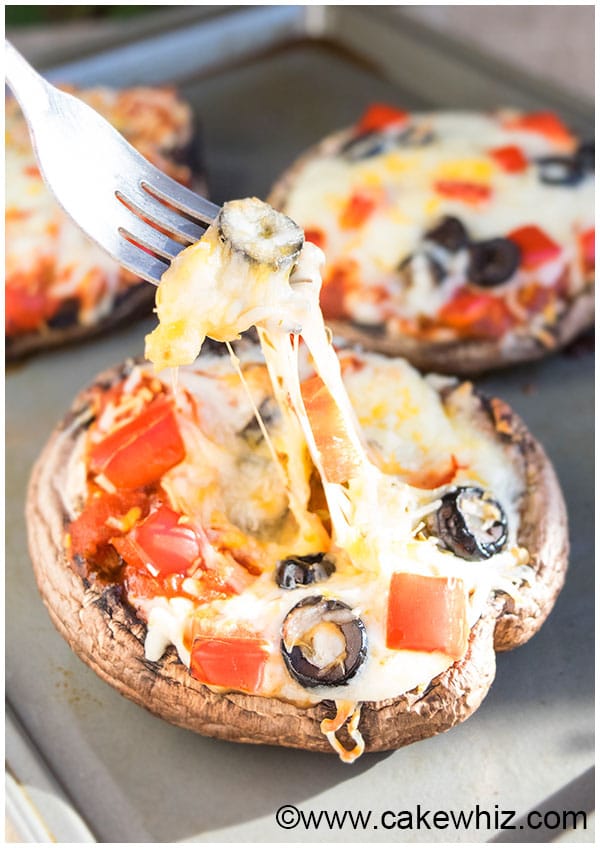 INSTRUCTIONS
Clean the mushrooms and remove the stems.
Place the mushrooms on a cookie tray sprayed with oil. Make sure the tops are facing down.
Spread pizza sauce on each mushroom.
Top off with your choice of vegetables/ meats and lots of mozzarella cheese.
Sprinkle some Italian seasoning on top of the pizzas.
Place the tray in the middle rack of the oven and bake at broiled/grill settings for 10 minutes or until the cheese has melted and is slightly golden brown.
Remove tray from oven and top off each portobello pizza with parmesan cheese, additional Italian seasoning and crushed red peppers.
RECIPE NOTES
Use low fat mozzarella cheese or vegan cheese to make these even healthier.
Tastes best when served fresh.