GLUTEN FREE POTSTICKERS | LOW CARB, KETO-FRIENDLY!
GLUTEN FREE POTSTICKERS | LOW CARB, KETO-FRIENDLY!
With this recipe, it feels like we've achieved the impossible - never did I think we could create low carb, Gluten Free Potstickers!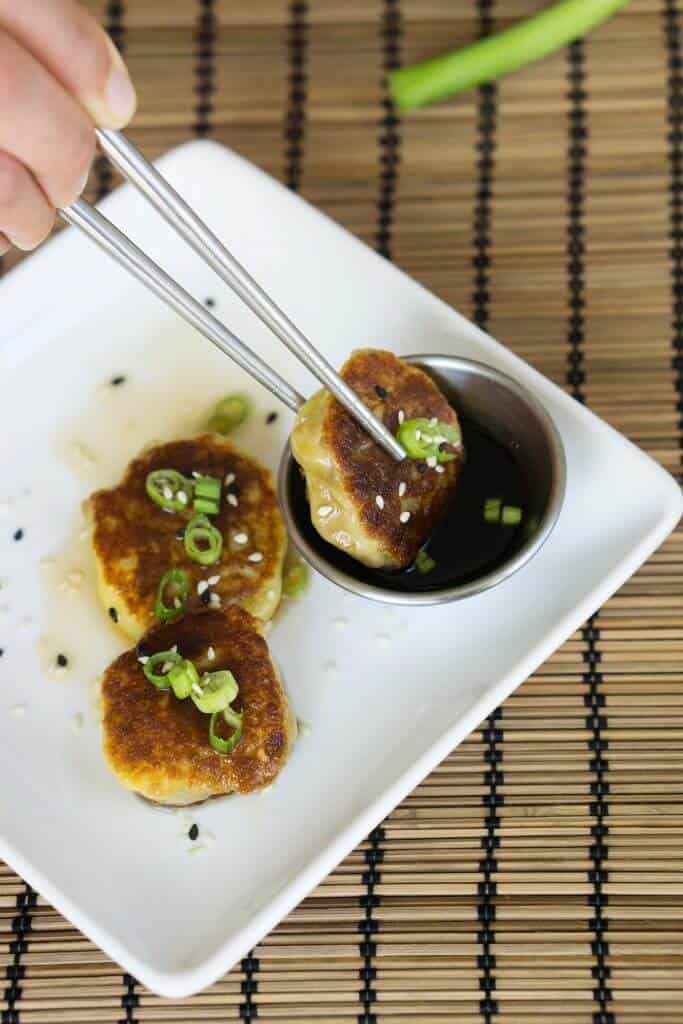 GLUTEN FREE POTSTICKERS | LOW CARB, KETO-FRIENDLY!
COURSE: SIDE DISH
KEYWORD: GLUTEN FREE POTSTICKERS
PREP TIME: 10 MINUTES
COOK TIME: 5 MINUTES
TOTAL TIME: 4 HOURS 15 MINUTES
SERVINGS: 12 SERVINGS (1 POTSTICKER PER SERVING)
CALORIES: 111 KCAL
INGREDIENTS
WRAPPER
2 cup Shredded mozzarella cheese
2 large egg yolks
FILLING
8 oz ground pork
2 tbsp liquid aminos
1 tsp rice wine vinegar
1/2 tsp Chinese five spice
1/2 tsp ground ginger
1/2 tsp minced garlic

INSTRUCTIONS
Microwave cheese in a medium bowl for 30-45 second until melted. Add yolks and combine using a spatula. Microwave for an additional 10 seconds and combine fully.
Pour the cheese yolk mixture onto a greased parchment paper and cover with another piece of greased parchment paper. Roll out the mixture pretty thing with a rolling pin.
Cut out 12 circles and fill the center of each with your favorite filling (we used cooked ground pork as seen above in the recipe). Fold up the sides to meet in the center at the top and squeeze closed (watch video to see how I did it).
Place all the complete potstickers on a parchment lined plate and refrigerate for 3-4 hours to allow them to set and harden.
Heat a pan to medium-high heat and add in 2 tbsp of oil of choice (we used avocado oil). Add the cold potstickers to the heated pan in two batches and allow to crisp on one side before flipping. Once browned on both sides remove and set aside.
Optional: garnish with sesame oil and sesame seeds.
Note: You may have to re-microwave the mixture unused when cutting out the potstickers and re-roll it out to make more!
RECIPE NOTES
The nutrition information listed below is per serving.
This recipe makes 12 servings. 1 potsticker per serving. Net Carbs: 0.50g