Cranberry Brie Bites
Cranberry Brie Bites = The Perfect Holiday Appetizer
Our love for crescent roll recipes is no secret. Why make dough from scratch when everyone loves the canned stuff?! These little guys are the perfect appetizer to make during the holidays. Be warned: It'll forever change the way you think about brie.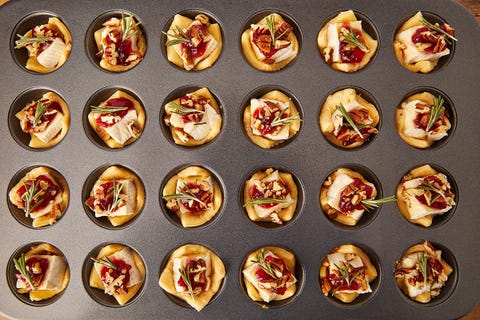 KAT WIRSING
Cranberry Brie Bites
YIELDS:24
PREP TIME:0 HOURS 20 MINS
TOTAL TIME:0 HOURS 35 MINS
INGREDIENTS
1 (8-oz.) tube crescent dough
Cooking spray, for pan
Flour, for surface
1 oz. (8-oz.) wheel brie
1/2 c. whole berry cranberry sauce
1/4 c. chopped pecans
6 sprigs of rosemary, cut into 1" pieces.
DIRECTIONS
Preheat oven to 375° and grease a mini muffin tin with cooking spray. On a lightly floured surface, roll out crescent dough, and pinch together seams. Cut into 24 squares. Place squares into muffin tin slots.
Cut brie into small pieces and place inside the crescent dough. Top with a spoonful of cranberry sauce, some chopped pecans, and one little sprig of rosemary.
Bake until the crescent pastry is golden, about 15 minutes.