Slow Cooker Meatloaf Recipe
Slow Cooker Meatloaf Recipe
With fall almost here this Slow Cooker Meatloaf Recipe is going to become a weekly meal in our house. This past weekend I was asking the family what they would like for dinner and everyone was wanting meatloaf. I was excited as it allows me to stretch my ground beef further which saves me $$'s. Plus I could use my slow cooker and not heat up the kitchen (a big plus). Meatloaf is one of my favorite comfort foods especially when fall arrives.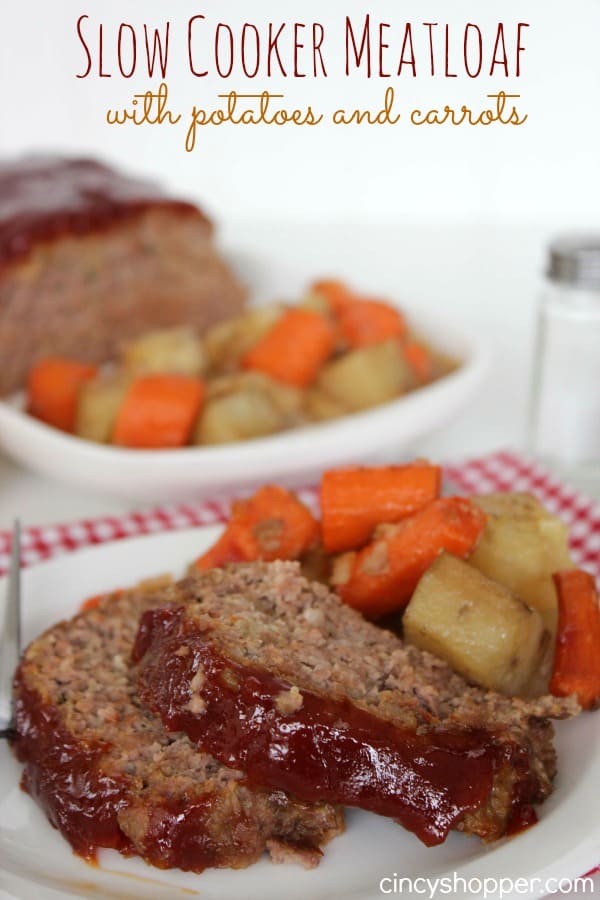 Ingredients
1 1/2 lb Ground Beef or Ground Turkey
2 Eggs
3/4 cup Milk
2/3 cup Bread Crumbs
1 tsp Salt
2 tsp Dried Minced Onions
1/2 tsp Sage
1/4 cup Ketchup
2 tbsp Brown Sugar
1 tsp Mustard
1 tsp Worcestershire Sauce
1 lb Carrots
1 1/2 lb Potatoes

Instructions
Beat eggs in a large bowl.
Add milk, bread crumbs, onion salt and sage and mix well.
Crumble ground meat into mixture and mix well.
Form into a loaf to sit in the middle of your slow cooker.
Peel potatoes and carrots; cut into 1" chunks and place around meat loaf.
Cook on low 5-6 hours.
Mix together ketchup, brown sugar, mustard and Worcestershire.
Spread sauce on top of meat loaf and cook for 30 minutes on high.