Easy, filling and perfect for parties these Sausage Rolls are savory, meaty and full of just the right amount of spices that they are a hit among party guests!
You guys know how much I love my appetizers right? Like seriously in love with them. I've stated so many times that we could build meals off of those hand-held treats and do so a lot of the time.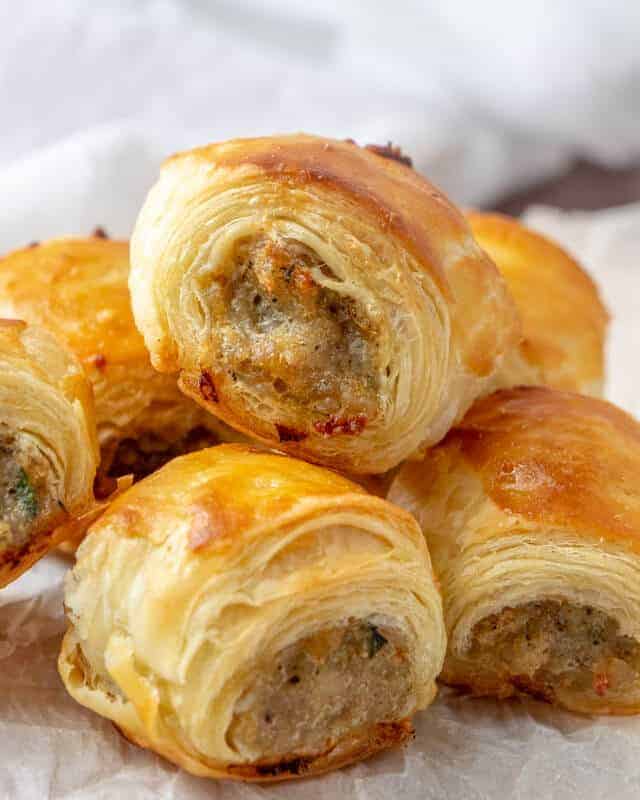 Sausage Rolls
Prep Time 20 mins
Cook Time 20 mins
Total Time 40 mins
Course: Appetizer
Cuisine: American
Keyword: Easy Sausage Rolls, Puff Pastry Sausage Rolls, Sausage Roll Recipe, Sausage Rolls, Sausage Rolls Recipe
Servings: 24 rolls
Calories: 119 kcal
Ingredients
1 lb pork sausage
1 17.3 oz 2 pack box puff pastry
2 eggs divided
1/2 breadcrumbs
2 Tbs parsley
1 tsp thyme
1 tsp garlic powder
1 tsp onion powder
1/2 tsp salt
Pinch of pepper
Water
Instructions
Defrost puff pastry according to package directions.
Preheat oven to 425 degrees.
Line a large baking sheet with parchment paper, set aside.
In bowl mix together sausage, bread crumbs, 1 egg, thyme, parsley, onion powder, garlic powder, salt and pepper.
Section off into 6 equal portions and set aside.
On a floured surface unfold your pastry dough and gently roll out a little bit so it gets a little thinner then cut into 3 long rectangle sections.
Place sausage down the center of each section leaving an inch or so of pastry on either side.
Bring sides together and pinch to seal and pat down slightly, repeat with remaining sausage and dough.
Cut easy "log" 6 equal portions about 2" long and then pierce the top with a knife 2 times to create venting holes.
Place sausage rolls 2 inches apart on prepared baking sheet.
In a small bowl whisk together egg and water and then brush on tops of the sausage rolls and bake in oven for about 20 minutes until pastry is puffed and tops are golden.