Fish Taco Rice Bowls
Bon Appetit friends and happy Monday!
FISH TACO RICE BOWLS with avocado & pickled onions, topped with a Cilantro Lime Dressing! The perfect 30 minute meal to satisfy even the pickiest of eaters!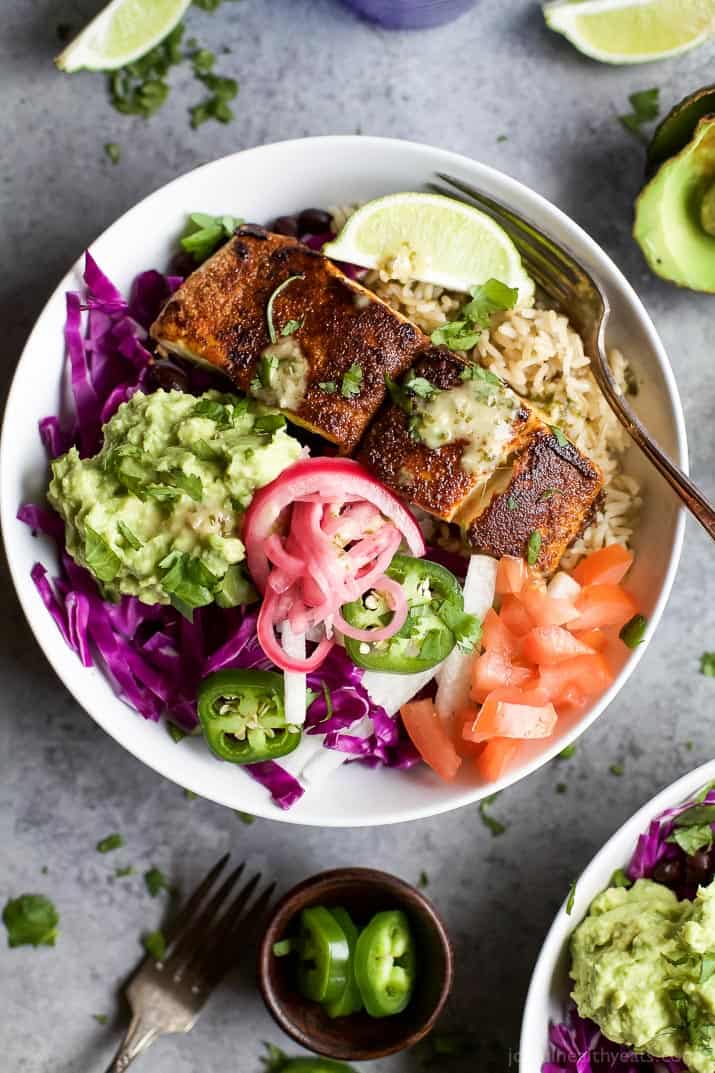 Fish Taco Rice Bowls
Author: Krista @ JoyfulHealthyEats.com
Prep Time: 15 mins
Cook Time: 20 mins
Total Time: 35 mins
Yield: 4 bowls
Category: Gluten Free, Seafood, 30 Minute Meal, Kid Friendly
Method: Stovetop
Cuisine: American
Ingredients
1 cup uncooked brown rice
1 3/4 cup water
1.25lbs. mahi mahi, skin removed
1/4 teaspoon chipotle chili powder
1 teaspoon garlic powder
1 teaspoon smoked paprika
1/2 teaspoon salt
1/4 teaspoon ground black pepper
1 tablespoon canola oil
2 avocados, mash
2 tablespoons lime juice
2 cups purple cabbage, sliced
1 cup of sliced jicama
1 cup diced roma tomatoes
Picked Onions
Cilantro Lime Dressing:
1 tablespoon red onion
1 garlic clove
1 cup fresh cilantro
1/4 cup canola oil
2 tablespoons fresh lime juice
2 tablespoons red wine vinegar
1 tablespoon honey
2 teaspoons dijon mustard
1/4 teaspoon of sea salt
pinch of ground cumin
Get IngredientsPowered by Chicory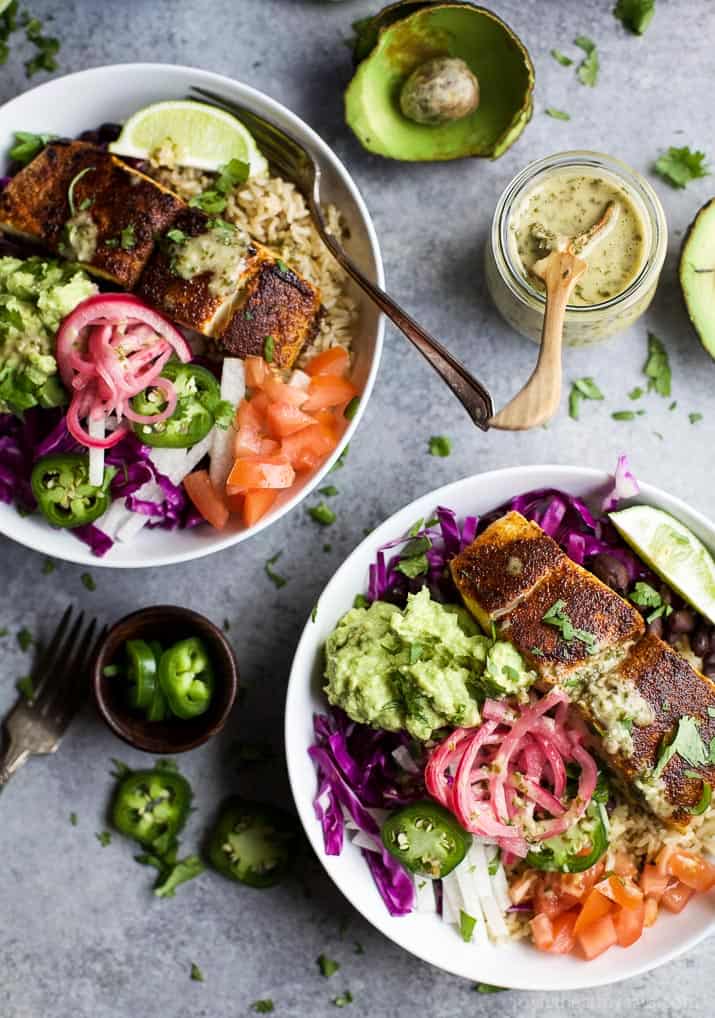 Instructions
Add water and rice to a microwave safe bowl and cover. Cook in microwave on HIGH for 10 minutes. Let sit to cool and then fluff with a fork.
In a small bowl, add chipotle chili powder, garlic powder, smoked paprika, 1/2 teaspoon of salt, and 1/4 teaspoon of black pepper. Stir to mix.
Pat the fish dry and rub spice blend on both sides of the fish.
Heat large skillet to medium high heat. Add 1 tablespoon of canola oil to the pan, then gently place prepared fish in pan. Sear on both sides for 4-5 minutes. Remove from pan and let rest.
To a food processor add red onion, garlic clove, fresh cilantro, 1/4 cup of canola oil, lime juice, red wine vinegar, honey, dijon mustard, 1/4 teaspoon salt, and cumin. Blend until smooth. Set aside.
In a small bowl, add mashed avocado and 2 tablespoons of lime juice. Season with salt to taste. Stir everything together.
Assemble the bowls: add 1/2 cup of rice, one filet of fish, a generous scoop of avocado mash, 1/2 cup purple cabbage, 1/4 cup of sliced jicama, 1/4 cup of diced tomato. Drizzle with dressing mixture and serve!