The Best Chicken Tinga Tacos
The Best Chicken Tinga Tacos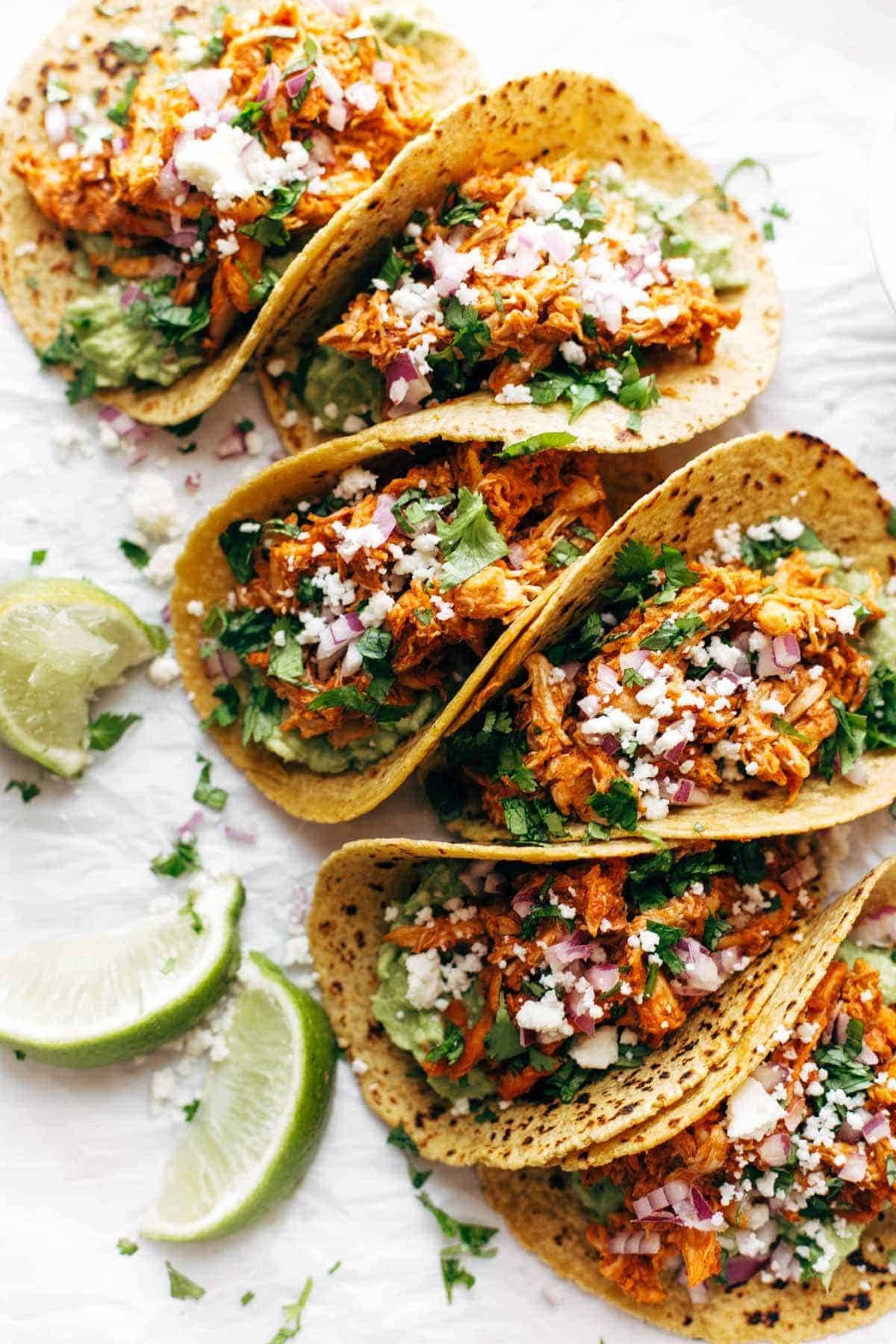 Literally though, these chicken tinga tacos are the best.
A) Look how pretty!!
B) Imagine how good they taste because juicy chicken, smoky chipotle, creamy avocado, zippy lime, and a charred tortilla just SING together, right? I promise you, they sing.
C) Do you have 20 minutes? Cool. You can make these because this is not fancy. This is just really, really delicious chicken tinga tacos.
This is one of those rare recipes that comes together so quickly and somehow still rivals a restaurant-quality meal. It is a recipe that, once you make it, you say: I will probably make these chicken tinga tacos every time I have friends over because it makes me look fancy with minimal effort. You also say: I need to memorize this recipe. You also say: How soon is too soon to make these again.
It is a miracle and a delight. A perfect taco unicorn.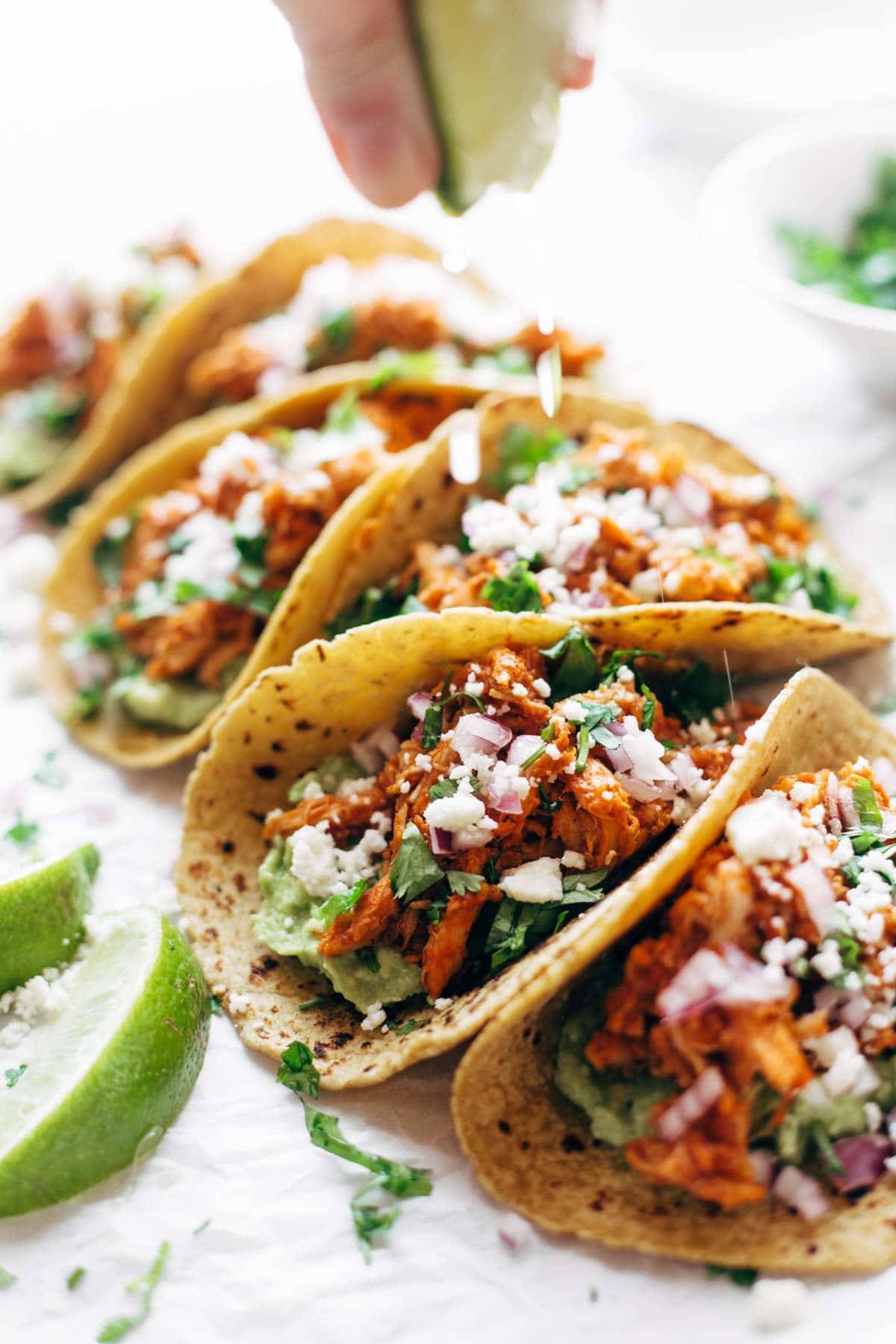 Here's what you do. You take the usual suspects (garlic, onion, spices, chipotles, and some unpictured crushed tomatoes) and you make a sauce out of them.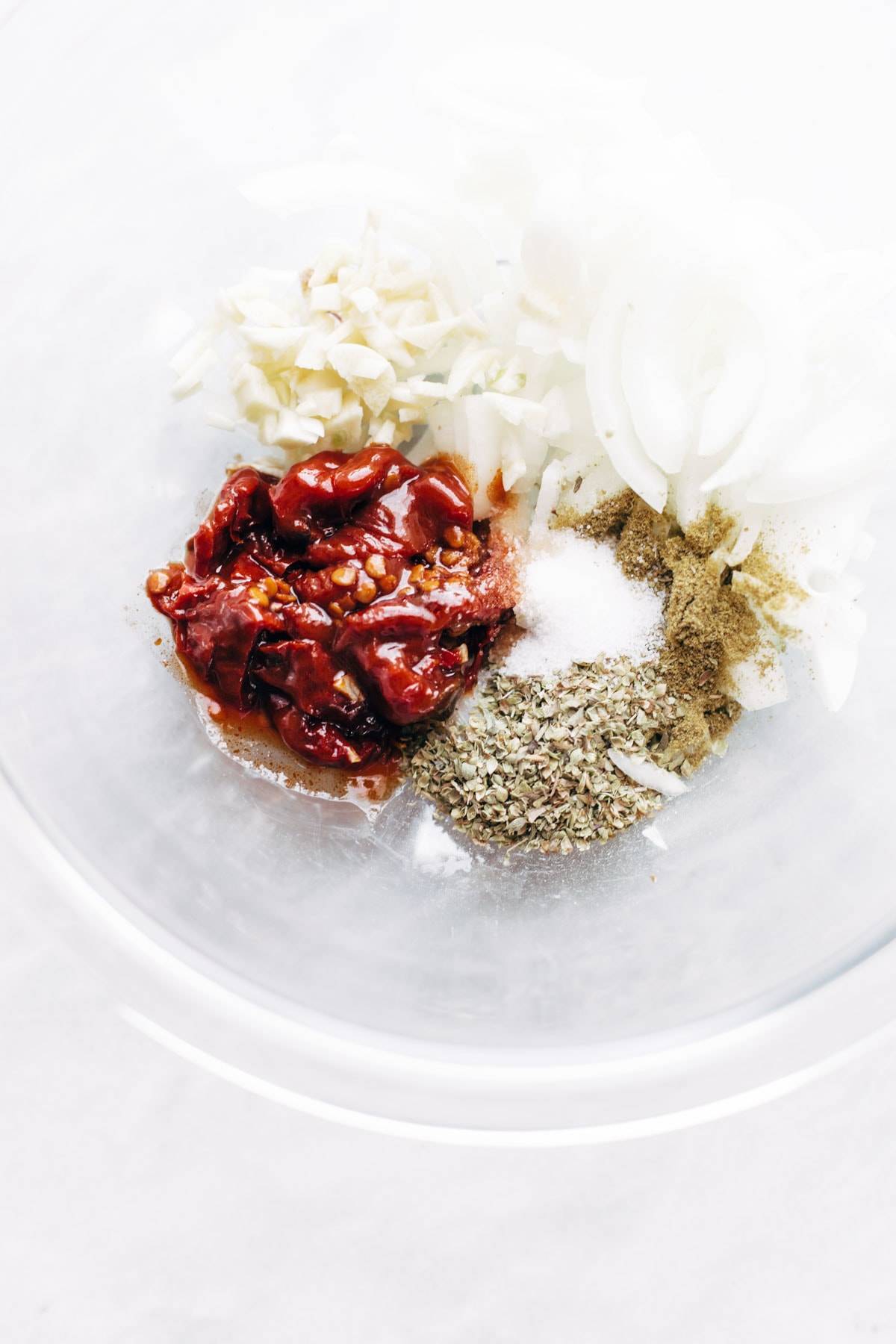 Then you throw your sauce in a pan with your chicken.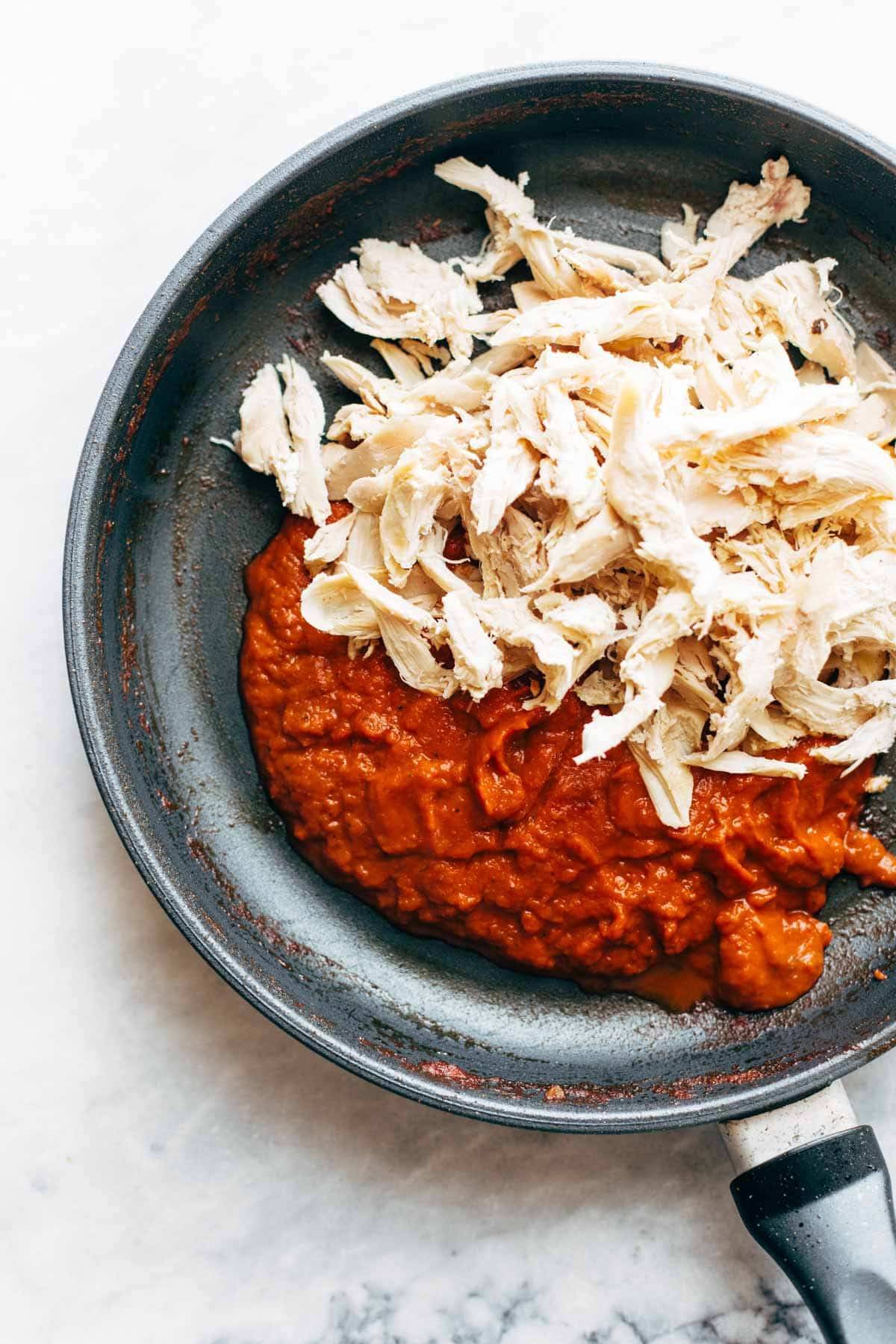 Then you have chicken tinga for your chicken tinga tacos.
It's that easy.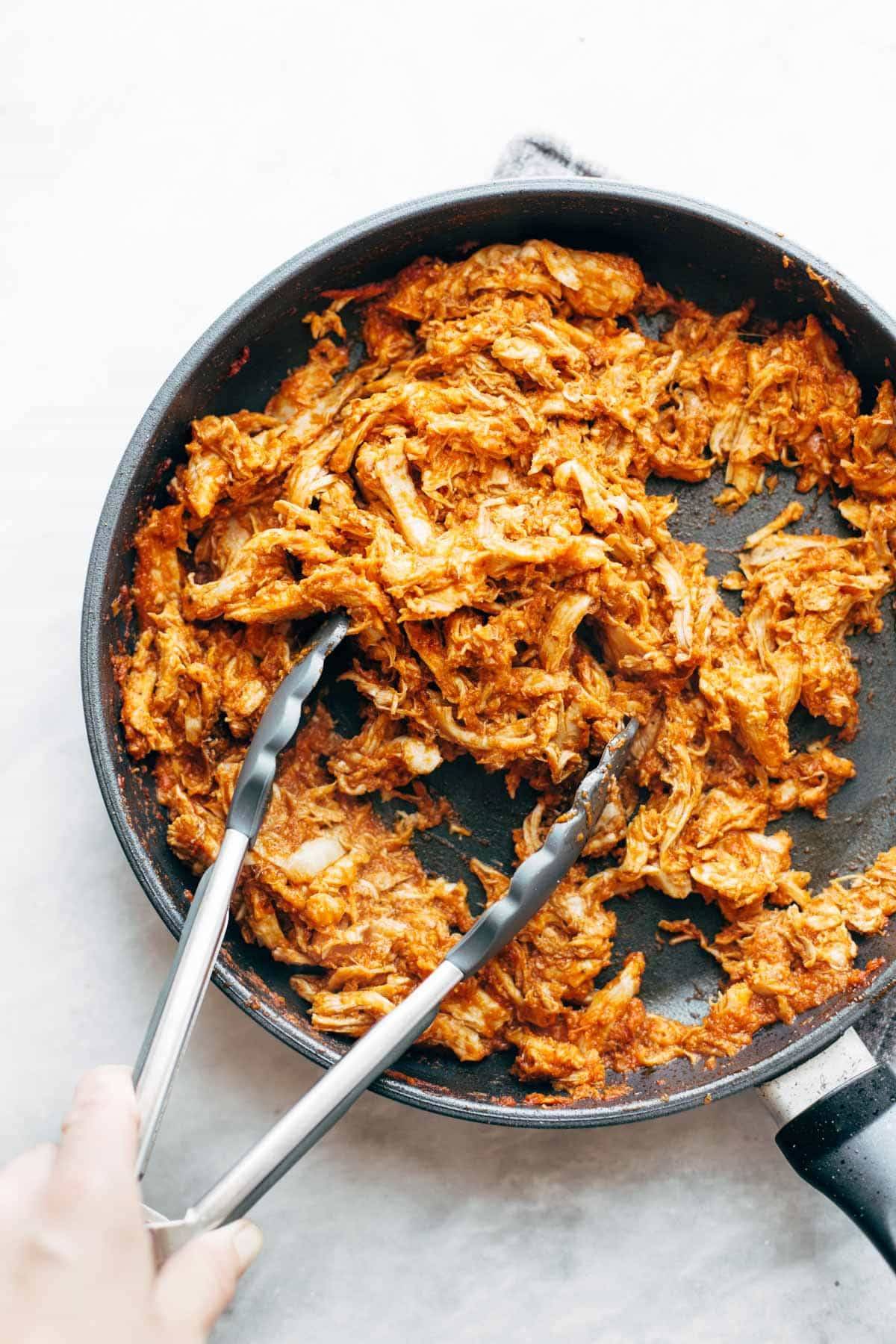 Avocado is necessary for these tacos (and/or for life?!?!), so you can either put some chunks of avocado on the tacos as Classy Melissa does in the book, or you can be like me who needs help with messy taco situations and you can just mash up your avocado on the bottom of the tortilla, like a little spread.
Pro tip: a little lime and garlic salt in your avocado mash won't be sad. It won't be sad at all.
Obviously, finally, you will lean hard into those toppings and generously sprinkle cilantro, red onion, and cotija over top to crown each beauty.
HELLO LOVER! That was so easy! Can you even with these.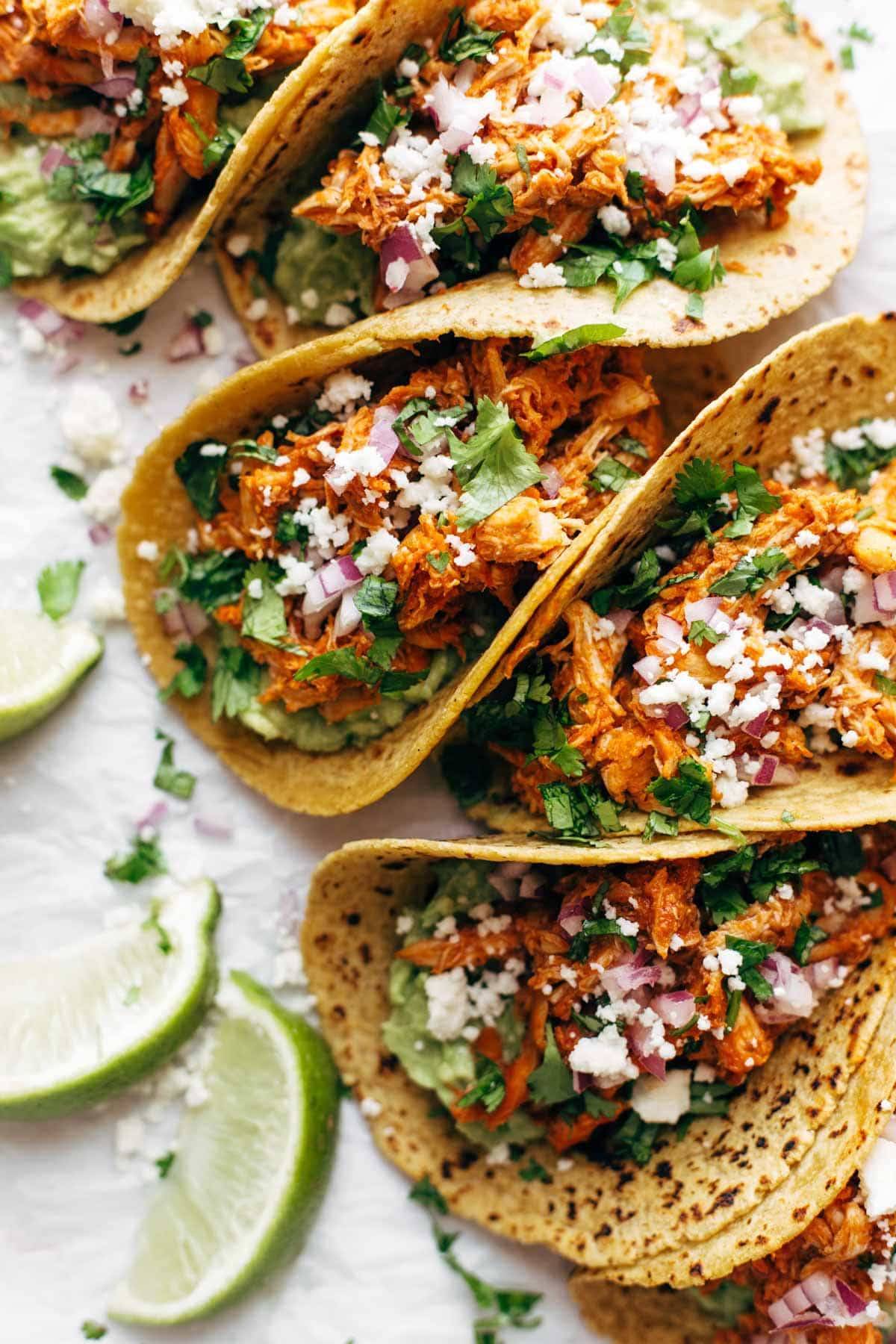 the best chicken tinga tacos
Prep Time: 10 minutes
Cook Time: 10 minutes
Yield: 3 servings (10-12 tacos)
DESCRIPTION
Chicken Tinga Tacos – the only chicken tinga tacos recipe you will ever need! Spicy, saucy, simple, and so fresh. Recipe is posted with permission from The Minimalist Kitchen (affiliate link) cookbook (although I've taken the liberty of adding "The Best" as a necessary recipe title prefix).
INGREDIENTS
Chicken Tinga Tacos:
1 tablespoon olive oil
1 cup roughly chopped sweet onion
2 cloves garlic, minced
1-2 chipotle peppers in adobo sauce, chopped
1 teaspoon dried oregano
1⁄2 teaspoon ground cumin
3⁄4 cup canned crushed fire-roasted tomatoes
1⁄4 cup chicken stock
1⁄2 teaspoon kosher salt
3 cups shredded cooked chicken (rotisserie chicken works!)
For Serving:
10 (6-inch) corn tortillas
2 ripe avocados, sliced
1/4 cup chopped fresh cilantro
1/2 cup diced red onion
crumbled cotija
1 lime, cut into wedges
INSTRUCTIONS
Sauce: Heat a large skillet over medium. Once warm, add the oil and onion. Sauté for 4 minutes or until tender, stirring occasionally. Add in the garlic and cook for 30 seconds more. Stir in the chipotles, oregano, and cumin, and toast for 1 minute. Add in the tomatoes, stock, and salt. Bring to a simmer, and cook for 7 minutes.
Blend: Place the tomato mixture in a high-powered or regular blender, and blend until smooth.
Chicken: Return the blended sauce to the pan over low heat. Add the chicken, and cook for 5 minutes. Taste and add more salt if necessary.
Serving: Prepare the garnishes. To assemble, top the tortillas with the chicken and garnish with the avocado slices, cilantro, red onion, and cotija. Serve with a lime wedge for squeezing.
NOTES
Instant Pot Chicken Tinga Tacos: Blend all sauce ingredients (I did not saute them first). Add sauce to Instant Pot along with about a pound of chicken breasts. Cook on high pressure for 10 minutes. Shred chicken in sauce and serve.
Spiciness: I like to use two chipotle peppers for optimal "medium" spiciness. If you want a mild version, just use one chipotle pepper. If you want it hot hot hot, go for three.
Avocado Mash: I found my avocados sliding out of the tacos because I am a taco monster and things got a little messy. To make sure I got every ounce of avocado goodness possible, I mashed up the avocado, squeezed in some lime juice, sprinkled in some salt and a super light dusting of garlic powder, and spread that on my tortillas before adding the chicken.
CHAR YOUR TORTILLAS PLEASE: Place directly over a gas flame to char the edges. Place on a plate, and cover with a towel to steam. (If working on an electric stovetop, heat the tortillas on a warmed pan, and cover to steam.)