STEAK WITH RED WINE REDUCTION
STEAK WITH RED WINE REDUCTION
Steak with red wine reduction is the perfect combination of sweet and savory. A simple and delicious red wine reduction sends the natural flavors of the steak over the top!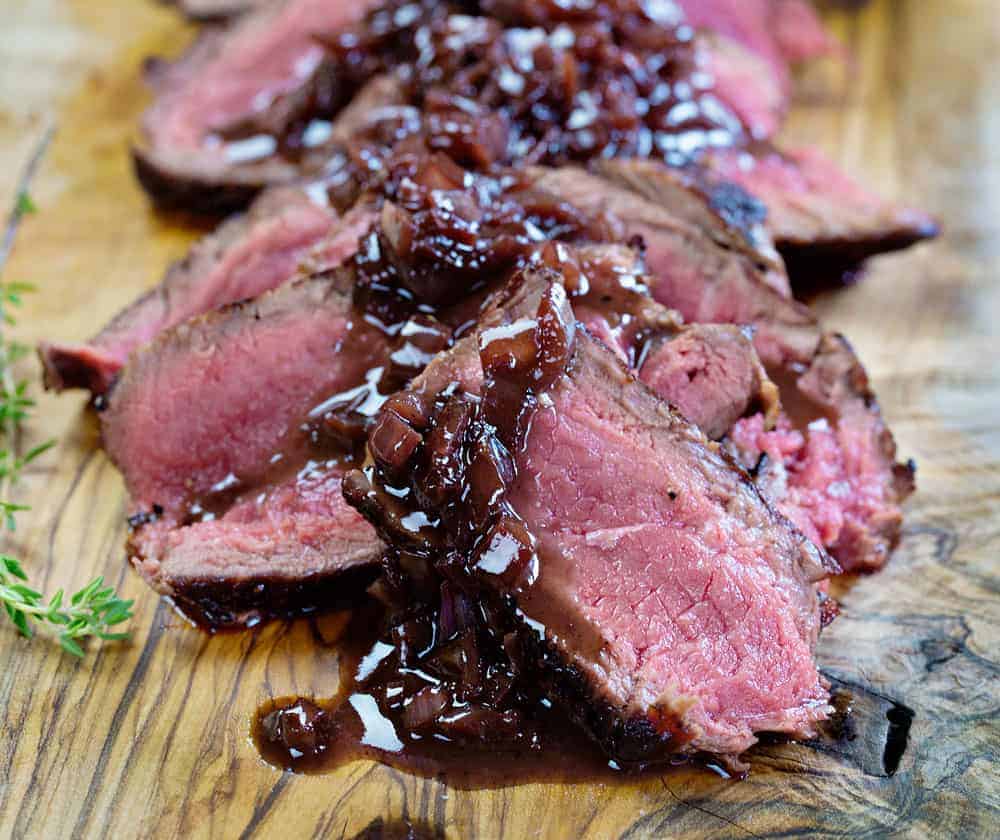 Created by Autumn Maring
Cook Time: 25 m
Total Time: 25 m
Serves: 2
INGREDIENTS
2 12 ounce, top sirloin steaks (or ribeye)
1/2 cup beef broth
1 teaspoon brown sugar, packed
1/2 cup red wine
1 shallot, minced
6 tablespoons butter, divided
2 sprigs of thyme
1 tablespoon vegetable oil
1 teaspoon pepper
1 teaspoon salt
1/4 teaspoon fresh thyme, minced
INSTRUCTIONS
Pat steak with a paper towel to remove excess moisture.
Season both sides of steak with salt and pepper.
Heat oil in cast iron skillet over medium-high heat.
Add steak, two springs of thyme and 2 tablespoons butter and cook until well browned (about 3-5 minutes).
Flip steak and repeat with the opposite side.
Using tongs, sear the sides of the steak.
Transfer to plate and tent loosely with foil.
Add 1 tablespoon of butter to the empty skillet and melt over medium-high heat.
Add shallot and cook until fragrent and soft, approoximately 3 minutes
Add wine and brown sugar, simmer until reduced, approximately 3 minutes.
Add broth and simmer until the mixture is reduced by 1/2, approximately 5 minutes.
Remove from heat.
Add in butter and minced thyme, mix well and set aside.
Slice steak into 1/4 inch slices. Place on serving dish and cover with red wine sauce.
Serve immediately.