Slow-Cooker Chicken Parmesan Tortellini
Slow-Cooker Chicken Parmesan Tortellini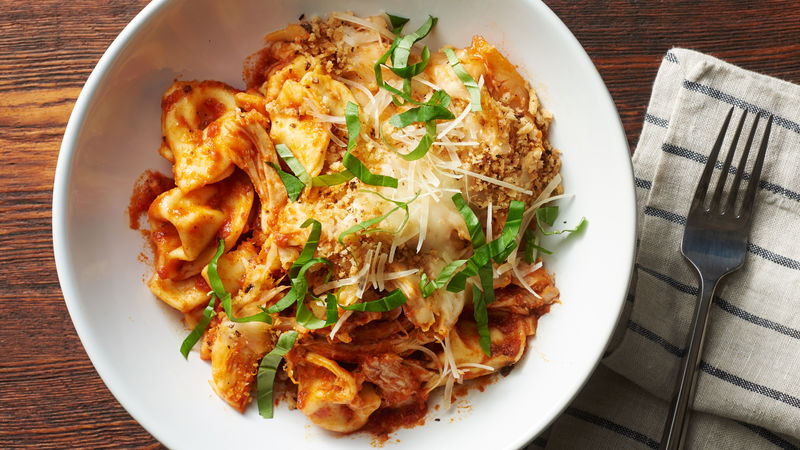 Prep 20 MIN
Total 3 HR 40 MIN
Ingredients 10
Servings 6
Ingredients
1 jar (25.5 oz) Muir Glen™ tomato basil pasta sauce SAVE $
2 cups Progresso™ chicken broth (from 32-oz carton)
1 teaspoon salt
1 lb boneless skinless chicken breasts
1 package (20 oz) refrigerated cheese-filled tortellini
1 cup shredded mozzarella cheese (4 oz)
1 tablespoon butter
1/2 cup Progresso™ Italian style panko crispy bread crumbs
1/2 cup shredded Parmesan cheese (2 oz)
Shredded fresh basil leaves, if desired
Steps 1
Spray 4 1/2- to 5-quart slow cooker with cooking spray. Mix pasta sauce, broth and salt in cooker. Add chicken breasts.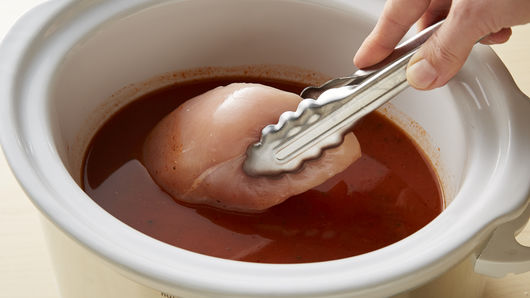 2. Cover; cook on Low heat setting 3 to 4 hours or until juice of chicken is clear when center of thickest part is cut (at least 165°F). Remove chicken with slotted spoon to cutting board, and shred.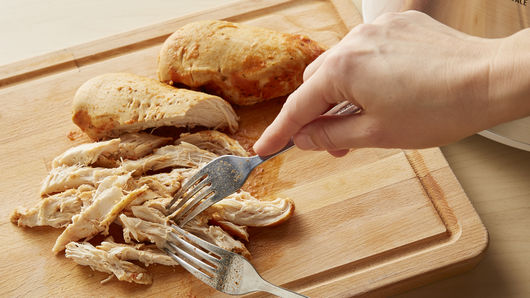 3. Meanwhile, stir tortellini into cooker. Cover; cook on Low heat setting 15 minutes.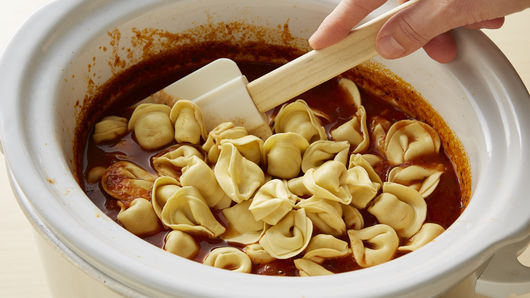 4. Stir tortellini mixture; top with shredded chicken. Top chicken with mozzarella cheese; cover and cook 10 to 15 minutes or until tortellini are tender and cheese is melted.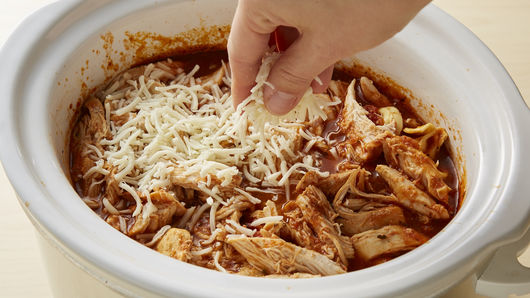 5. Meanwhile, in 10-inch skillet, melt butter over medium heat. Add bread crumbs; cook and stir 2 to 5 minutes or until toasted. Sprinkle over mixture in slow cooker. Top with Parmesan cheese and basil.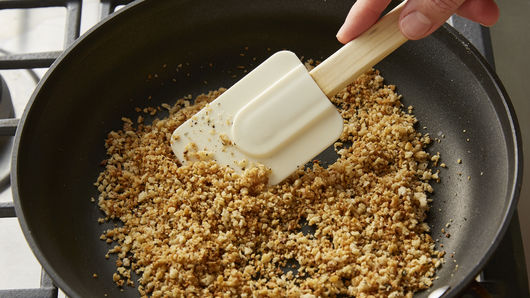 Expert Tips
Don't like shredded chicken? You can dice the cooked chicken instead.
Refrigerated cheese-filled tortellini are usually either plain pasta or a mixture of plain and spinach pastas. Either type is fine for this recipe.
Nutrition Facts
Serving Size:

1 Serving
Calories

480

Calories from Fat

190
Total Fat

22g
33%

Saturated Fat

9g
47%

Trans Fat

0g

Cholesterol

150mg
51%

Sodium

1500mg
62%

Potassium

260mg
7%

Total Carbohydrate

35g
12%

Dietary Fiber

2g
11%

Sugars

6g

Protein

35g
% Daily Value*:
Vitamin A

25%

Vitamin C

0%

Calcium

35%

Iron

15%
Exchanges:
1 Starch; 0 Fruit; 1/2 Other Carbohydrate; 1 Skim Milk; 0 Low-Fat Milk; 0 Milk; 0 Vegetable; 0 Very Lean Meat; 2 1/2 Lean Meat; 0 High-Fat Meat; 1 1/2 Fat;*Percent Daily Values are based on a 2,000 calorie diet.