SHREDDED CHICKEN PARMESAN SANDWICH
SHREDDED CHICKEN PARMESAN SANDWICH
This Shredded Chicken Parmesan Sandwich has tender, flavorful chicken coated in a quick, homemade tomato sauce sandwiched between two crisp slices of cheesy Texas Toast. If you're looking for an easy weeknight dinner recipe, this is it!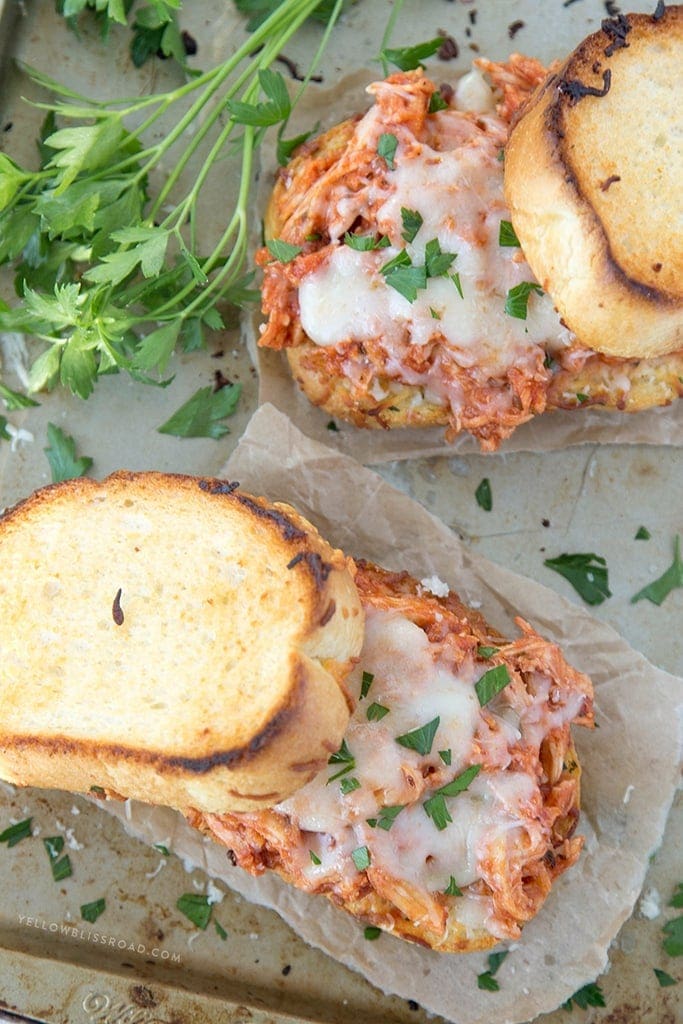 You know those moments when you have a bright idea and it turns out amazing and it's so easy that you can't believe it's so amazing? This was one of those moments!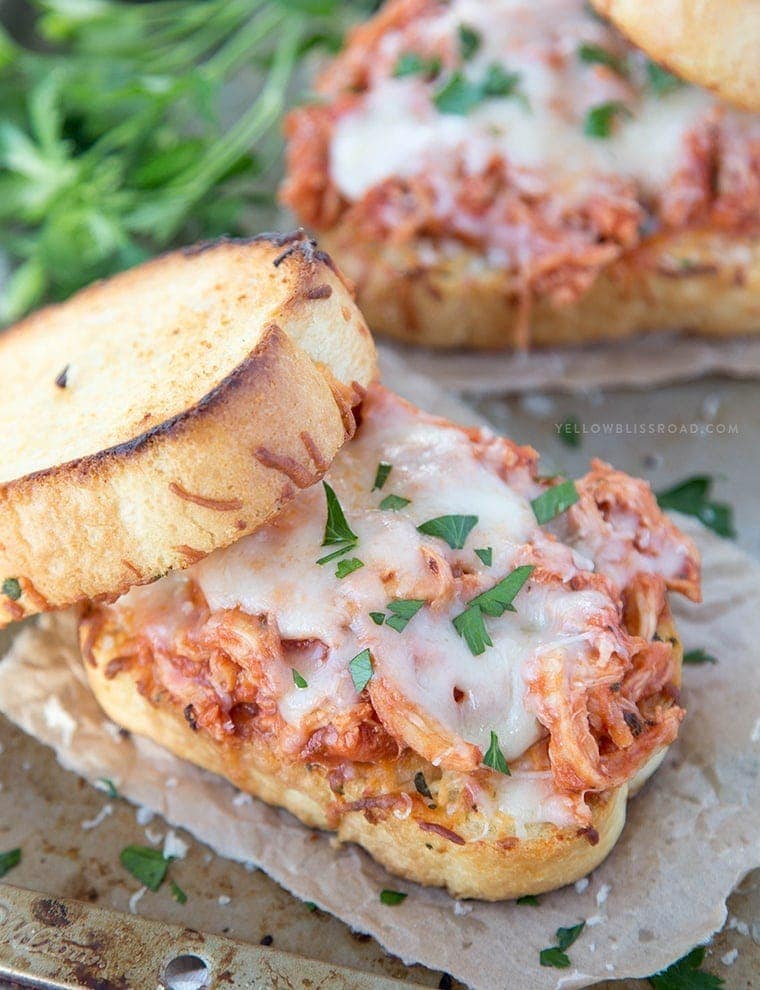 My kids take turns spending weekends with their grandma. I love it because it gives me some one on time time with each of them. It was just my daughter and I last weekend and we were searching for something for dinner. I hadn't taken anything out of the freezer and the fridge was pretty bare. I was exhausted from car shopping (because that's SO much fun with a 7-year old tagging along, right?) so I needed something really easy.
The week before I had cooked up a bunch of my favorite Slow Cooker Shredded Chicken, so I pulled some of that out of the freezer. I noticed a half of a package of frozen Cheesy Texas Toast and it gave me an idea. These Shredded Chicken Parmesan Sandwiches were the awesome result.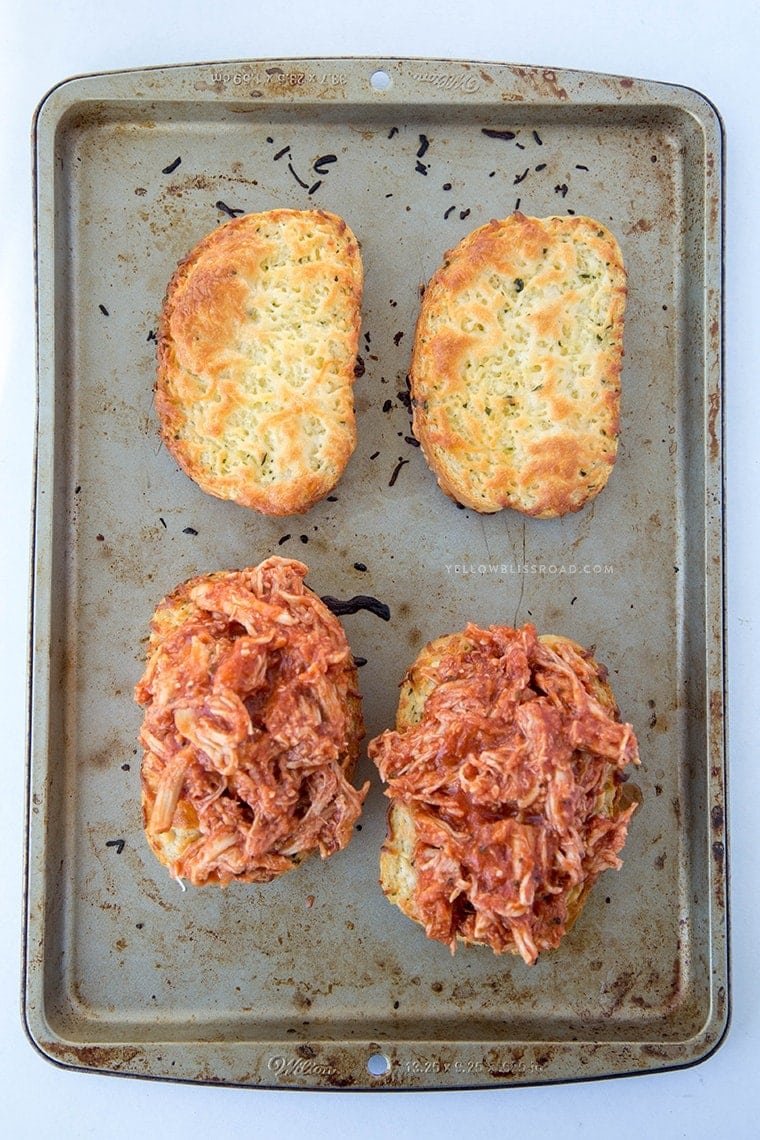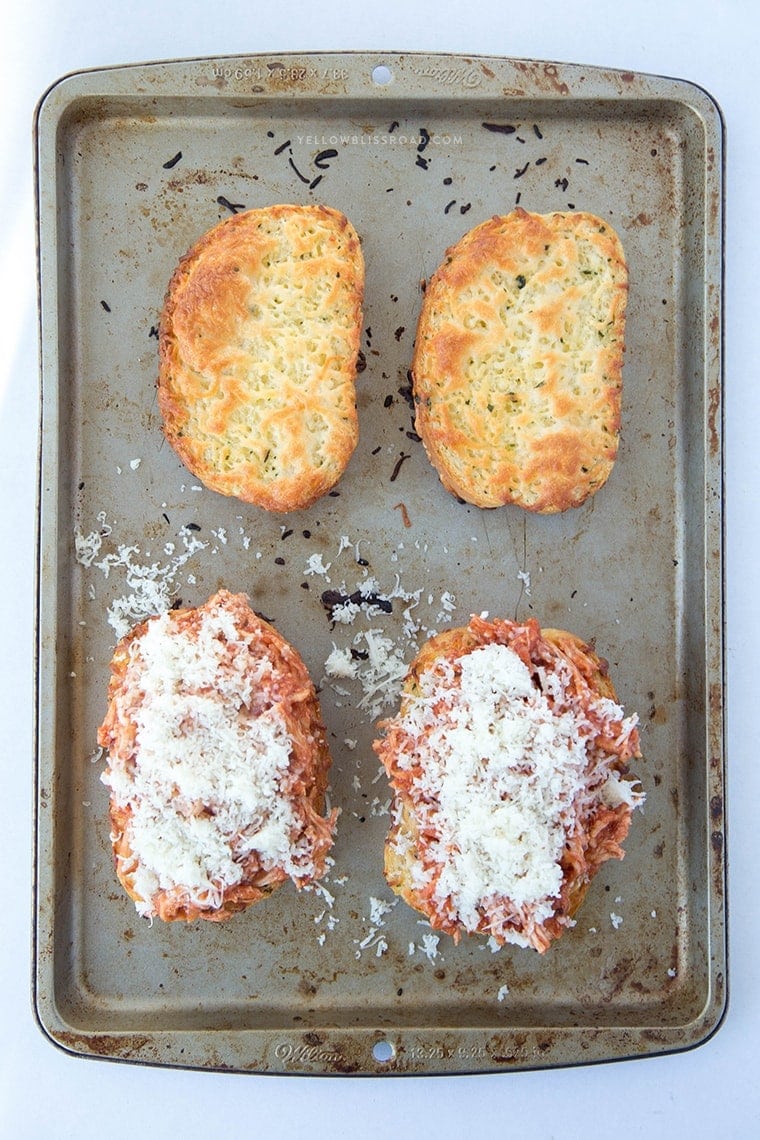 How to Make Shredded Chicken Parmesan Sandwiches
I cooked a quick homemade tomato sauce with a little basil and oregano and simmered it for a few minutes before adding the shredded chicken. When it was heated through I added some fresh Parmesan and Mozzarella Cheeses. By that time the cheesy toast was nice and hot and crispy, so I just scooped out the chicken and more cheese onto the toast and melted it under the broiler. A little fresh parsley was the finishing touch.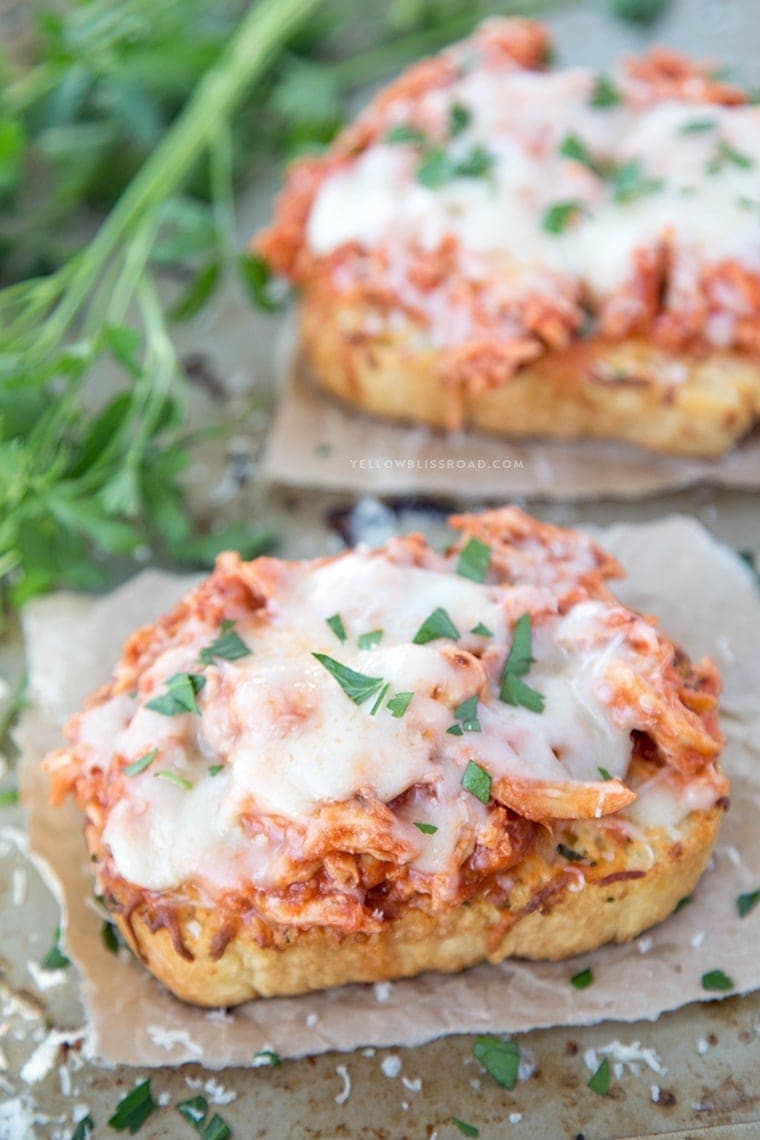 We both scarfed these sandwiches down in minutes, and my daughter already is asking when I'm going to make them again! Your family will love the combination of tender chicken and flavorful tomato sauce with the crunchy cheesy bread. It's an easy dinner recipe that's perfect for busy weeknights…or weekends, or holidays, or a midnight snack…you get the idea.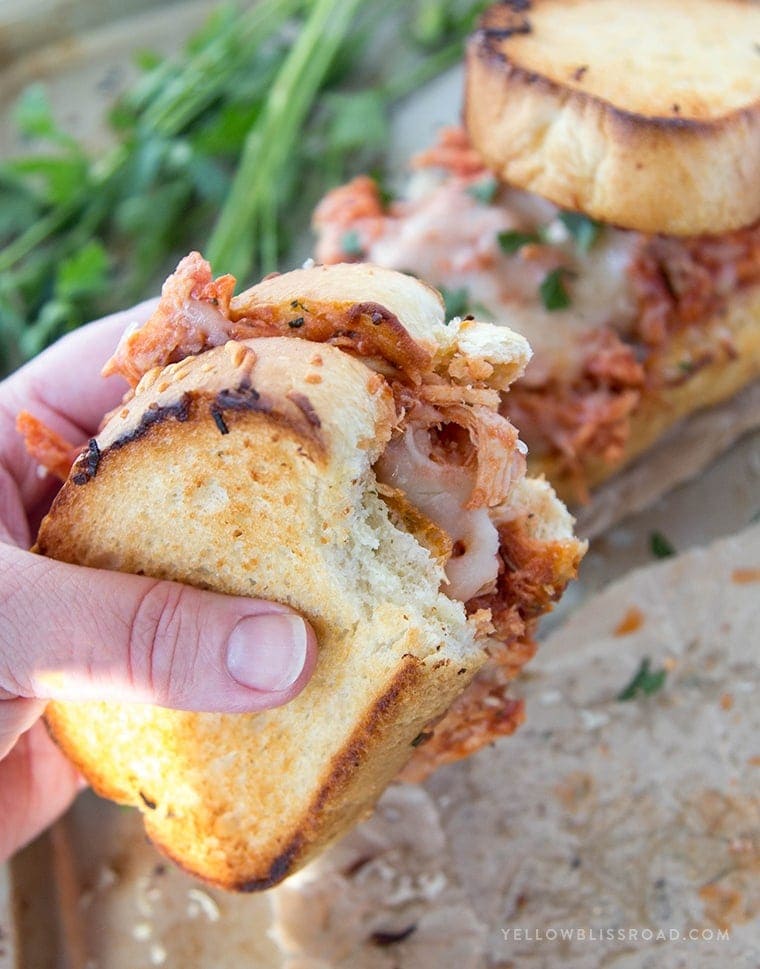 Shredded Chicken Parmesan Sandwich Recipe:
SHREDDED CHICKEN PARMESAN SANDWICH
PREP 5 mins
COOK 10 mins
TOTAL 15 mins
YIELD2 sandwiches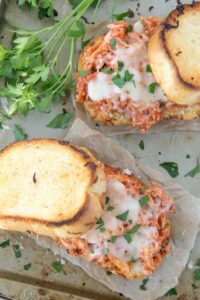 INGREDIENTS
1 cup shredded chicken
8 ounces tomato sauce
1 teaspoon minced garlic
1/4 teaspoon basil
1/4 teaspoon oregeno
pinch of onion powder
pinch of salt
1/2 cup shredded Mozzarella cheese, divided
1/4 cup shredded Parmesan cheese, divided
4 slices cheesy Texas Toast (store bought, frozen)
INSTRUCTIONS
Preheat the oven and bake toast according to package directions.
Heat a teaspoon of olive oil in a small saucepan and cook garlic for 30 second; until fragrant. Add tomato sauce and seasonings and bring to a boil. Reduce heat and simmer for 5-7 minutes. Stir in chicken and cook until heated through. Stir in half of cheeses until melted.
Divide chicken mixture over two slice of cheese toast. Sprinkle remain cheese on top and place under the broiler for 2-3 minutes, or until cheese is melted.
Garnish with fresh parsley or basil (if desired) top with another slice of toast and serve hot.