OVEN BAKED BEEF TACOS
THESE OVEN BAKED BEEF TACOS ARE FILLED WITH BEANS, MEAT AND MELTED CHEESE, THEN TOPPED OFF WITH SHREDDED LETTUCE AND FRESH SALSA. THE BEST WAY TO MAKE TACOS FOR A CROWD!
This post is sponsored by Rojo's. Thank you for supporting the brands that make Dinner at the Zoo possible!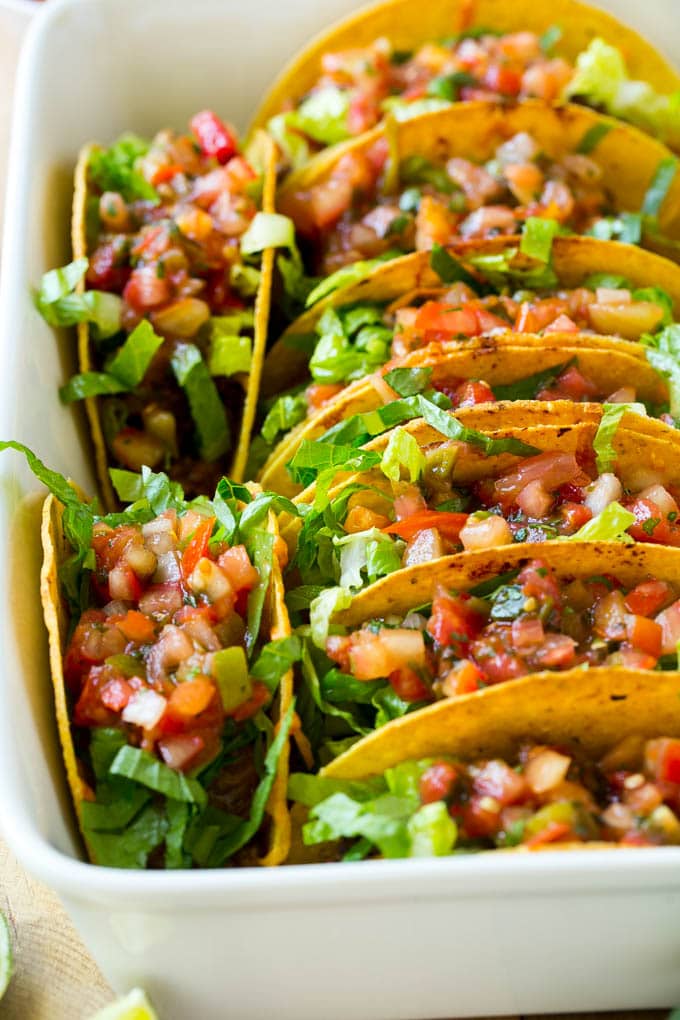 Cinco de Mayo is almost here, and I am going to celebrate by baking up a pan of these amazing tacos! These oven baked beef tacos are so simple to make, especially when you need to feed a crowd. While these tacos are a festive addition to your Cinco de Mayo menu, they're also perfect for any weeknight when you're looking for a quick dinner – my kids devour these tacos every time I make them.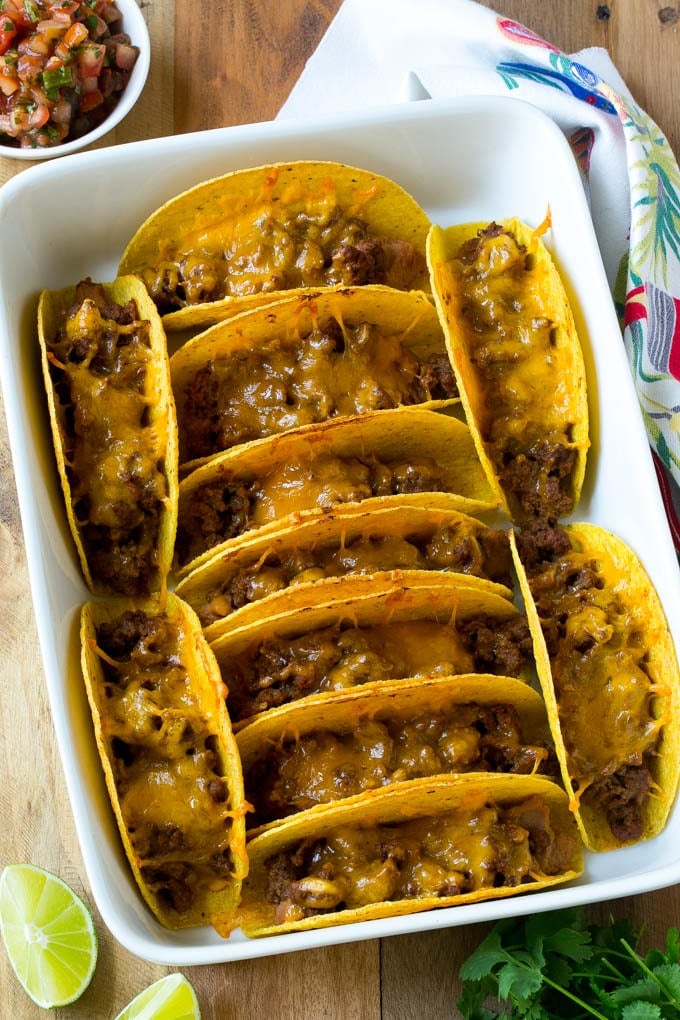 For these baked tacos, you'll start with taco shells, ground beef, refried beans and cheddar cheese. I like to use the taco shells with the flat bottoms so that they don't fall over in the pan. I typically can fit 10-11 taco shells inside a 9″x13″ pan. The taco shells are layered with the beans, meat and cheese, then baked to hot and melty perfection.
I add the finishing touch to these tacos with shredded lettuce and a generous helping of
Rojo's
. Rojo's offers a complete line of fresh salsas and dips that taste like they came from a restaurant. Rojo's salsas are superior to jarred salsa because they're made in small batches using premium fresh ingredients and time-honored family recipes.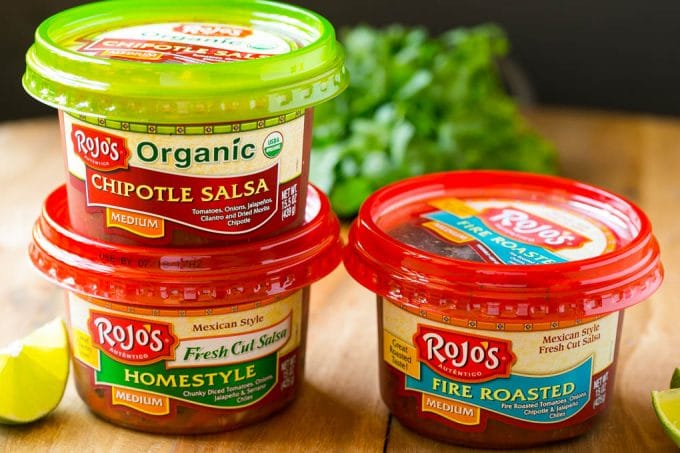 I used the homestyle fresh cut salsa for this recipe, but really any of the Rojo's salsa varieties will work. I add the fresh cut salsa to so many dishes, everything from taco salads to grilled fish to add tons of flavor without a lot of calories!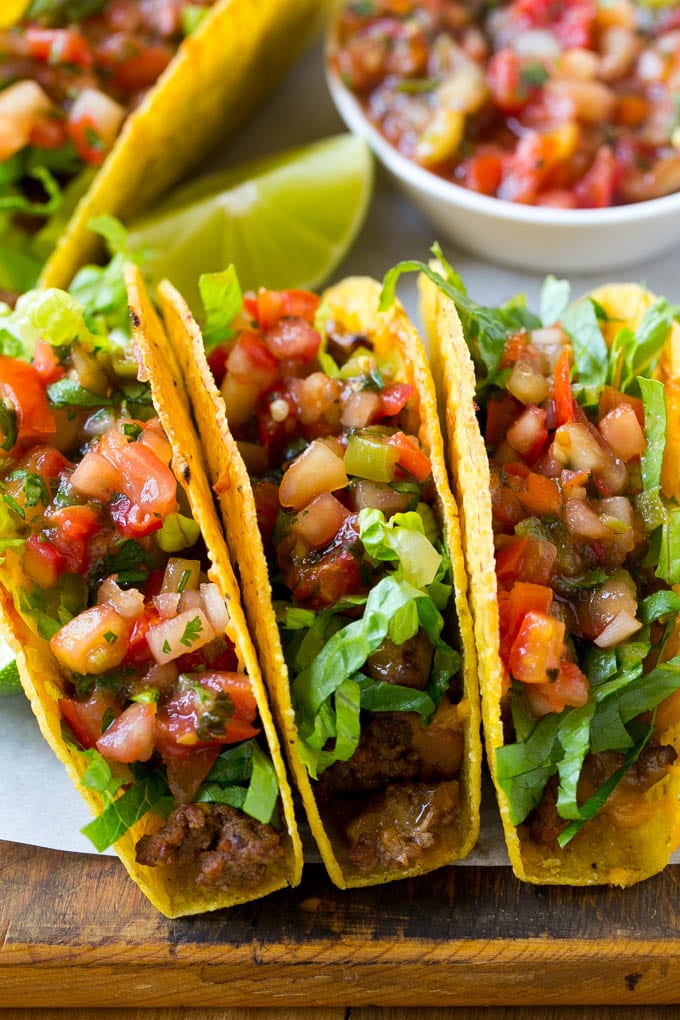 Whether you're having a party or simply looking for a family friendly dinner, these oven baked tacos are the way to go! The combination of the creamy beans, seasoned meat, melted cheese, crisp lettuce and fresh salsa is unbeatable.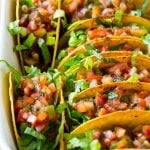 OVEN BAKED BEEF TACOS
These oven baked beef tacos are filled with beans, meat and melted cheese, then topped off with shredded lettuce and fresh salsa. The best way to make tacos for a crowd!
Course Main Course
Cuisine Mexican
Prep Time 15 minutes
Cook Time 20 minutes
Total Time 25 minutes
Servings 5
Calories 510 kcal
Author Dinner at the Zoo
Ingredients
10-11 taco shells I use the type with the flat bottom
2 teaspoons vegetable oil
1/2 cup diced onion
1 lb ground beef I use 90-93% lean
1/2 cup tomato sauce
1 tablespoon taco seasoning
salt and pepper to taste
1 can refried beans
2 cups shredded cheddar cheese
1 1/2 cups shredded romaine lettuce
1 tub Rojo's Homestyle Fresh Cut Salsa
Instructions
Preheat the oven to 400 degrees. Arrange the taco shells inside a 9"x13" baking pan.
Heat the oil in a large pan over medium high heat. Add the onion and cook for 3-4 minutes or until softened. Add the ground beef and cook until browned, breaking up with a spoon.
Stir in the tomato sauce, taco seasoning and salt and pepper to taste. Simmer for 3-4 minutes.
Divide the refried beans evenly among the bottoms of the taco shells. Top the beans with the ground beef mixture.
Divide the cheese among the taco shells. Bake for 10 minutes or until cheese is melted and taco shells are lightly browned.
Remove from the oven. Top the tacos with lettuce and Rojo's Homestyle Fresh Cut Salsa and serve immediately.
Nutrition Facts
Oven Baked Beef Tacos
Amount Per Serving
Calories

510
Calories from Fat 270
Total Carbohydrates

22g
7%
* Percent Daily Values are based on a 2000 calorie diet.