NO BAKE REESE'S PEANUT BUTTER CHEESECAKE
NO BAKE REESE'S PEANUT BUTTER CHEESECAKE
This No Bake Reese's Peanut Butter Cheesecake is smooth, creamy and full of peanut butter! You'll want a big glass of milk to go with a slice of this baby!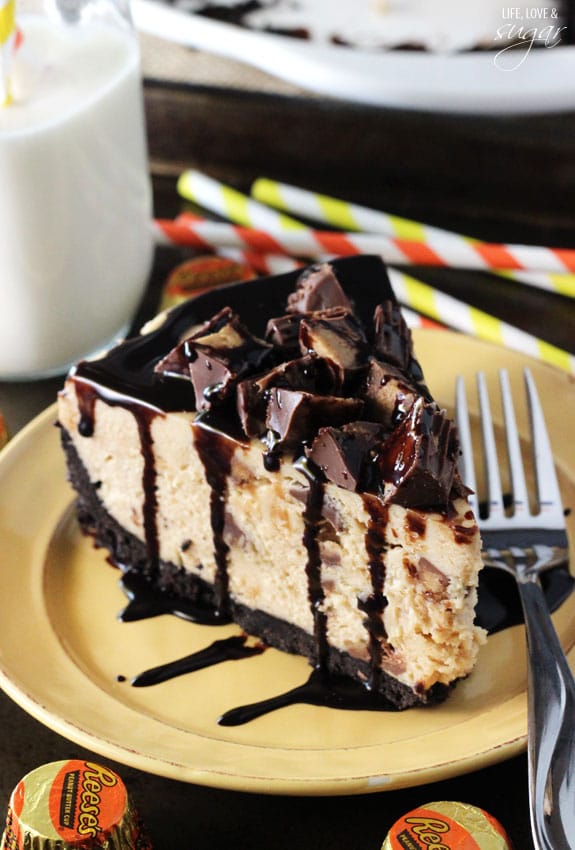 NO BAKE REESE'S PEANUT BUTTER CHEESECAKE
Yield: 12-14 Servings
Category: Dessert
Method: No Bake
Cuisine: American
INGREDIENTS
CRUST
2 1/2 cups Oreo crumbs
5 tbsp butter, melted
FILLING
24 oz cream cheese, room temperature
1/2 cup sugar
1 tsp vanilla
1 1/4 cups peanut butter
30 mini Reese's, chopped, divided
8 oz Cool Whip (or homemade whipped cream)
chocolate sauce
INSTRUCTIONS
Combine Oreo crumbs with melted butter.
Press crumbs into the bottom and halfway up the sides of a 9 inch springform pan. Set in refrigerator to firm.
Mix cream cheese, sugar, vanilla and peanut butter together in a large bowl until smooth and well combined.
Gently stir in the Cool Whip (or homemade whipped cream).
Add about half of the chopped Reese's and stir until combined.
Pour filling into crust and smooth the top.
Refrigerate for about 4-6 hours or until firm.
Remove cheesecake from springform pan and top with remaining chopped Reese's and chocolate sauce. Refrigerate until ready to serve.
Enjoy!
recipe source: