Mongolian Chicken (Slow Cooker)
Mongolian Chicken (Slow Cooker)
This Mongolian Chicken is is my Go-To slow cooker meal! It takes minutes to "set it and forget" for tender, juicy chicken, then you thicken your sauce on the stove for truly luxurious Mongolian sauce – no lackluster, runny sauce here! You will love the ease of this Slow Cooker Mongolian Chicken and everyone else will swoon over the better than takeout flavor!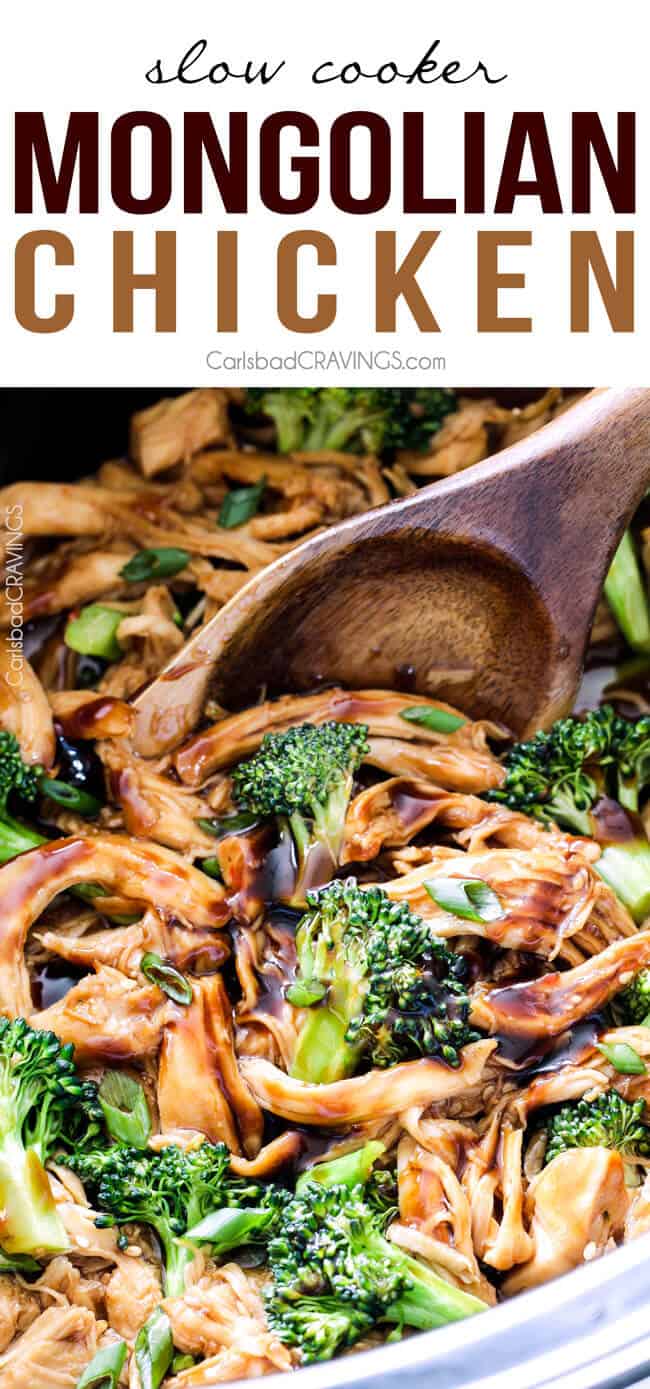 Mongolian Chicken (Slow Cooker)
Prep Time 10 minutes
Cook Time 240 minutes
INGREDIENTS
1 1/2 - 2 pounds boneless skinless chicken breasts
1 1/2 tablespoons cornstarch
Mongolian Sauce
1/2 cup low sodium soy sauce
1/2 cup water
1/4-1/3 cup brown sugar, packed
2-4 tablespoons Asian sweet chili sauce (like Mae Ploy) **
2 tablespoons sweet Japanese rice wine (may sub dry sherry)
1 tablespoon quality hoisin sauce (like Lee Kum Kee or Kikkoman)**
2 teaspoons freshly grated ginger
1/4 teaspoon pepper
1 teaspoon sriracha/Asian more or less to taste***
INSTRUCTIONS
Add chicken to the bottom of your slow cooker.
Whisk together all of the Mongolian Sauce ingredients and pour 1/2 cup over chicken. Refrigerate the rest of the sauce. Cook on low for 5-7 hours or on high for 3-4 hours, or until chicken is tender enough to shred.
When chicken is tender, remove to a cutting board and shred.
Meanwhile, add reserved Mongolian Sauce to a small saucepan and whisk in 1 1/2 tablespoons cornstarch followed by all the liquid from the slow cooker. Bring to a boil then reduce to a simmer until thickened. Add shredded chicken back to slow cooker along with thickened sauce. Toss to combine.
Let cook an additional 30 minutes on low to absorb sauce. Add salt to taste. Add additional Asian Sweet Chili Sauce for more sweet heat, Sriracha for spicier, brown sugar for sweeter if desired. Serve with rice and garnish with sesame seeds and green onions.
RECIPE NOTES
*Customize sweetness: Use 1/4 cup brown sugar for less sweet or if you are only using 2 tablespoons Sweet Chili Sauce. You can always stir in more brown sugar at the end of cooking
**Customize heat: If you aren't sure how much Sweet Chili Sauce to use, start with less and stir in more at the end of cooking. I use 4 tablespoons (1/4 cup) and 1 teaspoon sriracha and I would say it is medium spicy. If you have young children you will want to start with 2 tablespoons Asian Sweet Chili Sauce and probably omit the Sriracha.
***Rice wine: I use Kikkoman Mirin Aji Sweet Rice Wine - can be found in the Asian section of most grocery stores - I suggest googling it so you can spot it easily. The best substitute is dry sherry.
***Broccoli: I added 3 cups broccoli florets by adding 1/2 inch water to a microwave safe bowl along with broccoli, covering and microwaving for approximately 3 minutes to steam.
Carlsbad Cravings Original