MINI GARLIC & PARMESAN HASSELBACK POTATOES
MINI GARLIC & PARMESAN HASSELBACK POTATOES
If you love crispy, tasty potatoes (that aren't fried), you're in luck. You've got to try these mini garlic and parmesan hasselback potatoes – little roasted potatoes all prettied up and smothered in garlicky, cheesy heaven!
I've met a few people who aren't that keen on potatoes, but I really can't imagine anyone not loving these mini garlic and parmesan hasselback potatoes!
What kind of potatoes do you need to make hasselback potatoes?
Here in the UK there's a cute little potato called the Jersey Royal. They're grown in an especially rich soil on the island of Jersey in the British Channel Islands (close to France!) and so end up sort of melt-in-your-mouth creamy and almost buttery in texture.
I know, they sound delicious, don't they? And this is NOT even a sponsored post for Jersey Royal farmers (apparently there are only about 20 of them!) … although I think it should be!
What I'm definitely NOT saying is that you need Jersey Royals to make these garlic & parmesan hasselback potatoes. Oh no no. Any small potatoes work.
But any of the multitude of types of small 'new' waxy potatoes that you don't have to remove the skins from before cooking are PERFECT for making these mini garlic and parmesan hasselback potatoes.
They end up:
crispy
creamy
buttery
garlicky
cheesy
good looking (!)
In other words, heaven on a plate.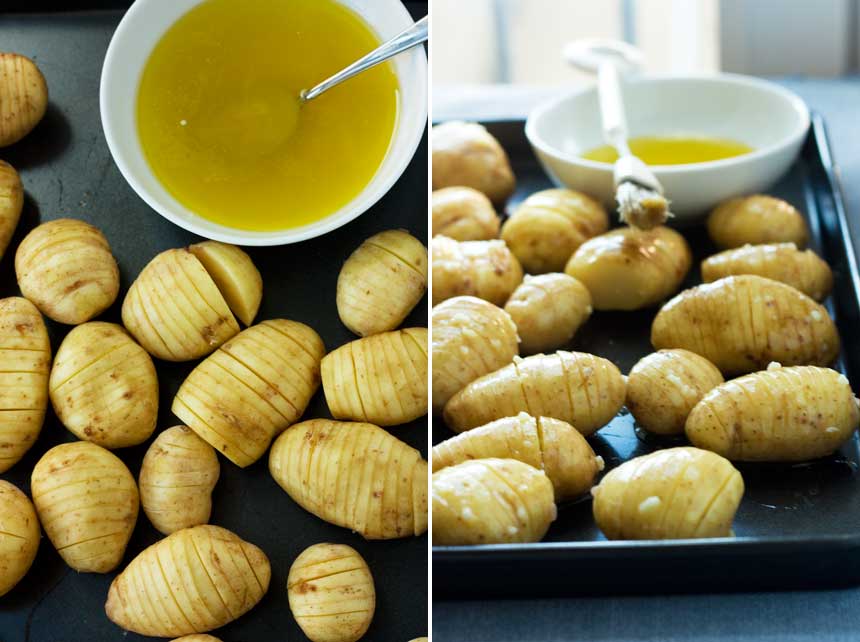 Don't you agree these hasselback potatoes are pretty good looking?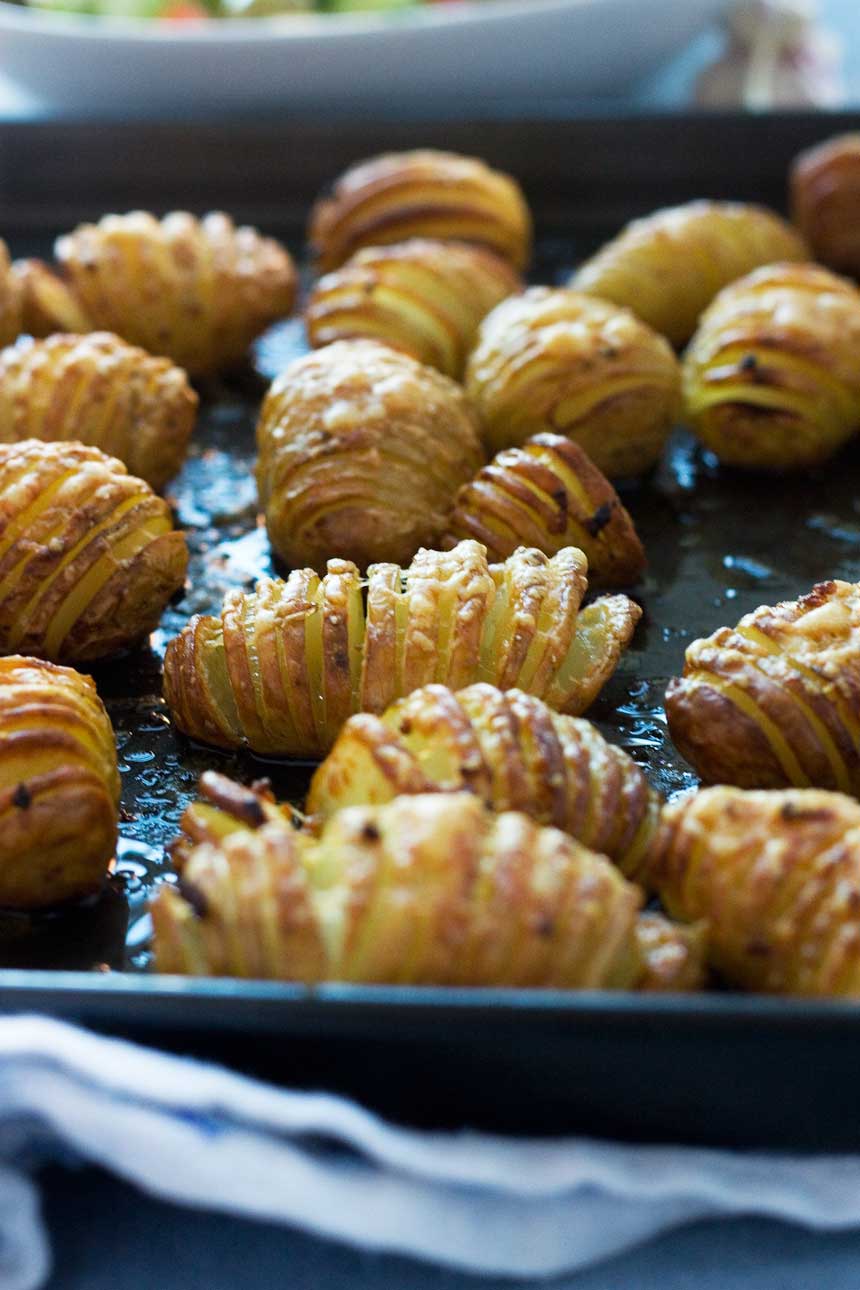 How do you make hasselback potatoes?
These certainly aren't culinary rocket science, and I bet you can pretty much guess how they are made.
All you have to do to make them is make deep cuts all the way across each potato at about 3 or 4 mm intervals. Go quite deep, but of course take care not to cut all the way through the potato and cut it in half, although believe me you probably will do that to one or two in your excitement to get the potatoes cooked and in your mouth as fast as possible!
How long do you bake hasselback potatoes for?
You need to put aside a good 10 minutes or so to prepare all the potatoes, but then all you have to do is baste them and throw them in the oven for 40 to 45 mins. Not literally like I did the first time I made them, though. I slid them into the oven a bit too enthusiastically and they toppled all over the oven.
Oops!
Of course you can make hasselback potatoes in the traditional way with bigger potatoes, but if you do make sure you increase the cooking time to about an hour and 10 minutes.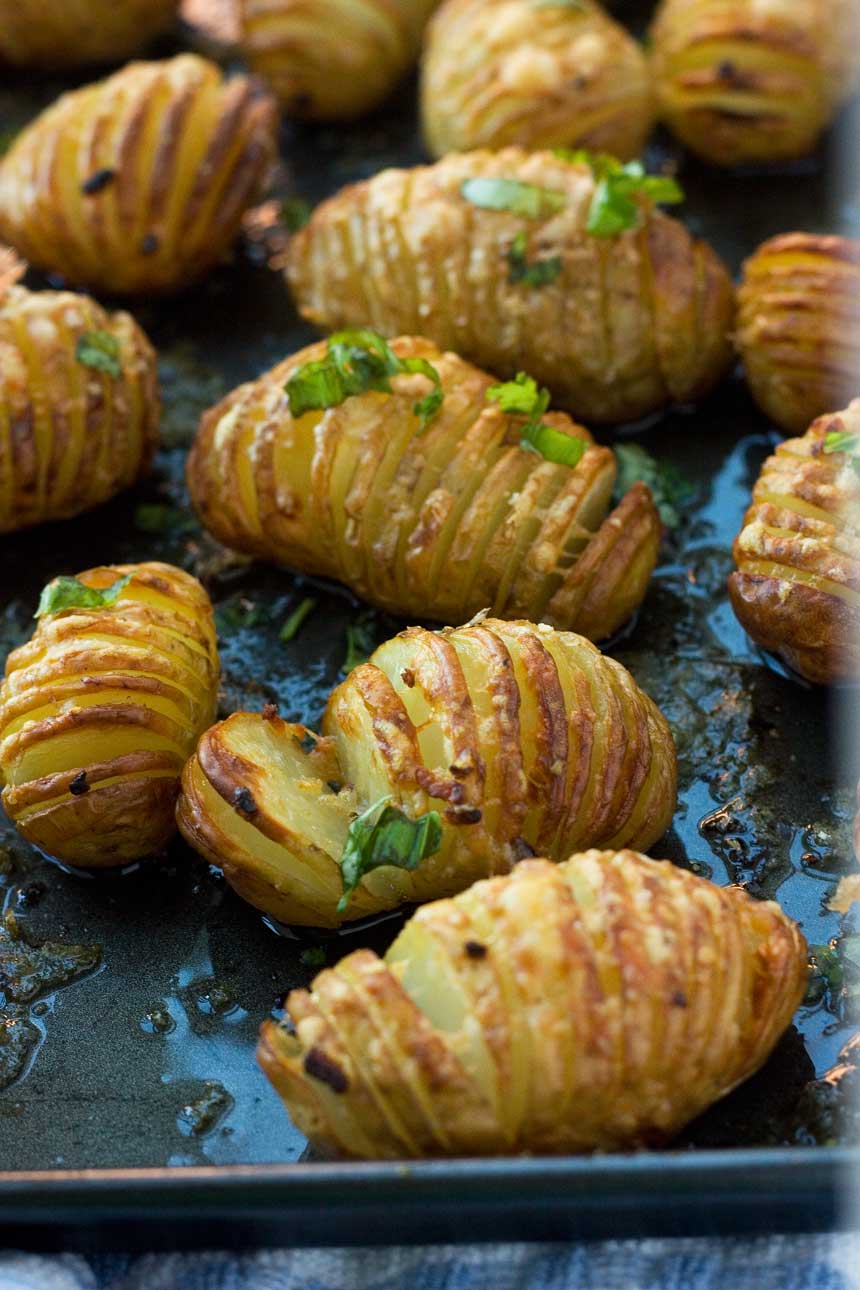 Look how they 'fan out' in the oven … perfect for stuffing cheese into!
How to make hasselback potatoes crispy and delicious!
The key to getting these super tasty and crispy is to baste once at the beginning with your oil/butter and flavours and then baste them again half way through cooking. The potatoes sort of fan out as they cook, so the second 'basting' gets right inside and helps them crisp up even better.
I chose to baste my potatoes with garlic and parmesan and leave it at that, but these options would be great, too:
– paprika & thyme
– plain salt & pepper, but with a splodge of sour cream or Greek yoghurt, cheese & chives on the top at the end
– cumin, a pinch of cayenne pepper (just a pinch!) & fresh coriander at the end (maybe with a splodge of lime-infused Greek yoghurt to serve, too …mmmm!)
– rosemary & black pepper
I'm sure you can think of other ideas to try.
How do you serve hasselback potatoes?
I'm pretty sure these mini garlic and parmesan hasselback potatoes would be very popular if they were handed around as appetizers at a party.
We usually eat them as a side dish with a salad and quiche, but they'd be great with a steak or grilled chicken… or even just on their own with a few dollops of sour cream on top!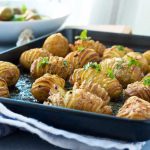 mini garlic & parmesan hasselback potatoes
Super crispy mini potatoes - they're all garlicky and cheesy, and they look good too, don't you think?
Course appetizer or side
Cuisine Swedish
Keyword garlic, hasselback potatoes, parmesan cheese, potato recipes, Swedish recipes
Prep Time 15 minutes
Cook Time 40 minutes
Total Time 55 minutes
Servings 4 as a side
Calories 649 kcal
Author Helen
Ingredients
20 'new' or small potatoes welled washed/scrubbed & dried
4 or 5 cloves garlic crushed
3 to 4 tablespoons olive oil
a large knob of butter about 30 grams
salt & black pepper
1 ounce parmesan cheese grated
fresh herbs to garnish - basil chives, oregano etc. (optional)
US Customary - Metric
Get IngredientsPowered by Chicory
Instructions
Pre-heat oven to 200C/400F.
Cut each potato into slices about 3 to 4 mm apart, without cutting all the way through it, and place on a baking tray.
Melt the butter in a small dish in the microwave (30 seconds should do it) or in a small saucepan if you don't have a microwave. Add the olive oil and garlic and stir together.
Baste each potato well with the butter/olive oil/garlic mixture with a pastry/basting brush (make sure you scoop up plenty of the garlicky bits!), sprinkle with plenty of salt and pepper and then bake for 20 minutes.
Take the potatoes out of the oven and baste again, then sprinkle most of the parmesan over them, poking plenty down into the 'cracks'. Then return to the oven for about another 20 minutes or until the potatoes are dark golden and a bit crispy.
Garnish with a bit more parmesan and the fresh herbs (if you like).
Nutrition Facts
mini garlic & parmesan hasselback potatoes
Amount Per Serving
Calories

649
Calories from Fat 18
Total Carbohydrates

133g
44%
* Percent Daily Values are based on a 2000 calorie diet.