Mexican Martini ~ Trudy's Copycat
Mexican Martini ~ Trudy's Copycat
Like a margarita on the rocks with a splash of olive juice, this Mexican Martini is a copycat recipe of the famous cocktail from Trudy's in Austin.

Cinco de Mayo is just a few short weeks away and, I don't know about you, but I relish any holiday that can be celebrated by eating vast quantities of chips, queso, and guacamole…all washed down by a margarita (or three)! So I do believe a new margarita recipe would be just the thing to commemorate this occasion…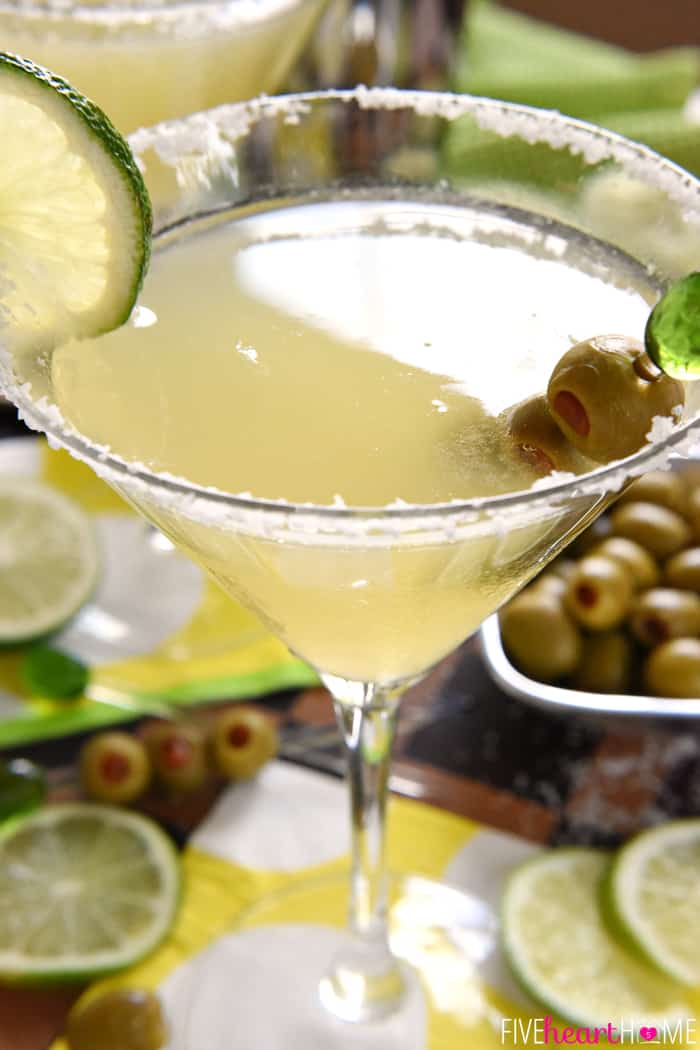 While Mexican Martinis carry the moniker of, well, martinis, they are actually margaritas on the rocks…in disguise. Made with your standard margarita ingredients, what sets these apart is the fact that they're spiked with olive juice — à la dirty martini style — and shaken in a cocktail shaker before being poured into a martini glass. The result is a chilly, refreshing cocktail that's a little bit sweet, a little bit salty, and capable of adding a whole lotta olé to your fiesta!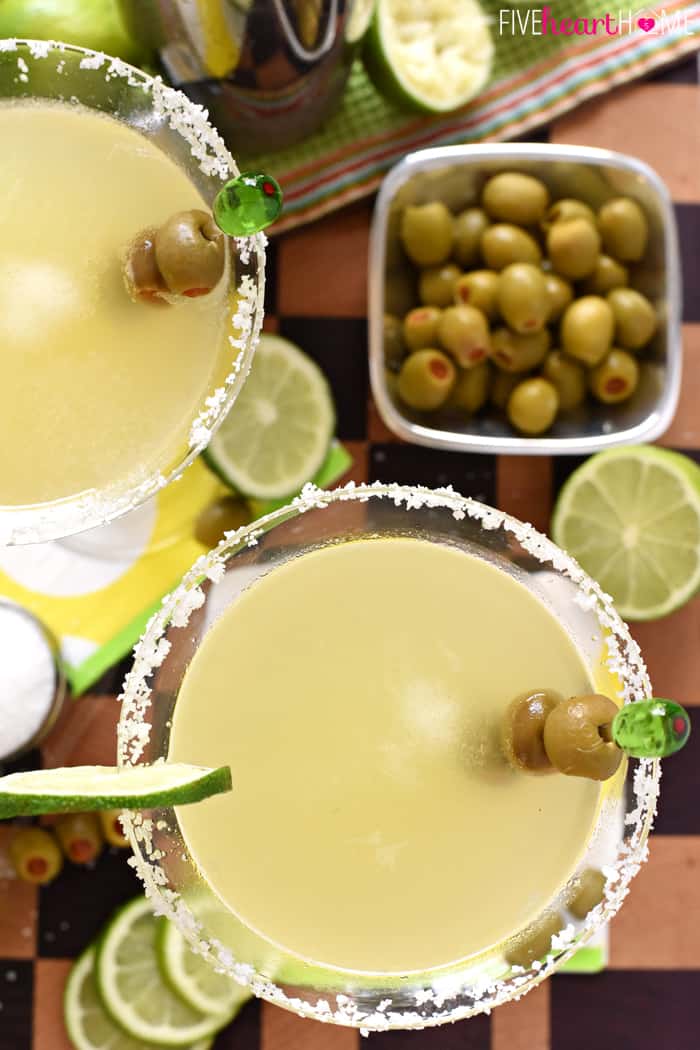 Invented here in Austin, you can find various versions of Mexican Martinis at bars and restaurants across town. But my favorite has always been the MMs at a local Mexican restaurant chain called Trudy's. And today's recipe, friends, is a pretty darn good copycat of those Trudy's Mexican Martinis.
So let's break it down like a bartender, shall we? Start with a good tequila, because you're going to be able to detect it. I prefer tequila plata (that would be "silver tequila," for those of you not lucky enough to have had four years of Señor Rust for high school Spanish 😉 ), but gold tequila is good, too. Then comes your favorite type of orange liqueur. I keep Cointreau on hand, but Triple Sec works equally well.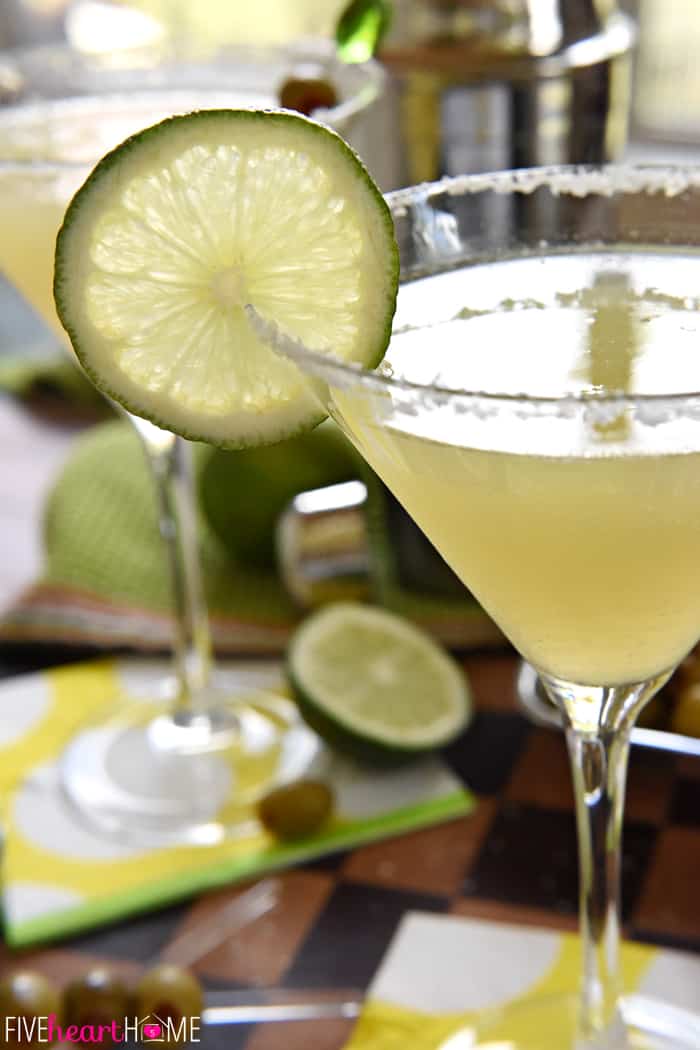 A true margarita connoisseur already knows that the key to an excellent margarita is using fresh-squeezed fruit juices. Lime juice is obvious, but have you ever added fresh orange juice to a margarita? It mellows out the liquor and adds a touch of citrus-y sweetness. Perfecto!
Next, we're going to cheat just a bit…shhhhh! I typically use simple syrup to add sweetness to cocktails, but for these Mexican Martinis, lemon-lime soda (with its extra punch of citrus) is a nice stand-in, not to mention it's as easy as popping open a can.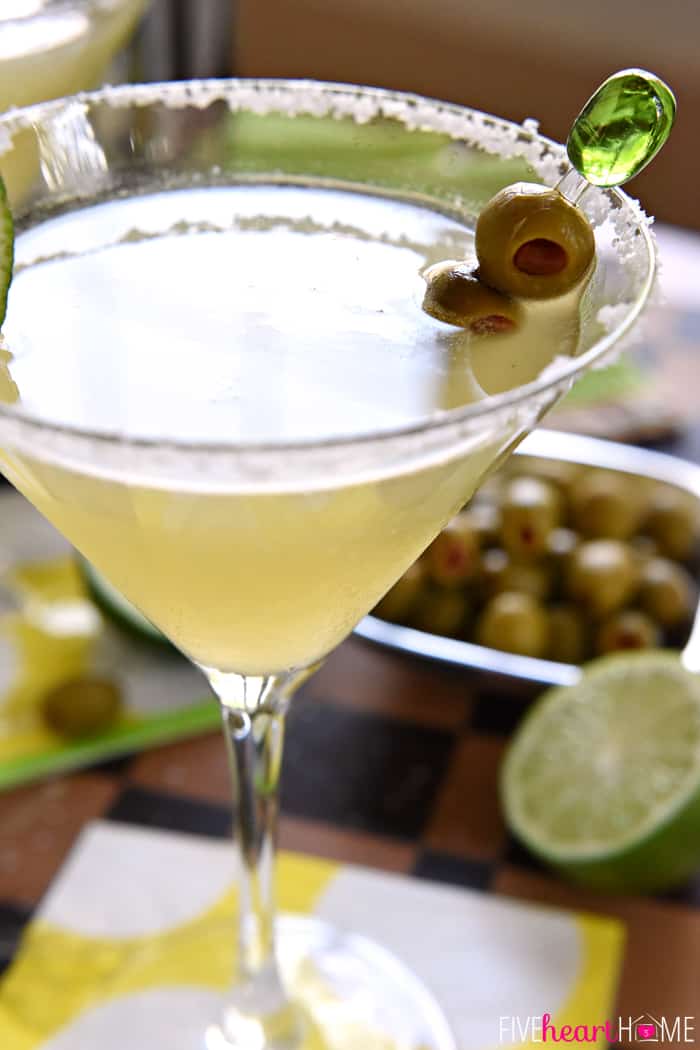 Finally, you'll need to add a splash of the most important Mexican Martini ingredient of all…OLIVE JUICE! You are certainly welcome to get fancy and buy one of those bottles of olive juice from the liquor store, destined for dirty martinis. But alternatively, you can just buy a jar of green, pimiento-stuffed olives (manzanillas) and pour a bit of the liquid in which the olives are swimming into your drink. As far as how much olive juice to add, start with a splash and then add more, to taste, if you like your martinis extra-dirty.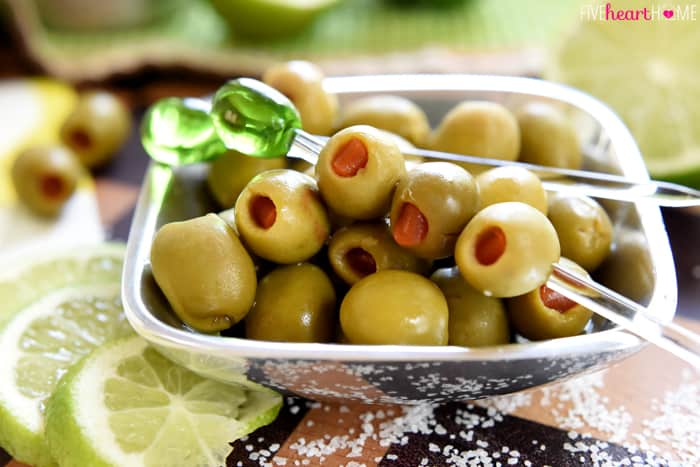 And then…shakeshakeshake your margarita concoction with plenty o' ice in a shaker, pour it into a salt-rimmed martini glass, and garnish with a skewer of precisely three olives. Okay, okay…I guess you can use as many olives as you want. But I have found three to be the perfect number required for finishing my cocktail.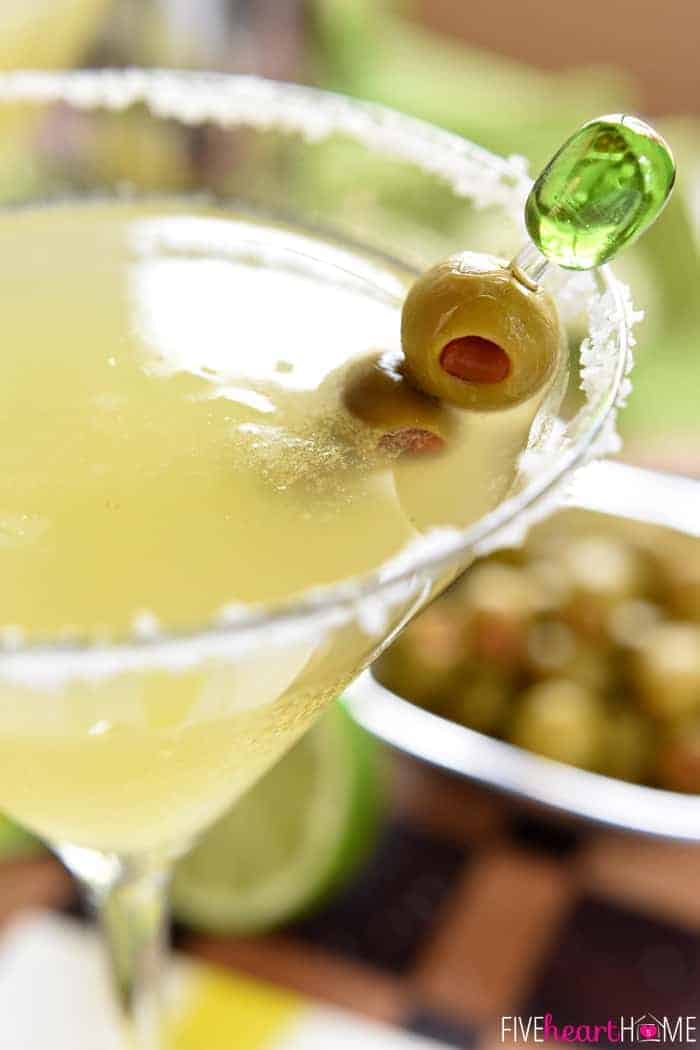 One shaker actually makes enough for about two drinks, so it's up to you if you're going to claim it all as your own or share. As for the potency of this cocktail, please know that you are free to tweak it to your taste! I typically top mine with a bit more Sprite and a smidgeon more olive juice, but adjust any of the ingredients to your liking. Everyone has a different tolerance for how weak/strong/sweet/salty they prefer their spiked beverages, but I feel like this recipe is a pretty good baseline starting point.
And that's it…you're all set for Cinco de Mayo! Although everyone will understand if you need to practice this Mexican Martini recipe a few times before May 5th to get it juuuuustright…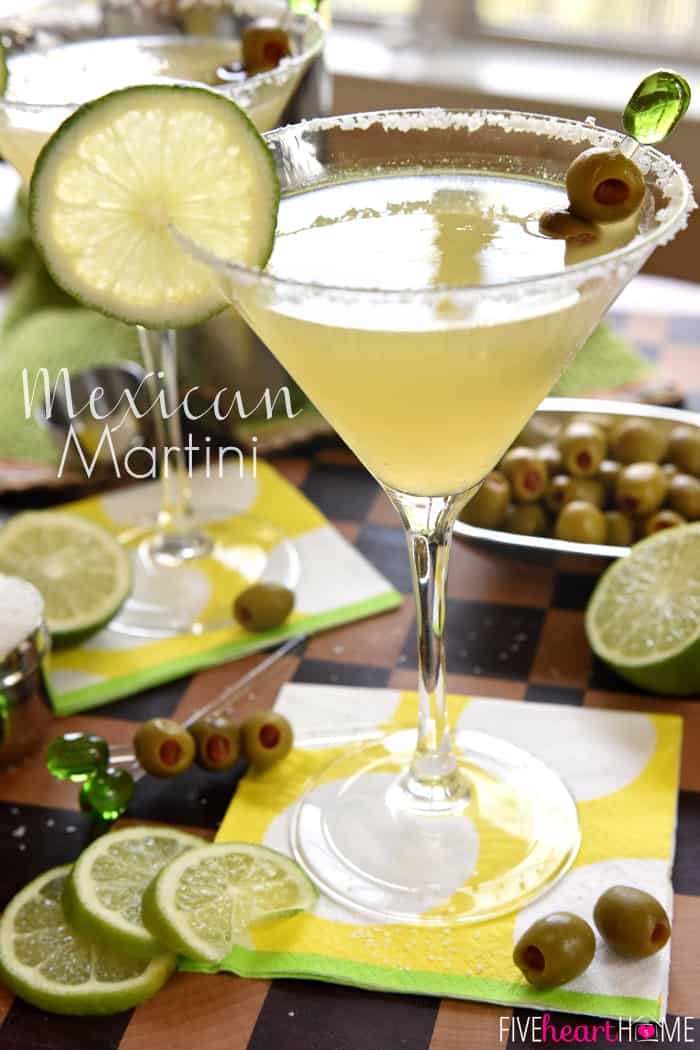 Print
Mexican Martini ~ Trudy's Copycat
Yield: 1 shaker, which yields about 2 martini glassfuls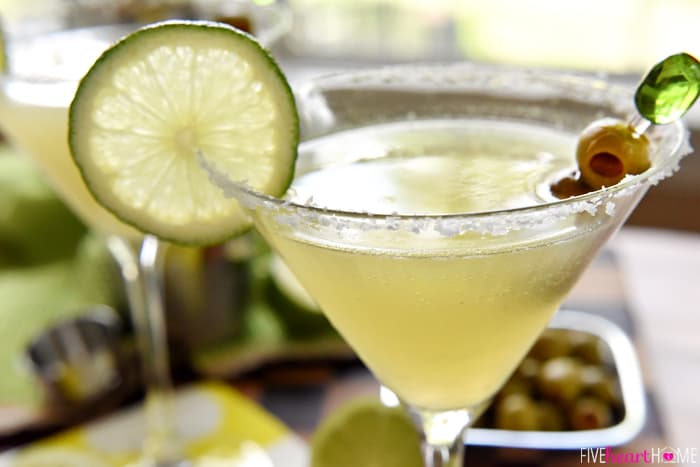 Ingredients
2 ounces tequila (decent -quality recommended)
2 ounces lemon-lime soda (such as Sprite or 7-Up)
1 ounce orange liqueur (such as Cointreau or Triple Sec)
1 ounce fresh-squeezed lime juice
1 ounce fresh-squeezed orange juice
Splash of olive juice
Coarse salt (such as kosher salt, for rimming the glass)
Pimiento-stuffed green olives (manzanillas), for garnish
Instructions
Measure tequila, soda, orange liqueur, lime juice, orange juice, and olive juice into a shaker filled with ice. Shake and strain into salt-rimmed martini glass. Garnish with a skewer of olives.
Notes
Spread a thin layer of coarse salt onto a plate. Use a slice of lime to wet the edge of the martini glass, then dip in the salt, turning until well-coated.
To add some spice, garnish with gourmet green olives that have been stuffed with jalapenos.
Recipe Management Powered by Zip Recipes Plugin
Adapted from Food.com