LEMON BLUEBERRY MUFFINS {WITH WHITE CHOCOLATE GLAZE}
LEMON BLUEBERRY MUFFINS {WITH WHITE CHOCOLATE GLAZE}
These Lemon Blueberry Muffins are perfect for an on-the-go breakfast! Or you can serve them at brunch, with a white chocolate glaze!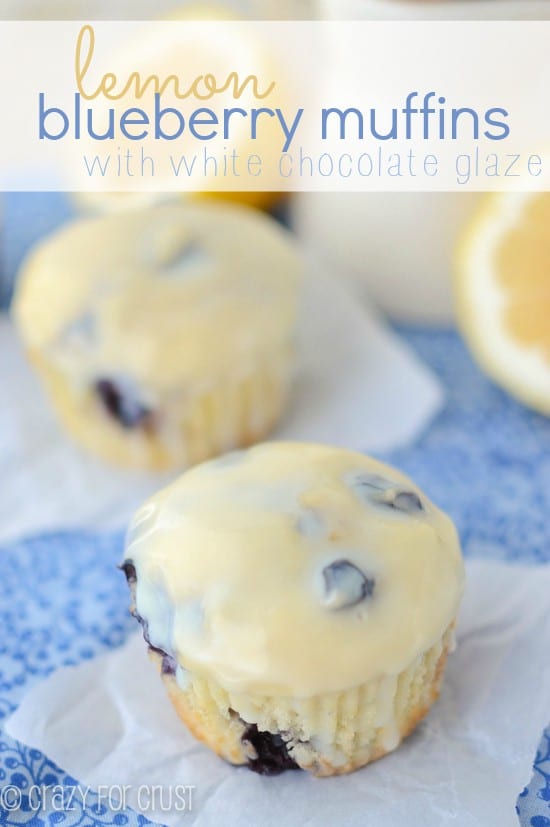 Save
Lemon Blueberry Muffins
Author Dorothy Kern
Ingredients
3 eggs
1/3 cup Nonfat Vanilla or Plain Greek Yogurt
3 tablespoons oil
1 cup sugar
Zest of one lemon
3 tablespoons lemon juice
6 teaspoons baking powder
1 teaspoons salt
4 1/2 cups flour
1 cup milk
2 cups fresh or frozen blueberries
1/2 cup white chocolate chips
1/2 cup heavy cream
Instructions
Preheat oven to 350 degrees. Line muffin tins with liners. (Makes about 24.) Spray them with cooking spray to avoid sticking to the paper.
Whisk eggs, yogurt, and oil until no lumps remain. Stir in sugar, lemon, and lemon zest. Stir in baking powder and salt.
Add half the flour and half the milk, stir to just combine. Add remaining flour and milk and stir until just combined. Carefully fold in blueberries.
Scoop into muffin liners, 2/3 full. Bake for about 15-18 minutes until a toothpick comes out clean. (Mine took 17 minutes.)
While the muffins are cooking and cooling, add white chocolate and heavy cream to a microwave safe bowl. Heat for 30 seconds, then whisk. Heat for up to 30 more seconds, until you can whisk together and the chocolate melts into the cream. Let cool for about 30 minutes.
When ready to serve, dip the tops of the muffins in the glaze.
Glaze is optional, but good!