Lemon and Elderflower Drizzle Cake
Lemon and Elderflower Drizzle Cake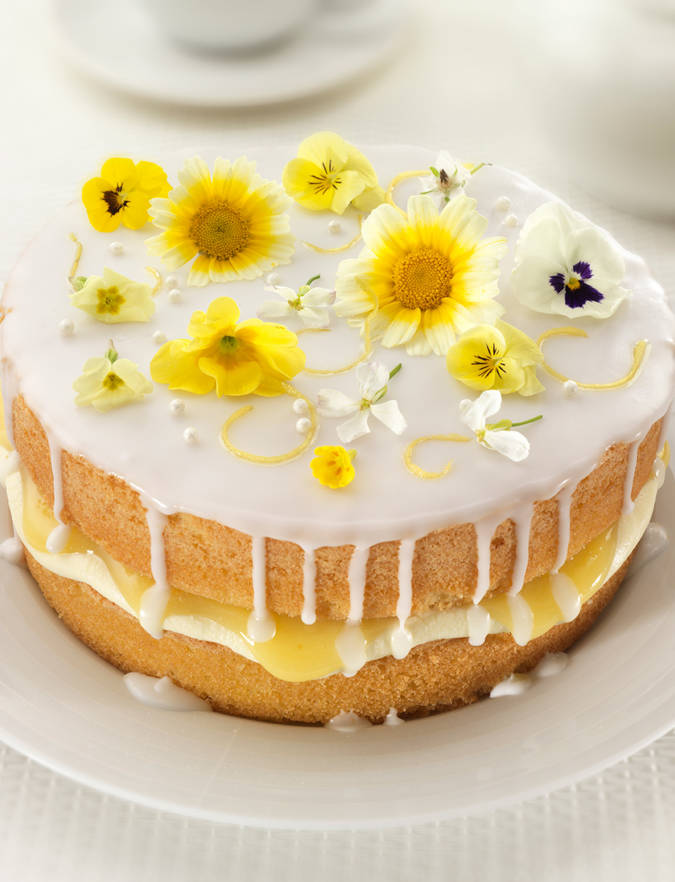 Lemon and elderflower drizzle cake
Serves 12 | prep 30 mins | total time 1 hr 40 mins
Ingredients
175 g self-raising flour
1/2 level tsp baking powder
175 g Stork
175 g caster sugar
3 medium eggs
1 tbsp elderflower cordial
zest of 1 lemon
For the syrup
juice of 1 lemon, strained
1 tbsp elderflower cordial
55g caster sugar
For the filling
115 g icing sugar
40 g Stork
1-2 tsp elderflower cordial
3-4 tbsp lemon curd
55 g icing sugar for the glace icing
1 tsp lemon juice
For the topping
Edible flowers, optional
Step by step
Preheat the oven to gas 4, 180°C, 160°C fan.
Sift the flour and baking powder into a large bowl, add the remaining cake ingredients and beat with a wooden spoon until smooth. Spoon the mixture into 2 greased and base lined 20cm cake tins.
Bake for 30-40 minutes or until cooked and turn out on to a wire rack.
Meanwhile, place the lemon juice, elderflower cordial and sugar in a saucepan and heat gently until the sugar has dissolved.
Whilst the cakes are warm, make a few deep holes with a skewer and drizzle the elderflower syrup over both cakes so that it soaks in.
Place the icing sugar, Stork and elderflower cordial into a bowl and mix well until smooth. Sandwich the two cakes together by spreading with the Stork mixture and then the lemon curd. Decorate the top of the cake with a thin glace icing made with the icing sugar and a little lemon juice. Finish with edible flowers.