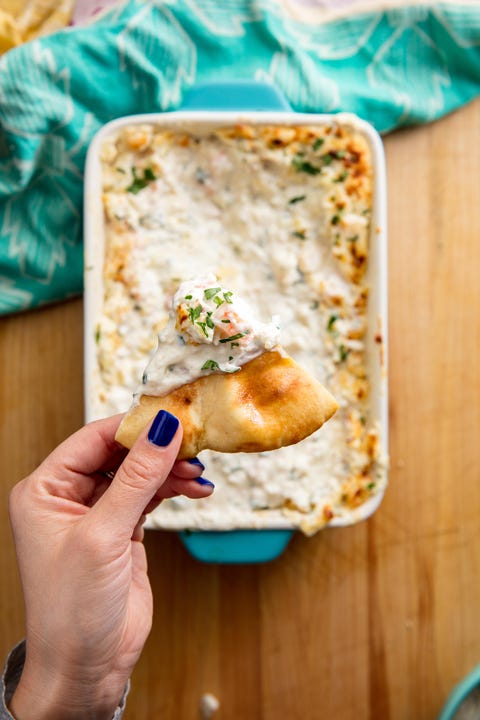 ETHAN CALABRESE
YIELDS:8
PREP TIME:0 HOURS 15 MINS
COOK TIME:0 HOURS 25 MINS
TOTAL TIME:0 HOURS 40 MINS
INGREDIENTS
2 tbsp. extra-virgin olive oil
1 lb. medium shrimp, thawed if frozen, peeled and deveined
3 cloves garlic, minced
Kosher salt
Freshly ground black pepper
1 oz. (8-oz.) block cream cheese, softened
1/4 c. mayonnaise
3/4 c. shredded mozzarella
1/4 c. grated Parmesan
Juice and zest of 1 lemon
2 tbsp. freshly chopped parsley, plus more for garnish
Pita chips, for serving
DIRECTIONS
Preheat oven to 350°. In a large skillet over medium heat, heat oil. Add shrimp and garlic and season with salt and pepper. Cook until shrimp is pink and no longer opaque, 3 to 4 minutes. Let cool slightly, then coarsely chop.
In a large bowl, stir together cream cheese, mayonnaise, mozzarella, Parmesan, lemon juice and zest, parsley, and chopped shrimp and season with salt and pepper.
Transfer dip to a small baking dish and bake until golden and bubbly, 25 minutes.
Garnish with parsley and serve with pita chips.