CRISPY BAKED BLACK BEAN & SWEET POTATO TACOS
CRISPY BAKED BLACK BEAN & SWEET POTATO TACOS + RECIPE VIDEO
These crispy tacos are baked in the oven and stuffed with refried beans, sweet potato and cheese for an easy and delicious dinner!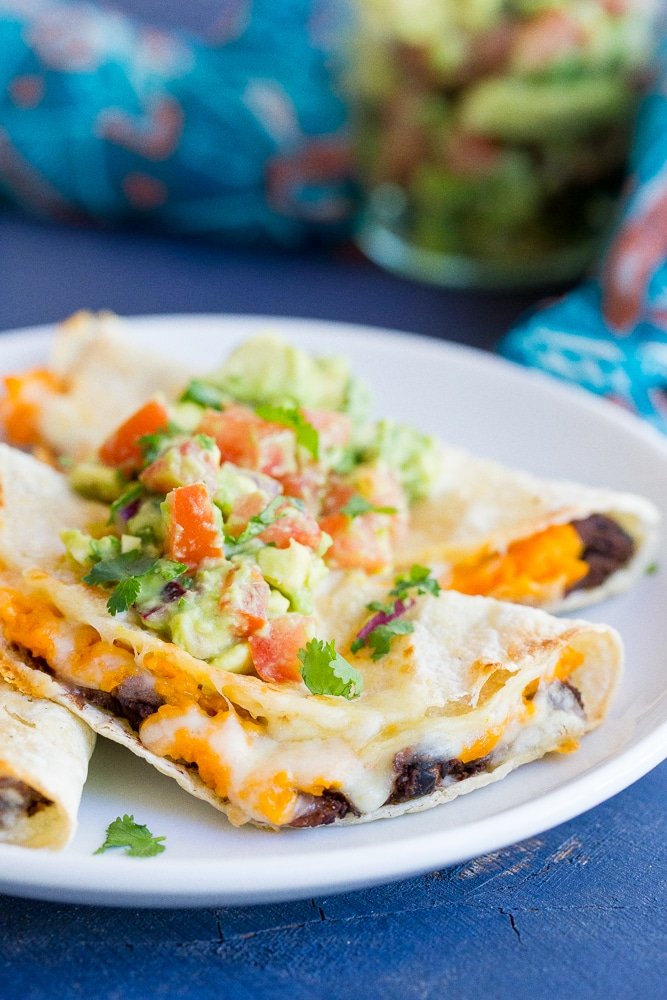 crispy baked black bean & sweet potato tacos
Prep Time: 20 mins
Cook Time: 10 mins
Yield: 8
Category: Dinner, Gluten Free, Vegetarian
INGREDIENTS
1 cup refried black beans
1 cup sweet potato puree, homemade or canned*
1 cup grated cheese
8 corn tortillas
Olive oil
AVOCADO SALSA: (OPTIONAL)
1 large avocado, diced
1 tomato, small diced
1/4 cup chopped red onion
1 clove garlic, minced
1 tablespoon chopped cilantro
Juice of 1 lime
Salt, to taste
INSTRUCTIONS
Pre-heat oven to 450 F. Line a large baking sheet with parchment paper and brush with a small amount of olive oil. If corn tortillas aren't very pliable you may need to warm on the stove or microwave for about 5 seconds each before assembling tacos.
Spread about 1 tablespoon of refried beans on half of the tortilla and top with 1 tablespoon sweet potato and a sprinkling of cheese. Fold tortilla over and repeat with remaining ingredients. Brush the top of each taco with a small amount of olive oil and bake for about 10 minutes, flipping once.
Make the avocado salsa while tacos are baking. Add all ingredients to a medium sized bowl and mix until combined.
Let tacos cool for a few minutes before eating and top with avocado salsa, if desired. Recipe serves 2-3 people but can easily be adapted to make more.
NOTES
*I make my sweet potato puree by peeling and dicing a medium sized sweet potato and steaming until fork tender, 15-20 mins. I tend mash the cooked sweet potato with a fork.
*If you want to freeze these, freeze separately on a cookie sheet before baking and then combine into a freezer friendly container. Or, wrap each in plastic wrap and store in a freezer friendly container. Can be frozen for up to 3 months. To bake from frozen: heat oven to 400 degrees F and bake 15-20 minutes, flipping once.