These Creme Brûlée Cupcakes are made with a moist vanilla cupcake and pastry cream filling, then topped with caramel frosting and a lovely caramelized sugar top! They are so fun and absolutely delicious!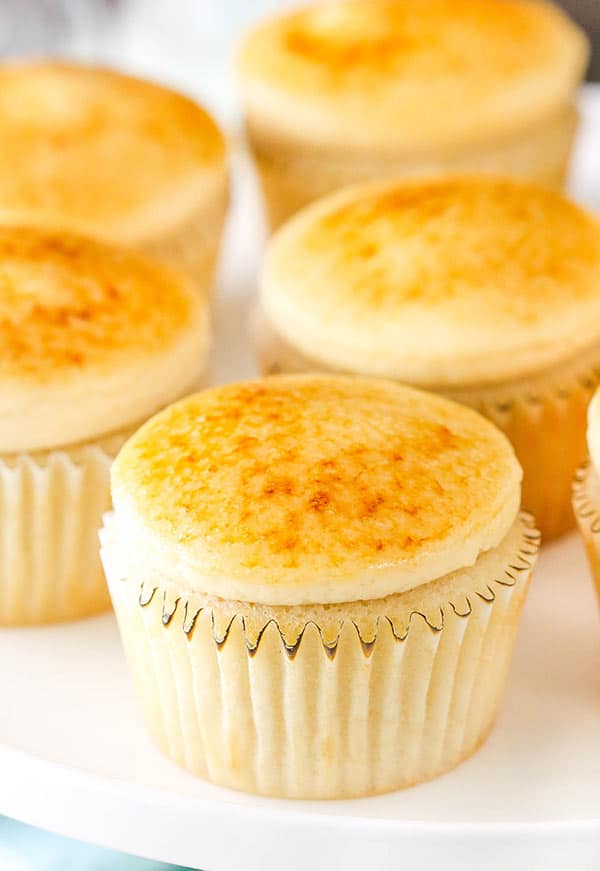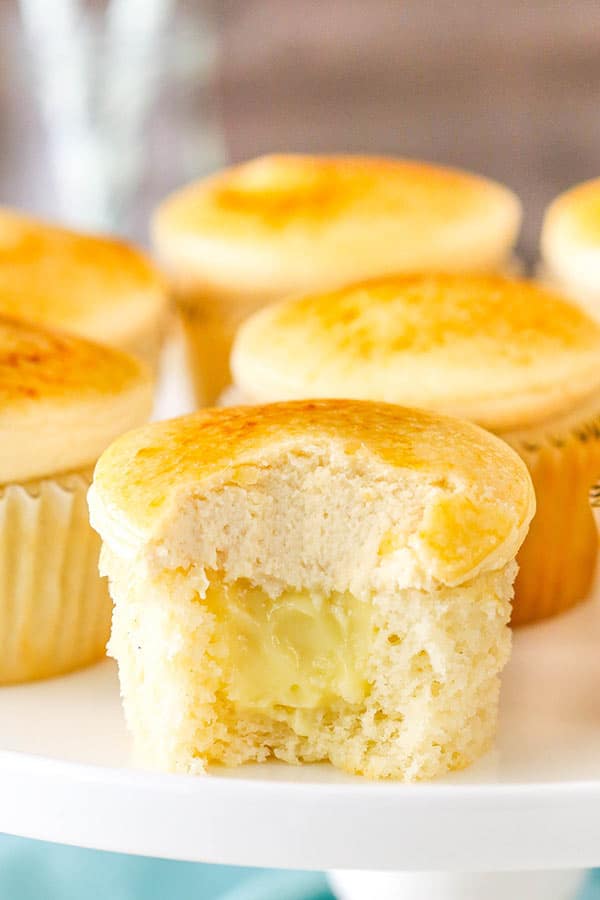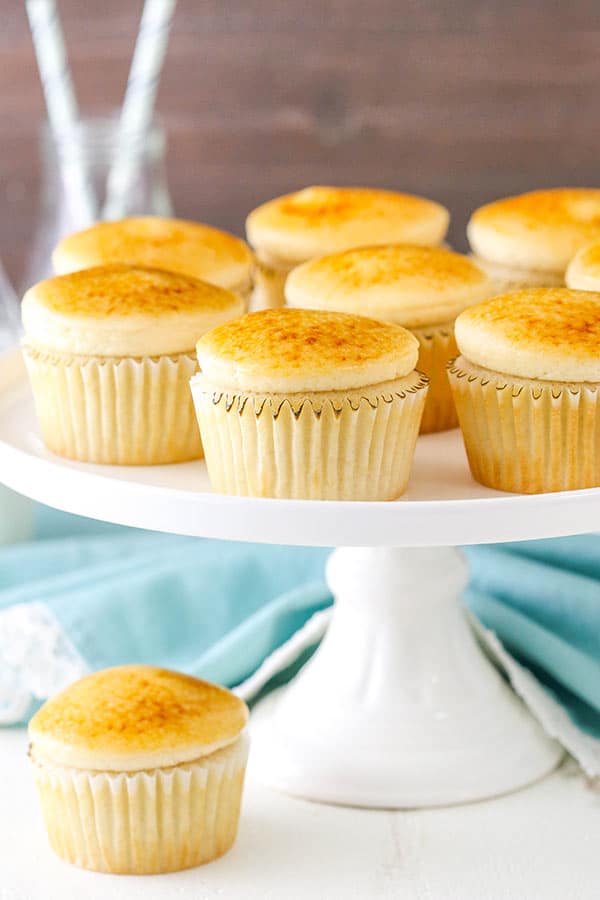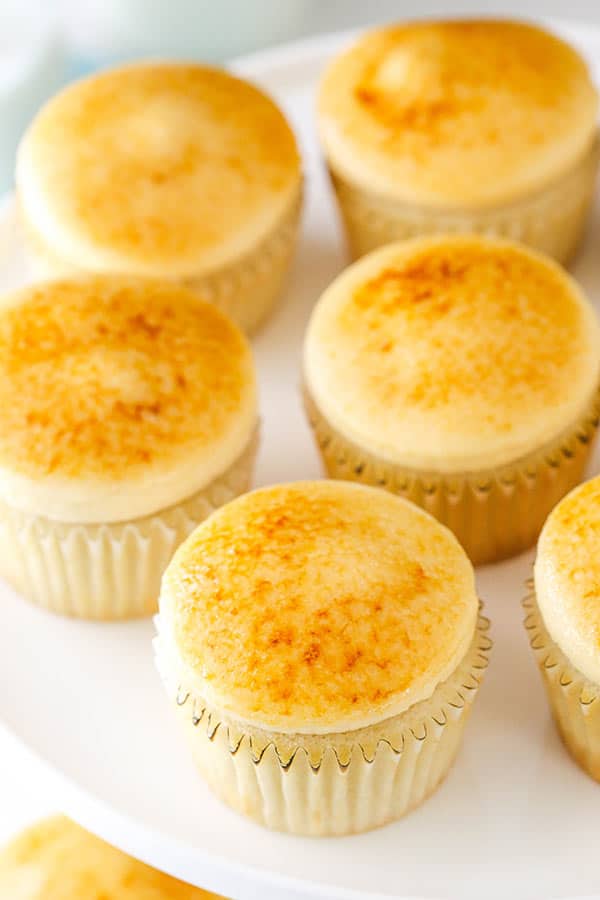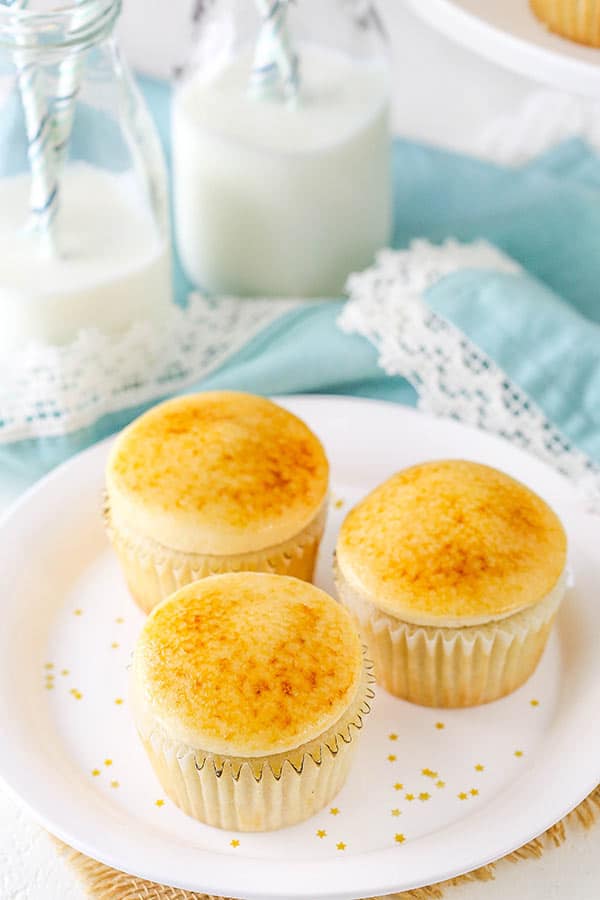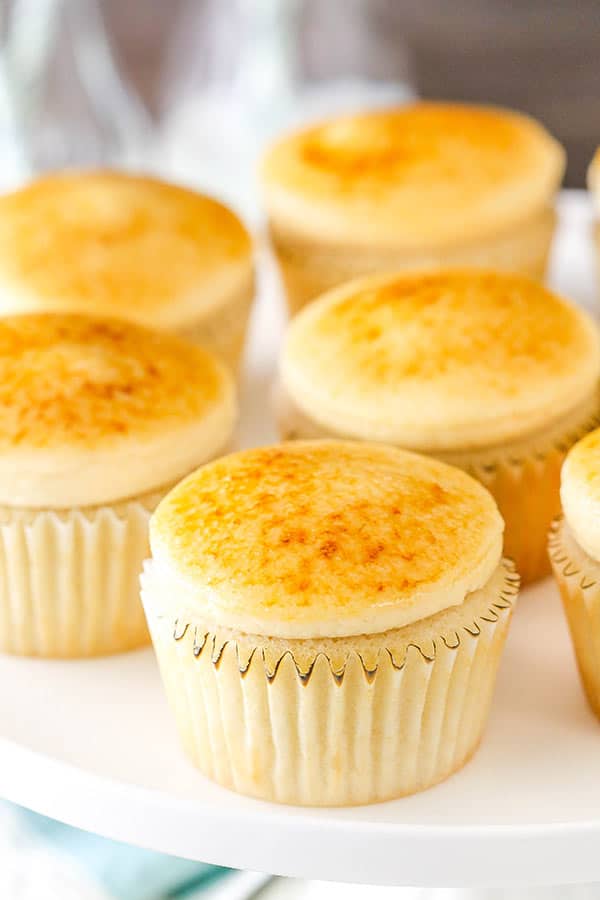 CREME BRÛLÉE CUPCAKES
Yield: 12-14 Cupcakes
Category: Dessert
Method: Oven
Cuisine: American
INGREDIENTS
VANILLA CUPCAKES
6 tbsp (84g), unsalted butter, room temperature
3/4 cups (155g) sugar
6 tbsp (86g) sour cream, room temperature
2 tsp vanilla extract
3 large egg whites, room temperature
1 1/4 cups (163g) all purpose flour
2 tsp baking powder
¼ tsp salt
6 tbsp (90ml) milk, room temperature
2 tbsp (30ml) water, room temperature
PASTRY CREAM FILLING
2 egg yolks
6 tbsp (78g) sugar
1 1/2 tbsp cornstarch
1 cup (240ml) milk
1 tbsp (14g) salted butter
1 tsp vanilla extract
CARAMEL FROSTING
1/2 cup (112g) salted butter
1/2 cup (95g) shortening
4 cups (460g) powdered sugar
3-4 tbsp caramel sauce
2-3 tbsp water or milk
1/4 cup (52g) sugar
INSTRUCTIONS
Preheat oven to 350°F (176°C) and prepare a cupcake pan with cupcake liners.
In a large mixing bowl, cream butter and sugar together until light in color and fluffy, about 3-4 minutes. Do not skimp on the amount of creaming time.
Add sour cream and vanilla extract and mix until well combined.
4Add egg whites in two batches, mixing until well combined after each. Scrape down the sides of the bowl as needed to be sure all ingredients are well incorporated.
Combine dry ingredients in a separate bowl, then combine the milk and water in a small measuring cup.
Add half of the dry ingredients to the batter and mix until well combined. Add the milk mixture and mix until well combined. Add remaining dry ingredients and mix until well combined. Scrape down the sides of the bowl as needed to be sure all ingredients are well incorporated.
Fill the cupcake liners about halfway. Bake for 15-17 minutes, or until a toothpick inserted comes out with a few crumbs.
Remove cupcakes from oven and allow to cool for 2-3 minutes, then remove to cooling rack to finish cooling.
While the cupcakes cool, make the pastry cream. Put the egg yolks in a medium sized bowl and gently beat them together. Set aside.
Add the sugar, cornstarch and milk to a large saucepan and mix until smooth.
Cook, stirring continuously, over medium-high heat until mixture begins to thicken and bubble.
Reduce heat to medium and simmer for 2 minutes. Remove from heat.
Add a little bit of milk mixture to the egg yolks and whisk together, then add egg mixture to milk mixture. This process ensures that you don't cook the egg yolks.
Place the pan back on the heat and bring to a light boil. Allow to boil for 2 minutes, stirring continuously.
Remove from heat and add butter and vanilla extract. Stir until smooth, then set aside to cool to room temperature.
To make the frosting, beat the butter and shortening together in a large mixer bowl until smooth.
Add about half of the powdered sugar and mix until smooth and well combined.
Add 3 tablespoons of caramel sauce and and mix until combined.
Add the remaining powdered sugar and mix until smooth.
Add additional caramel sauce and the water or milk, as needed, to get the right consistency frosting.
Use a cupcake corer or knife to remove the centers from the cupcakes, then fill them with the pastry cream.
Pipe the frosting onto the cupcakes. I used Ateco tip 808 to create the dome of frosting.
Add the sugar to a small bowl and turn the cupcakes over and dip them into the sugar, one at a time.
Refrigerate the cupcakes until the frosting is cool and firm, about 30 minutes to an hour.
Use a butane kitchen torch to caramelize the sugar on top.
Refrigerate the cupcakes until ready to serve. Best served cool, but not cold.
Enjoy!