Classic Shepherd's Pie Recipe with Crispy Cheddar Topping
Classic Shepherd's Pie Recipe with Crispy Cheddar Topping
This Classic Shepherd's Pie Recipe is gravy-soaked beefy goodness, with peas and carrots, covered with 5 pounds of potatoes. Because there are NEVER ENOUGH MASHED POTATOES. The best Shepherd's Pie, done right my friends.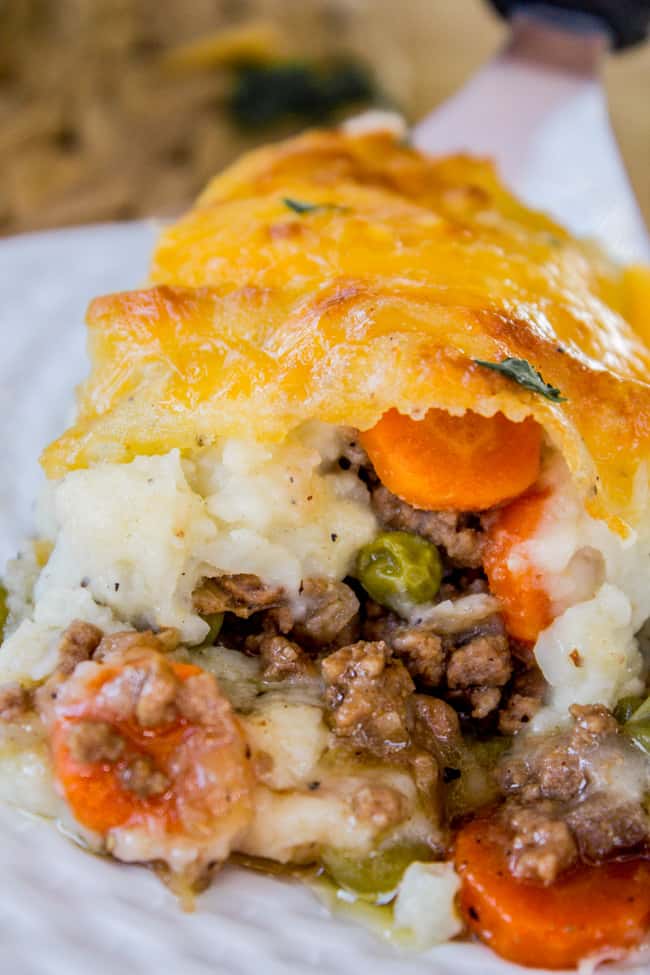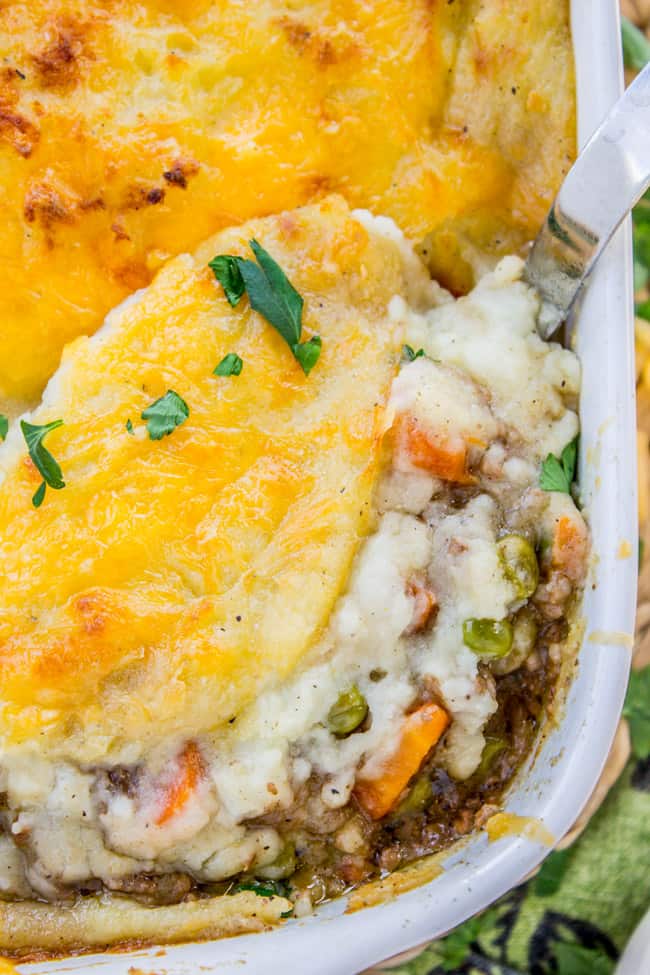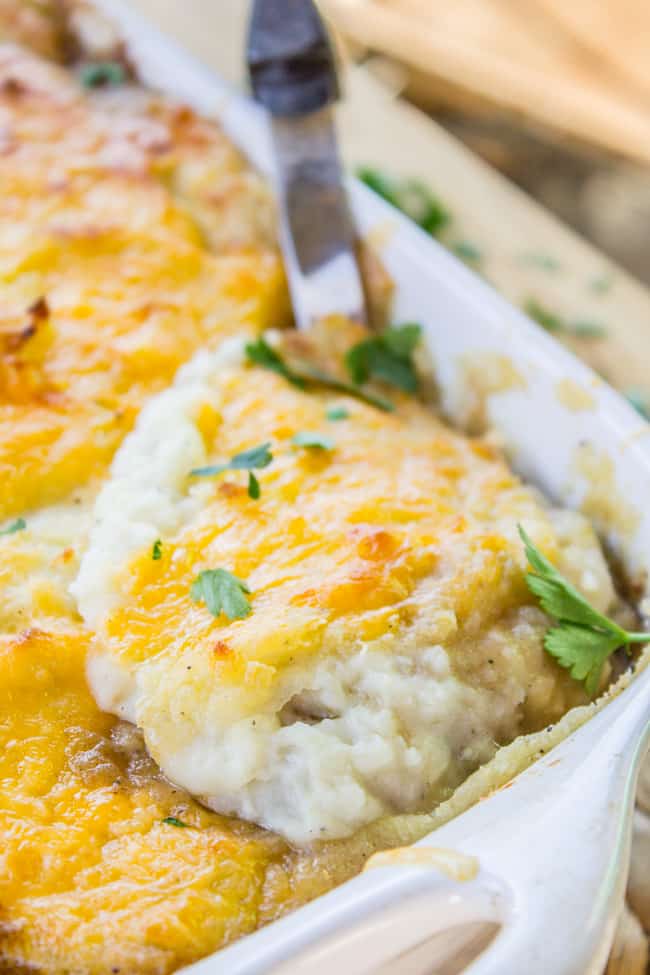 How to make the best Shepherd's Pie Recipe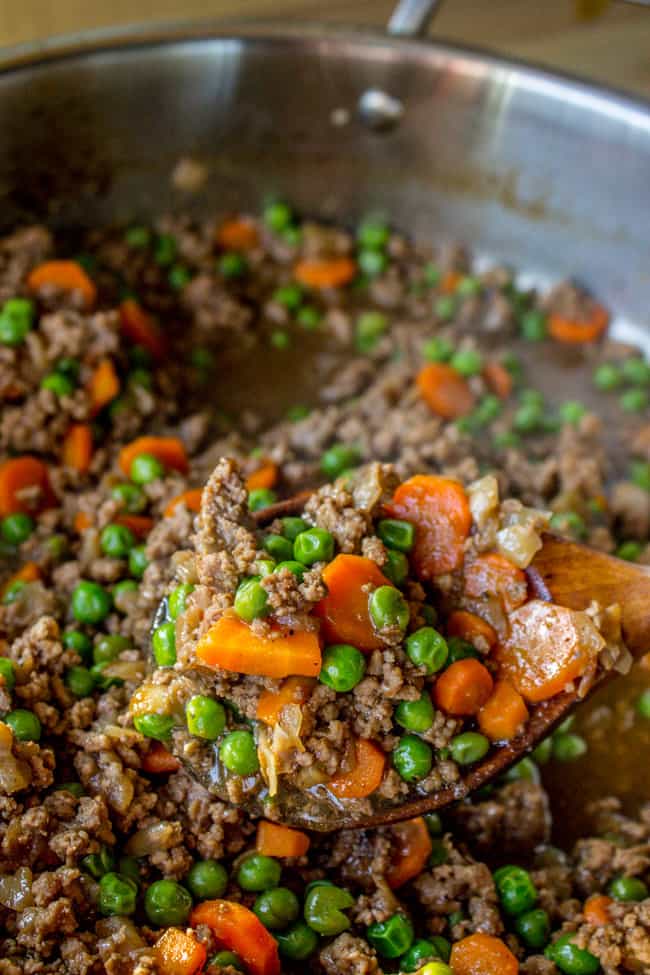 THIS Shepherd's Pie however, is anything but sloppy. You make a flavorful gravy with beef broth and ground beef, add some peas and carrots, and cover it up with All The Potatoes. In my opinion, the greatest fault of most Shepherd's Pies is a serious lack of creamy potato-y goodness. It's all meat, tiny potatoes. Not gonna cut it for this mashed potato freak. 5 pounds definitely does the trick though!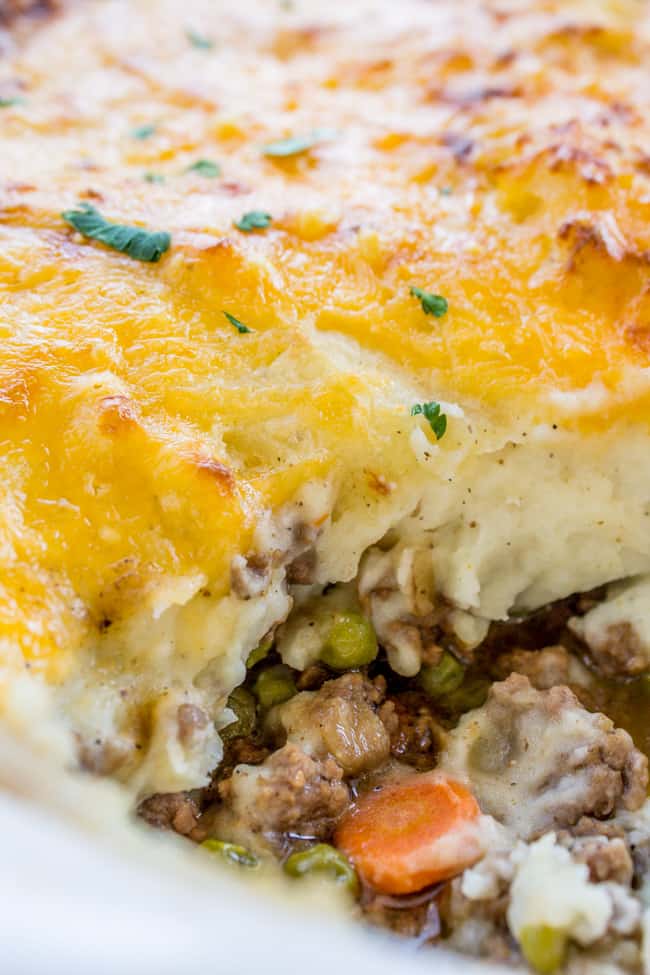 Top it off with some cheddar cheese that you broil for a few minutes to make it extra crispy. Mm-mm. Invite the neighbors because this casserole feeds a small army!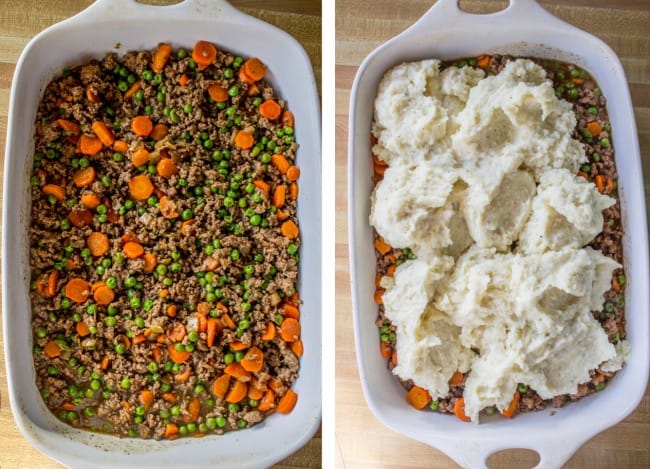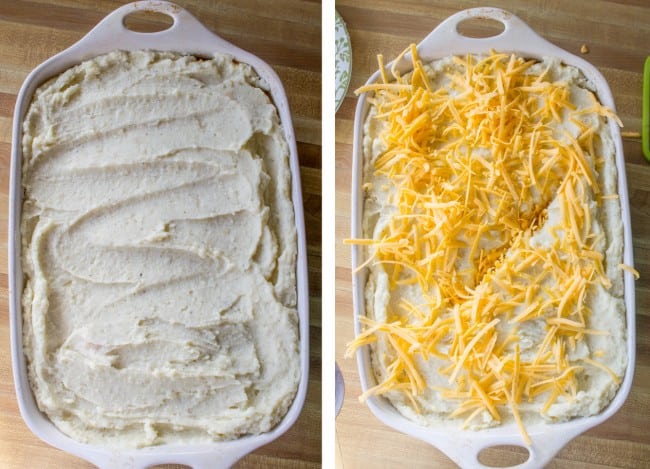 Try not to drop your plate of shredded cheese on top.
If you make this Shepherd's Pie, snap a photo and tag #TheFoodCharlatan on Instagram! I love seeing what you're making! Here's
a link to a pin where over 150 people have tried this recipe
and shared their review. Check it out!
Classic Shepherd's PieServes Serves 8-10
Ingredients
5 pounds potatoes, peeled and chopped into 1 or 2 inch pieces
1/2 cup (1 stick) salted butter
1/2 cup sour cream
1/3 cup milk, or to taste
1 teaspoon salt
1/2 teaspoon pepper
1/2 teaspoon seasoning salt
1/4 teaspoon garlic powder
1/4 teaspoon onion powder
4 tablespoons (half stick) salted butter
1 medium onion, chopped (about 2 cups)
4-5 medium carrots, (about 1 and 1/2 to 2 cups)
1 and 1/2 cups frozen peas
1 and 1/2 pounds ground ground beef
1 and 1/2 cups

beef broth

*

1 tablespoon cornstarch
1 and 1/2 teaspoons

Worcestershire sauce

1 teaspoon Better Than Bouillon paste* (see note)
1 and 1/2 teaspoon salt, or to taste
1/2 teaspoon pepper, or to taste
1 cup shredded cheddar cheese
Instructions
Fill a large stock pot with plenty of water. Add the chopped potatoes and make sure the water covers them.
Bring to a boil, covered, over high heat. Reduce the heat to medium and continue boiling for about 20-25 minutes, until the potatoes are fork tender.
Drain the potatoes and return to the pot.
Add 1/2 cup butter. Mash with a potato masher or mixer until they are as smooth as you like them.
Stir in sour cream, milk, 1 teaspoon salt, 1/2 teaspoon pepper, seasoning salt, garlic powder, and onion powder. All seasonings are to taste. Cover and set aside.
In a large skillet, melt 4 tablespoons butter over medium heat.
Add the onions and carrots. Saute for about 8 minutes, until the carrots are tender.
Add the ground beef and cook and crumble until no longer pink, about 5-6 minutes.
Drain the fat.
Add the frozen peas.
In a small bowl, stir together beef broth* and cornstarch.
Add this mixture to the meat, as well as the Worcestershire sauce.
Cook over high heat for about 5 minutes, or until the mixture boils and the sauce has thickened. Cook and reduce until it has reached a consistency you like.
Season with salt and pepper. Taste it and see how you like it! Add other seasonings if you want.
Preheat your oven to 350 degrees F.
Pour the meat mixture into a deep 9x13 inch casserole dish.
Top with the mashed potatoes and spread evenly.
Top with cheddar cheese.
Bake at 350 for about 30 minutes, or until bubbly. (You could do 375 if you are in a hurry. Check it at 20 minutes.)
Broil on the top rack for about 2 minutes if you are obsessed with crunchy brown cheese like my family is. Don't walk away!!
Now invite over the neighbors. Because this pie feeds a crowd!
*I'm a little obsessed with Better Than Bouillon. I use 1 teaspoon of the stuff per cup of water to equal however many cups of broth I need. (so for this recipe, 1 and 1/2 cups water + 1 and 1/2 teaspoons paste.) I tried this the second time with 1 and 1/2 cups beef broth from a box, but I still added one teaspoon of Better than Bouillon. It just adds so much flavor!
All of the seasonings in the mashed potatoes are totally according to taste, of course! If it doesn't taste like you want to eat 12 more bites when you taste it, add more salt :)
All images and text © The Food Charlatan

If you make this recipe, share it on Instagram using the hashtag #TheFoodCharla