CHOCOLATE CHIP CHEESECAKE WITH BROWNIE CRUST
CHOCOLATE CHIP CHEESECAKE WITH BROWNIE CRUST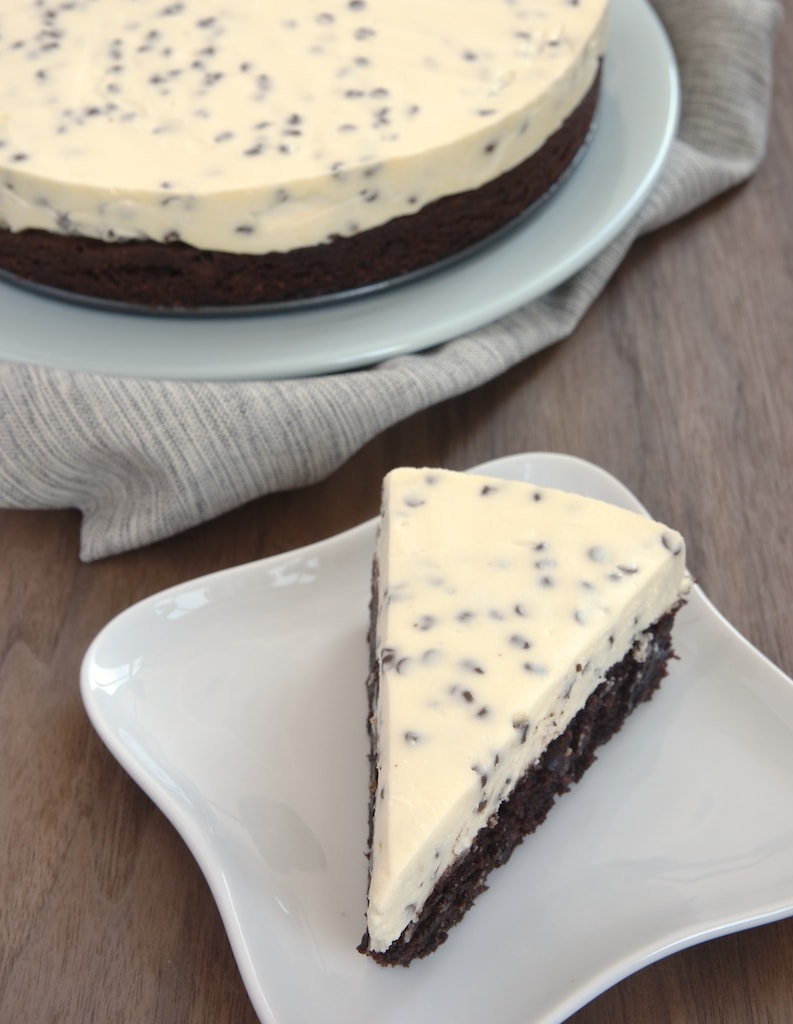 I have been chosen by Krusteaz to be a paid brand ambassador. The recipe for Chocolate Chip Cheesecake with Brownie Crust also appears on Krusteaz.com.
Sometimes you want two desserts. We've all been there. You're asked if you'd like the brownies or the cheesecake. And it feels a bit awkward just to say "yes" and grab both. If you can identify with that, then this cheesecake is for you.
It all starts with a fudgy brownie that will serve as the crust of the cheesecake. Then, that's topped off with a simple no-bake cheesecake packed with plenty of chocolate chips. See? You get brownies AND cheesecake! Win-win!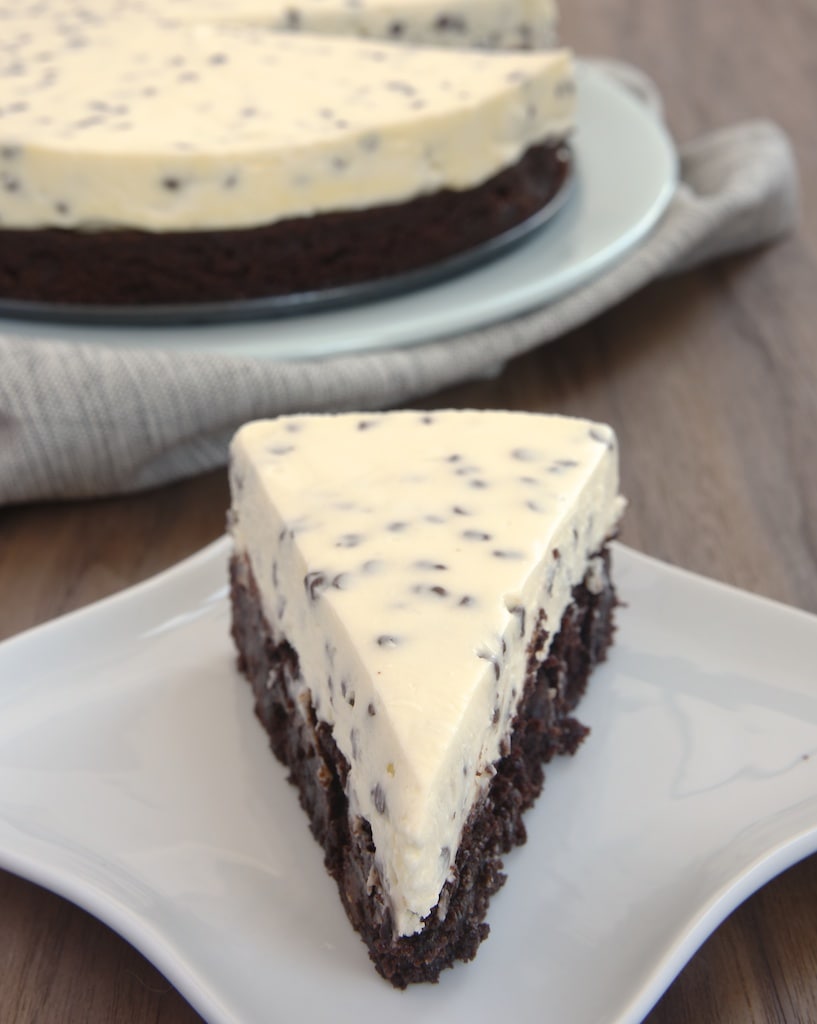 You can use any brownie you like for the crust. For a shortcut to an already simple dessert, I used a brownie mix, Krusteaz Gluten-Free Double Chocolate Brownie Mix. It's one of my favorite brownie mixes, and you'd never guess that it's gluten free.
If you want a from-scratch option, use your favorite recipe for an 8-inch square pan of brownies. My Favorite Fudgy Brownies would work wonderfully.
This is one of my favorite quick-to-make desserts. It's so simple to put together. And with that bit of chill time, it's a great make-ahead dessert, too. And when it's ready to serve, you can enjoy a slice of this delicious two-in-one dessert!
We are a participant in the Amazon Services LLC Associates Program, an affiliate advertising program designed to provide a means for us to earn fees by linking to Amazon.com and affiliated sites.
CHOCOLATE CHIP CHEESECAKE WITH BROWNIE CRUST
yield: 10 TO 12 SERVINGS
prep time: 25 MINUTES
cook time: 50 MINUTES
Fudgy brownies and an easy no-bake cheesecake combine for a simple, delicious dessert.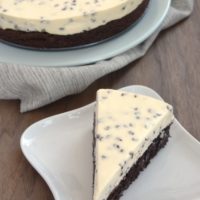 INGREDIENTS:
1 package Krusteaz Gluten Free Double Chocolate Brownie Mix*
1/3 cup water
1/3 cup vegetable oil
1 large egg
16 ounces cream cheese, at room temperature
1 cup granulated sugar
1 teaspoon vanilla extract
3/4 cup heavy cream
1 cup mini chocolate chips
DIRECTIONS:
Preheat oven to 325°F. Lightly grease a 9-inch round springform pan.
Stir together the brownie mix, water, oil, and egg until moistened and thoroughly combined. Transfer the batter to the prepared pan and spread evenly.
Bake 45 to 50 minutes or until a pick inserted into the center comes out with moist crumbs.
Cool completely in pan.
Using an electric mixer on medium speed, beat the cream cheese and sugar until blended and smooth. Mix in the vanilla.
Using an electric mixer with a whisk attachment, beat the cream at medium-high speed until soft peaks form.
Fold the whipped cream into the cream cheese mixture. Gently stir in the chocolate chips.
Transfer the filling to cooled crust and spread evenly. Refrigerate at least 4 hours before serving.
NOTES:
*You can use any brownie recipe or mix that uses an 8-inch square pan.