CHICKEN PARMESAN CRESCENTS RECIPE
CHICKEN PARMESAN CRESCENTS RECIPE
This recipe is so simple and even my picky three year old devoured it!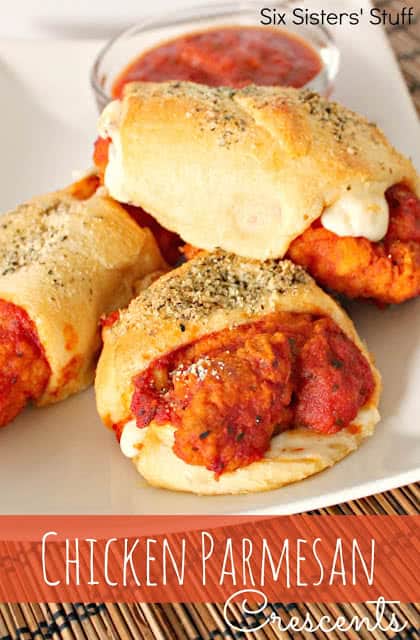 CHICKEN PARMESAN CRESCENTS RECIPE
Serves: 4
15 min Prep Time
15 min Cook Time
30 min Total Time
INGREDIENTS
8 chicken strips, fully cooked (I used Tyson Crispy Chicken Strips)
1 (8 ounce) can refrigerated crescent rolls
8 slices mozzarella cheese
1 (24 ounce) jar spaghetti sauce
1 Tablespoon butter, melted
1/4 teaspoon garlic powder
1/2 teaspoon Italian seasoning
1 Tablespoon grated Parmesan cheese
INSTRUCTIONS
Cook chicken strips according to package directions. Preheat oven to 375 degrees.
Separate crescent rolls into 8 triangles. Place one slice of cheese on the wide end of each crescent roll.
In a saucepan over low heat, warm spaghetti sauce until heated through. Dip cooked chicken strips in spaghetti sauce so they are completely covered. Place dipped chicken strips on top of cheese and roll up crescent rolls. Place rolls on an ungreased baking sheet. Brush melted butter on top of each roll and sprinkle with garlic powder, Italian seasoning and Parmesan cheese.
Bake for 15 minutes, or until golden brown.