CHEESY GARLIC SAUSAGE AND BACON CARBONARA
CHEESY GARLIC SAUSAGE AND BACON CARBONARA
This is truly one of our family's favorites dinner recipes. It is also my go-to recipe for something quick, hearty and comforting. This Cheesy Garlic Sausage and Bacon Carbonaranever disappoints!

I'm rather surprised I've never shared my version of this recipe with you all before, because it is regularly served at our home especially during the Fall and Winter months because it is so hearty, warm and comforting. The very first time I heard and tried Bacon Carbonara was from Tidy Mom's blog. She has an amazing Bacon Carbonara recipe, that I use and refer to when I make this recipe. Although, now I pretty much know her recipe by heart.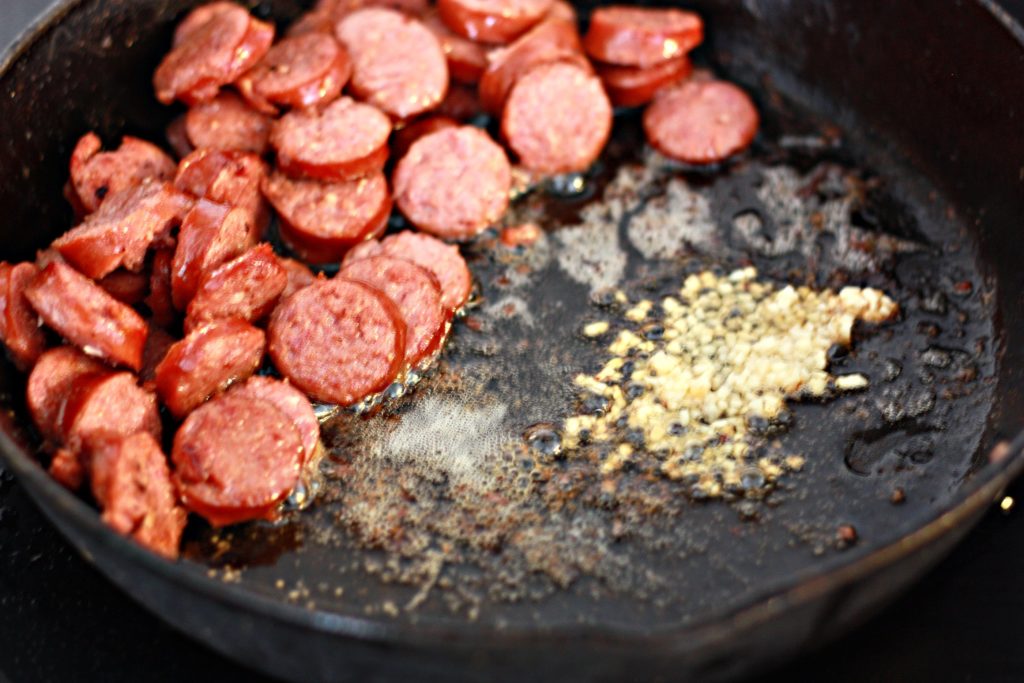 Tidy Mom can also explain it far better than I can on the basic process of making Carbonara. My husband being the meat lover that he is wanted something(???) more heartier in his pasta. So I started adding sausage, and then gradually adding garlic, and then I was making a larger amount because we are a growing family of 5. After a few attempts on expanding on Cheryl's delicious recipe, it has become a regular staple that is satisfying and *enough* for my pasta loving family.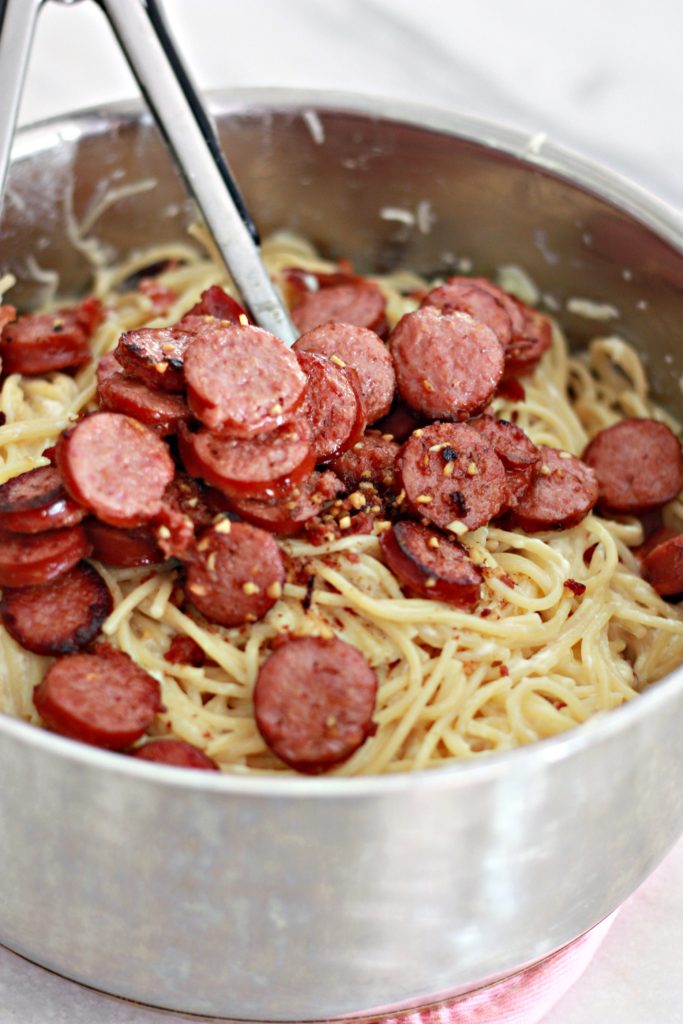 After you follow her instructions, here's what I do:
Cheesy Garlic Sausage and Bacon Carbonara
This recipe is for 1 1/2 pounds of pasta. We are a family of 5, and cooking a little more allows a bowl of leftovers for my husband's lunch the next day. If you also have growing boys in your household you'll understand why I make more.
Ingredients
5 Tablespoons of soft butter
2 whole eggs
2 egg yolks
1 1/2 cup of heavy cream
1 1/2 pound of spaghetti - cooked
1 lb of sliced smoked sausage
1/2 pound of bacon - after cooked cut into pieces
1- 2 teaspoon of minced garlic *depending on taste
1 cup of grated Parmesan Cheese
1 extra cup of Italian blend cheeses* (can be the mixed bag style in stores)
Instructions
please go to Tidy Mom's recipe (link above) to follow her instructions of Carbonara.
to follow through with my recipe you'll also need to do:
After you have fried your bacon and have started your water for the pasta, carefully remove some of your bacon grease and start sautéing your sliced smoked sausage. Once you have noticed some browning, flip sausages over and cook thoroughly.
Once sausage is cooked move the cooked sausages to the side of the pan, reduce heat and add your garlic and blend in with your cooked sauage.
Once you have drained your cooked pasta, you'll add the butter and cream mixture, add your crumbled bacon and cooked sausage with the garlic and then your cheeses over your cooked pasta.
Follow Tidy Mom's instructions on how to prep your pasta for the sauce and cheeses.
Tongs will be the utensil of choice when blending all the ingredients together. They're perfect to use for this recipe.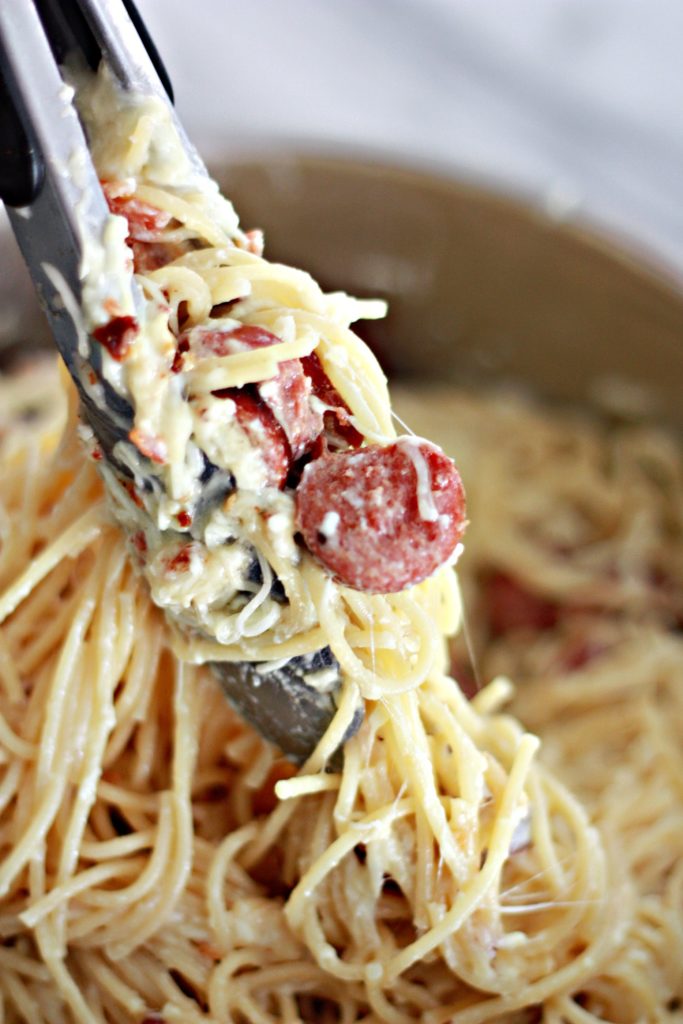 As you can see & as I mentioned above in the recipe, use Tongs when working with this recipe. They truly are the utensil of choice and work perfectly to mix your pasta, sauce and cheese together.
THIS CHEESY GARLIC SAUSAGE AND BACON CARBONARA IS VERY FILLING, HEARTY AND FULL OF COMFORTING FLAVORS. ONCE YOU UNDERSTAND THE PROCESS OF MAKING CARBONARA YOUR DINNER WILL GO REALLY QUICKLY THE NEXT TIME. I HAVE IT DOWN TO ABOUT A 25 MINUTES MEAL FROM START TO FINISH.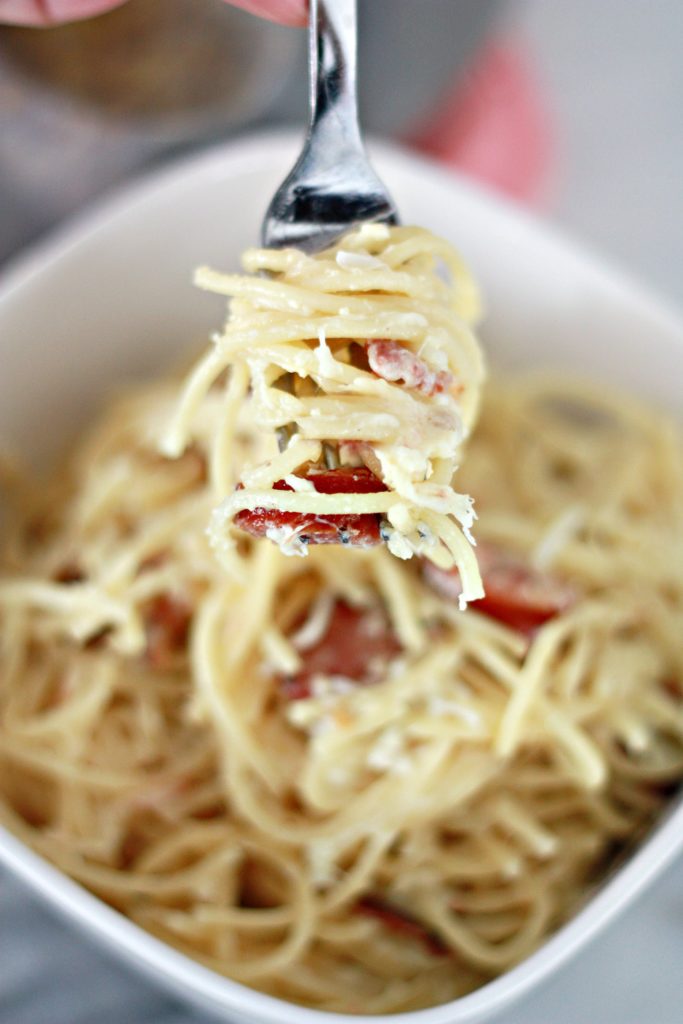 When I make this, and after I have my kids' plates filled, I typically curl up on my favorite chair & devour a bowl. I love this recipe that much! Pure comfort food = heaven!