CHEESY CAULIFLOWER BREADSTICKS
CHEESY CAULIFLOWER BREADSTICKS – KETO AND GLUTEN FREE
Using the same idea as pizza crust, it's easy to make a low carb cheesy cauliflower breadsticks recipe instead. Simply leave out the pizza sauce!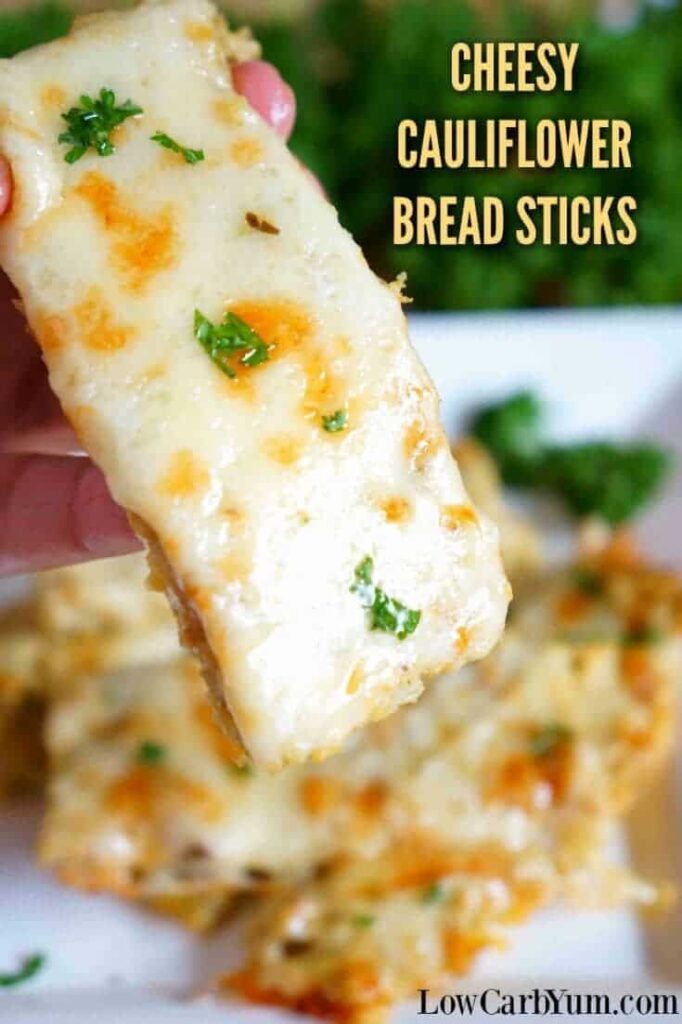 I'm always amazed by all the fantastic things you can do with cauliflower. It's a staple ingredient on low carb and goes way beyond a potato substitute.
When I got started on this way of life, I discovered that cauliflower can make a fantastic pizza crust. As the years went on, I also experimented with using it in chocolate pudding and pie crust.
I've also seen others sneak this versatile vegetable into pumpkin pie because it's a terrific thickening agent. Because of this property, it's often used to thicken soups as well.
But, I've gone back to the basic pizza crust recipe to make a low carb cheesy cauliflower breadsticks recipe. And, you don't have to limit yourself with the standard rectangular sticks.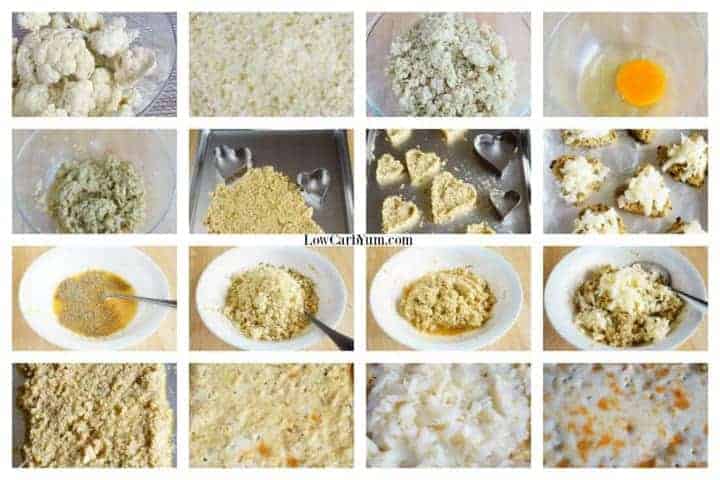 After rolling out the "dough" mixture, I figured I'd experiment with different shapes and sizes. So, I went looking into my baking supply drawer to see what kind of cookie cutters I could find.
Because Valentine's day is only a few weeks away, I made a few of the cauliflower breadsticks in heart shapes. To shape the dough, I simply used heart cookie cutters on the rolled out dough.
Of course, you can use any shape you want. And, you can make cute little mini bites that are perfect for holidays or special occasions!
With the superbowl coming up, you could even do little footballs as appetizers. You don't even have to tell your guests that there's cauliflower in there!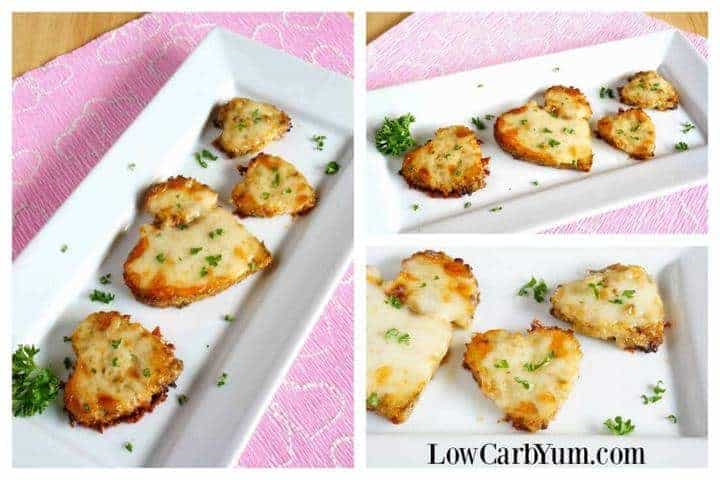 I'm thinking the cute little shapes may even help get the kids to eat their vegetables. With all the yummy cheese on top, they might not detect the healthy veggie in these cheesy cauliflower breadsticks.
I love trying to pass off healthier low carb versions of popular foods to my family and friends. I'm usually more successful with the savory recipes versus the sweets.
Since I haven't had real sugar in ages, my taste for sweets is much less than others. So, I usually cut the normal amount of sweetener in recipe to half.
If I'm going to get my non low carb family and friends to eat low carb treats, I need to up the sweetener. Unfortunately, that usually makes the food inedible for me.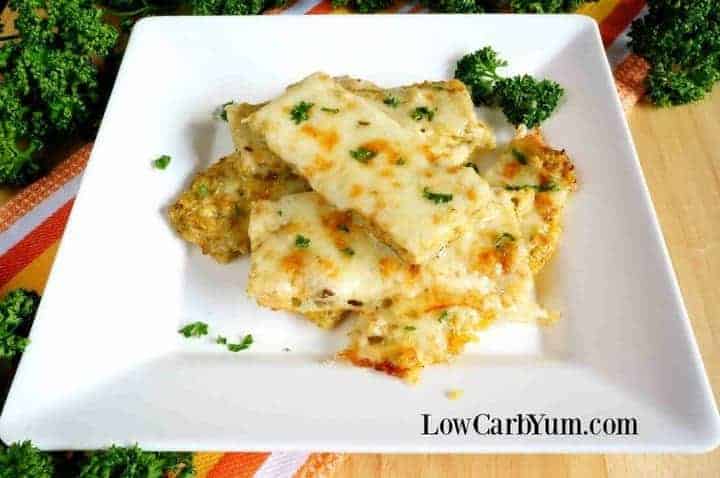 In my early days of low carb, I relied on a lot of sweet recipes. But, now that I've been away from sweets, I prefer savory food like these cheesy cauliflower breadsticks.
I've come to realize that it's not just sugar that plays havoc in the body. It's eating sweets in general which also includes treats made with alternative sweeteners.
I started reading about other hormones, like the hunger hormones ghrelin and leptin. Turns out that these hunger hormones likely get off balance when eating sweets.
I've noticed an increase in appetite after I eat low carb sweet foods. That's why I've significantly cut back on the number of dessert type recipes recently.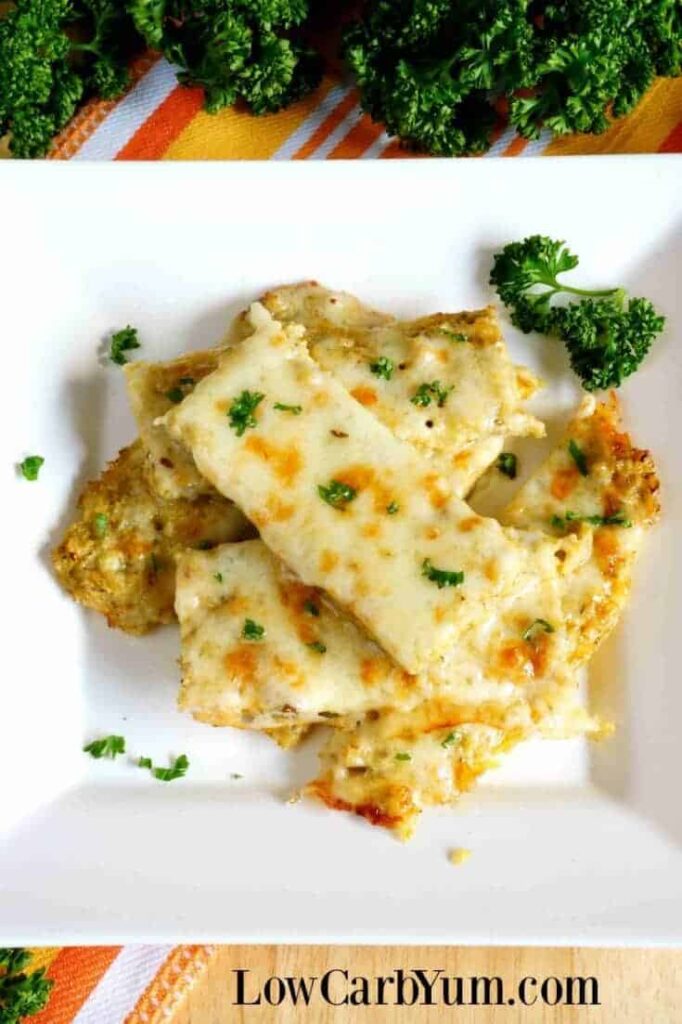 To be honest, why would you need sweets, when you can satisfy hunger with savory foods like these cheesy cauliflower breadsticks? If you are having weight loss stalls or even weight gain, try eliminating sweets in your diet.
Although sweet recipes are pretty popular over holidays, I've noticed a lot of low carb community groups don't want them. It's likely because they really shouldn't be eaten regularly.
If you are looking for more of a traditional breadstick, I've got a fat head style recipe here. That one is a copycat of the Little Caesars Crazy Bread.
Are you a fan of sneaking cauliflower and other keto vegetables into your food? If so, what's your favorite recipe that makes the veggie nearly undetectable?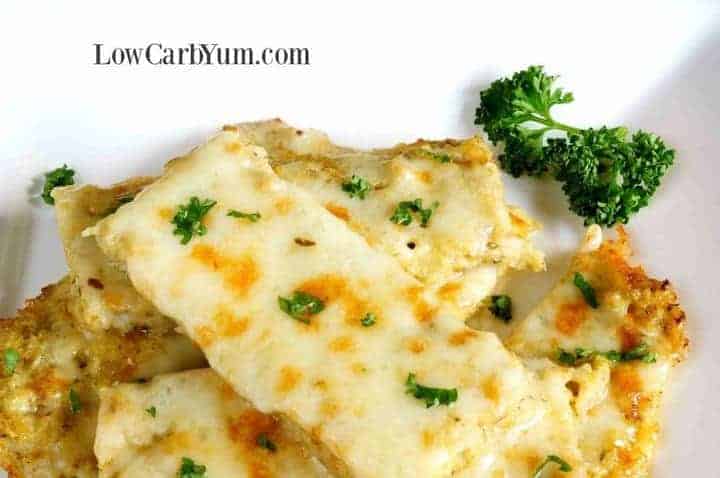 Cheesy Keto Cauliflower Bread Sticks
Using the same idea as cauliflower pizza crust, it's easy to make low carb cheesy breadsticks recipe instead. Simply leave out the pizza sauce!
Course Appetizer
Cuisine American
Keyword cauliflower, cauliflower bread
Prep Time 10 minutes
Cook Time 33 minutes
Cool Time 3 minutes
Total Time 43 minutes
Servings 8 people
Calories 102 kcal
Author Lisa | Low Carb Yum
Ingredients
1 1/2 cups cauliflower riced (about 3.75 ounces)
1 1/2 cups Monterey jack cheese freshly grated (about 6 ounces)
2 large eggs beaten
1/2 teaspoon ground sage
1/2 teaspoon ground oregano
1/2 teaspoon dried thyme
1/4 teaspoon ground mustard
ground black pepper to taste
fresh parsley minced (for garnishing)
US Customary - Metric
Get IngredientsPowered by Chicory
Instructions
Remove the base or leaves and cut cauliflower into florets. Rice cauliflower by using a food processor. Cook for about 8 to 10 minutes, you can use a microwave or a toaster oven. Allow to cool.
Pre-heat oven at 450F.
Once riced cauliflower has cooled, place in a kitchen towel and strain the liquid. Transfer to a mixing bowl.
Season cauliflower with sage, oregano, thyme and mustard seed. Mix well.
Season egg with ground black pepper. Pour beaten egg, 3 tablespoon cheese and combine with seasoned cauliflower. Allow for eggs to set at the buttom of the bowl and spoon the excess eggs out.
In a greased baking sheet, spread cauliflower until about 1/4 inch thick, rectagular shape.
For the heart-shaped Cauliflower "Bread" Sticks, use a heart-shaped cookie cutter. 1/2 cup of cauliflower mixture makes about 9 heart-shaped in different sizes. Bake for about 8 to 10 minutes. Top with 1/2 cup cheese and bake in the oven for 5 more minutes or until cheese is melted and golden.
For the remaining 1 cup of cauliflower mixture formed into a rectagular shape, bake for about 10 to 15 minutes. Top with the remaining cheese and bake for 5 to 8 minutes or until cheese is melted and golden in color.
Cool for about 2 to 3 minutes and slice with a pizza cutter.
Garnish with freshly minced parsley. Serve with marinara sauce or with a Creamy Cheese Sauce (see note).
Recipe Notes
Recipe makes about 9 hearts and 6 sticks.
Adjust herbs as desired.
Goes great served with a creamy cheese sauce
Nutrition Facts
Cheesy Keto Cauliflower Bread Sticks
Amount Per Serving (47 g)
Calories

102
Calories from Fat 69
Total Carbohydrates

1.1g
0%
* Percent Daily Values are based on a 2000 calorie diet.