BACON RANCH CHICKEN FOIL PACKETS
BACON RANCH CHICKEN FOIL PACKETS
THESE BACON RANCH CHICKEN FOIL PACKETS ARE A SUPER EASY DINNER OPTION WITH MINIMAL CLEANUP! CHICKEN BREASTS ARE COOKED WITH POTATOES AND RANCH FLAVORED BUTTER, THEN TOPPED WITH MELTED CHEESE AND BACON FOR A MEAL THAT'S SURE TO PLEASE ANY CROWD.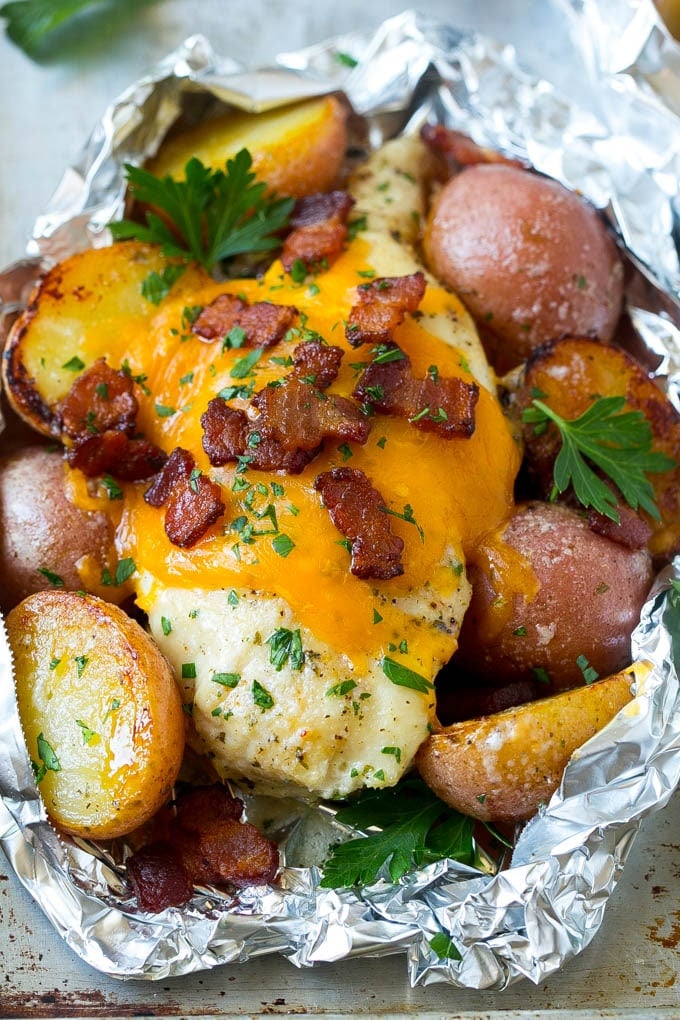 Foil packet meals are all the rage it seems, I'm seeing them all over Pinterest and Facebook with everything from steak to shrimp to chicken. I decided it was high time I made my own foil packet recipe, and this bacon ranch chicken is not to be missed. In fact, my family loved these chicken foil packets so much that I made them two days in a row!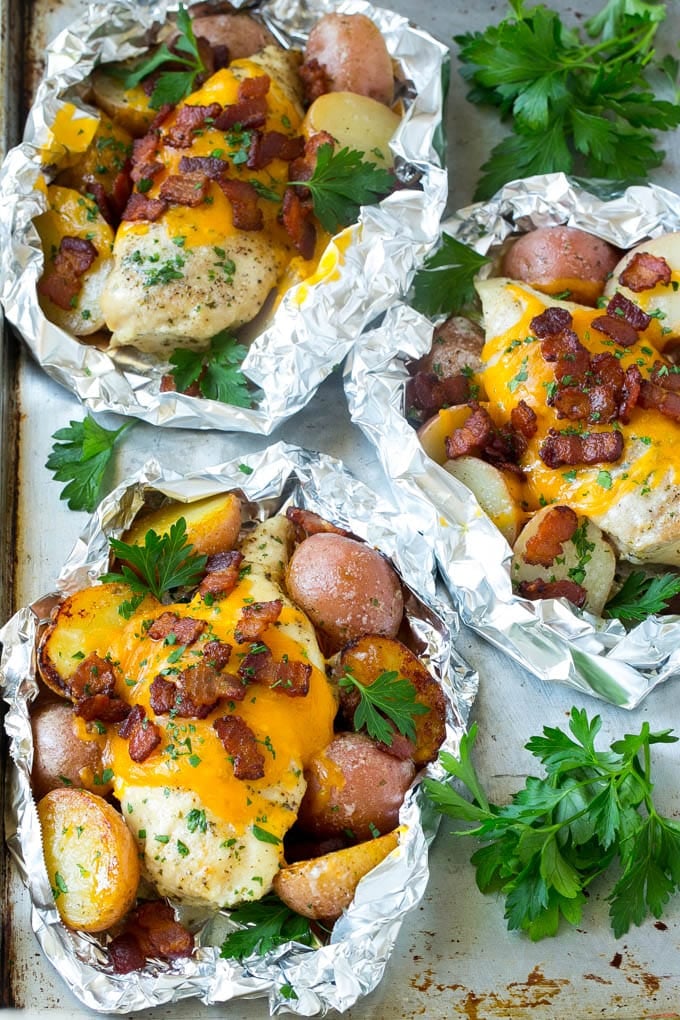 For this recipe you'll need chicken breasts, small red potatoes, ranch powder, butter, bacon and cheese. How can you go wrong with an ingredient list like that? You can find ranch seasoning packets in the salad dressing aisle of your grocery store. The chicken and potatoes are seasoned with ranch flavored butter, then wrapped up and baked or grilled to perfection. The potatoes I used were about 1 and 1/2 inches in diameter, and I used average sized chicken breasts. If your potatoes are on the larger side, cut them into quarters so that they'll bake in the time that the chicken is cooked through. I'd also stay away from the thin cut or oversized chicken breasts for this recipe, each breast should weigh about 4 ounces so that it cooks evenly with the potatoes.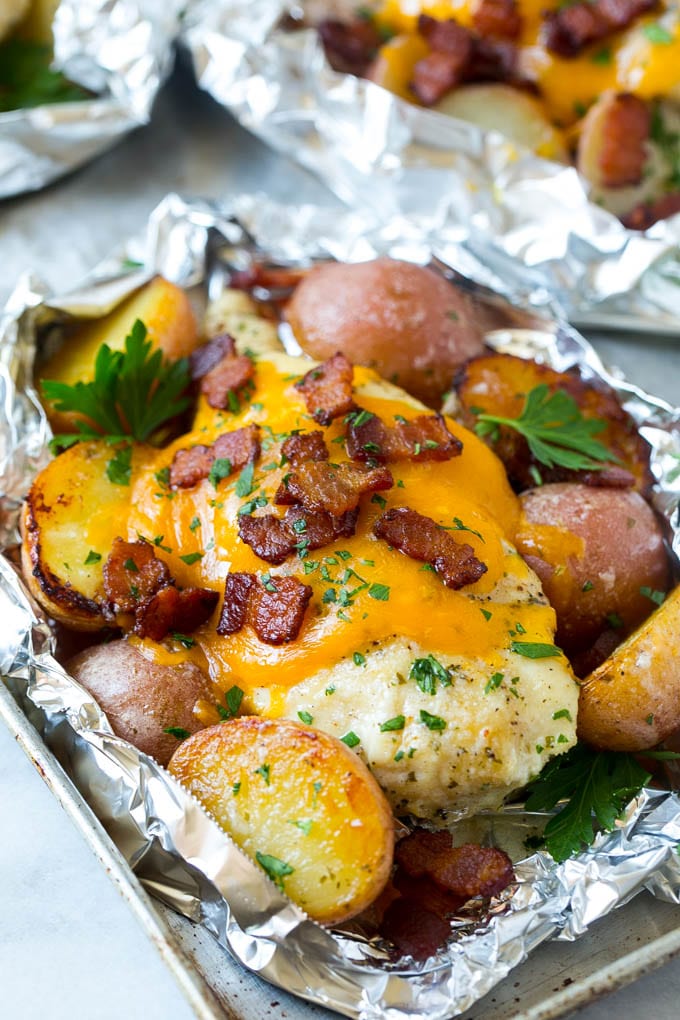 After the chicken and potatoes are done, they get smothered in cheese and go back to the oven or grill for a few minutes until the cheese is melted. Add a sprinkling of bacon and parsley and you've got an amazingly flavor packed meal!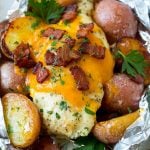 BACON RANCH CHICKEN FOIL PACKETS
These bacon ranch chicken foil packets are a super easy dinner option with minimal cleanup! Chicken breasts are cooked with potatoes and ranch flavored butter, then topped with melted cheese and bacon for a meal that's sure to please any crowd.
Course Main Course
Cuisine American
Prep Time 15 minutes
Cook Time 45 minutes
Total Time 1 hour
Servings 4
Calories 510 kcal
Author Dinner at the Zoo
Ingredients
6 tablespoons butter melted
2 tablespoons ranch seasoning powder
salt and pepper to taste
4 medium sized chicken breasts approximately 4 ounces each
1 pound small red potatoes halved or quartered
nonstick cooking spray
1 cup shredded cheddar cheese
4 slices bacon cooked and crumbled
2 tablespoons chopped parsley
Instructions
Preheat the oven to 425 degrees or a grill over medium high heat. In a small bowl whisk together the butter, ranch seasoning, and salt and pepper to taste.
Coat 4 large squares of foil with cooking spray.
Place the potatoes in a bowl and drizzle with 4 tablespoons of the ranch butter over the top. Toss to coat evenly.
Place a chicken breast onto each of the foil squares and season with salt and pepper to taste. Divide the potatoes evenly among the 4 foil squares and arrange them around the chicken.
Drizzle the remaining 2 tablespoons of butter over the chicken breasts. Fold the edges of the foil over the chicken and potatoes to make a packet.
Bake for 45 minutes or grill for 30 minutes. Open the packets and sprinkle the cheese over the chicken and potatoes. Leave the packets open and return to the oven or grill for 2-3 minutes or until cheese melts. Sprinkle with bacon and parsley and serve.
Nutrition Facts
Bacon Ranch Chicken Foil Packets
Amount Per Serving
Calories

510
Calories from Fat 252
Total Carbohydrates

22g
7%
* Percent Daily Values are based on a 2000